It's has been a tradition of our team in the office to relax and unwind every Summer, thanks to our Team Leader (and also my friend) Arrienne. Last year, we went to 9 Waves.
T

his year, everyone wanted to go somewhere outside Metro Manila so we decided to go to Bolinao in Pangasinan.
There are so many places to visit in Pangasinan. We wanted to make the most out of our trip so we put almost all places

in our itinerary.
Fi

rst stop, the Bolinao Falls!
Photo from cafeattinapay.blogspot.com
Going to Pangasinan is not a piece of cake since it takes 5-7 hours travel time. You can get there by car or by bus. There are lots of bus stations in Cubao going to Pangasinan. But since we were quite a large group, we rented a van that will take us there and then bring us back home. We got a huge van that

could fit

almost

15 people for P6,000 for the whole trip.
We left Manila right after our shift at 11 pm. We stopped at a McDonald's along NLEX

t

o grab something to eat. We spent about 30 minutes there and then hopped

back in the car and continued the loong journey. :)
What to do on a long trip? Sleep

, of course! When I opened my eyes, here's what greeted me.
We were already in Pangasinan, somewhere

around Alaminos area. But finding the first stop wasn't easy.
Remember that if you are traveling to Bolinao, visit Bolinao falls first because it

'

s just along the way going to the main city. Don't put it in the middle of your trip because it would be such a hassle to go t

o the resort and then drive about 40 minutes going to the falls and then drive another 40 minutes back.
Keep your eyes peeled because the signs are too small! Somewhere along the road, you'll see these. Turn left

then

enter that small path that says Samang Norte.
You have to be patient because it's still a long drive. Also, the road is not very smooth. It will take

another

20

-

minute

drive until you see this tiny sign.
Finally, almost there! A little boy on a bicycle saw u

s approaching so he guided us to the parking area.
Tada! How cool is

the parking area? lol
Since it was past 6 am when we arrived, they decided to eat breakfast first. And we had it the old-fashioned way! Bread + ham + corned beef + bread spread = happy tumm

y!

Oh how I missed eating breakfast this early in a surrounding like this! I feel so close to nature!
After a couple of minutes, we excitedly hurried down to finally witness the beautiful water falls. If you are planning to visit Bolinao falls, be sure you are wearing comfortable clothes and foot wear. Aside form the long walk, the road is also steep and

rough.
Yay! Finally!
Welcom

e to paradise!!
How beautiful and breath-taking?

!
Only a blogger will understand another blogger why it is

important to snap photos first before anything else

. Usual travelers will enjoy the moment and then take photos. Bloggers on the other hand, must take some photos first before having fun

. :)
There are many kubo's there. Bring packed food or take your adventure to another level by bringing raw food and co

oking it there while enjoying the scenery.
If you feel a little lazy to bring food, there's also a cute sari-sari store

where you could buy some snacks. There's also a dressing room and a shower area.
The water is so fr

esh and clear!
This area, for the dare-devils. The water is too deep plus the rocks in the water are too big and sharp. Some men were diving

!
Beautiful

!
That area behind me is where the real water fall happens! But they said it's too

difficult

to get there and everyone said we should just stay where we were. If you

walk the steep path, you'll be able to see this view...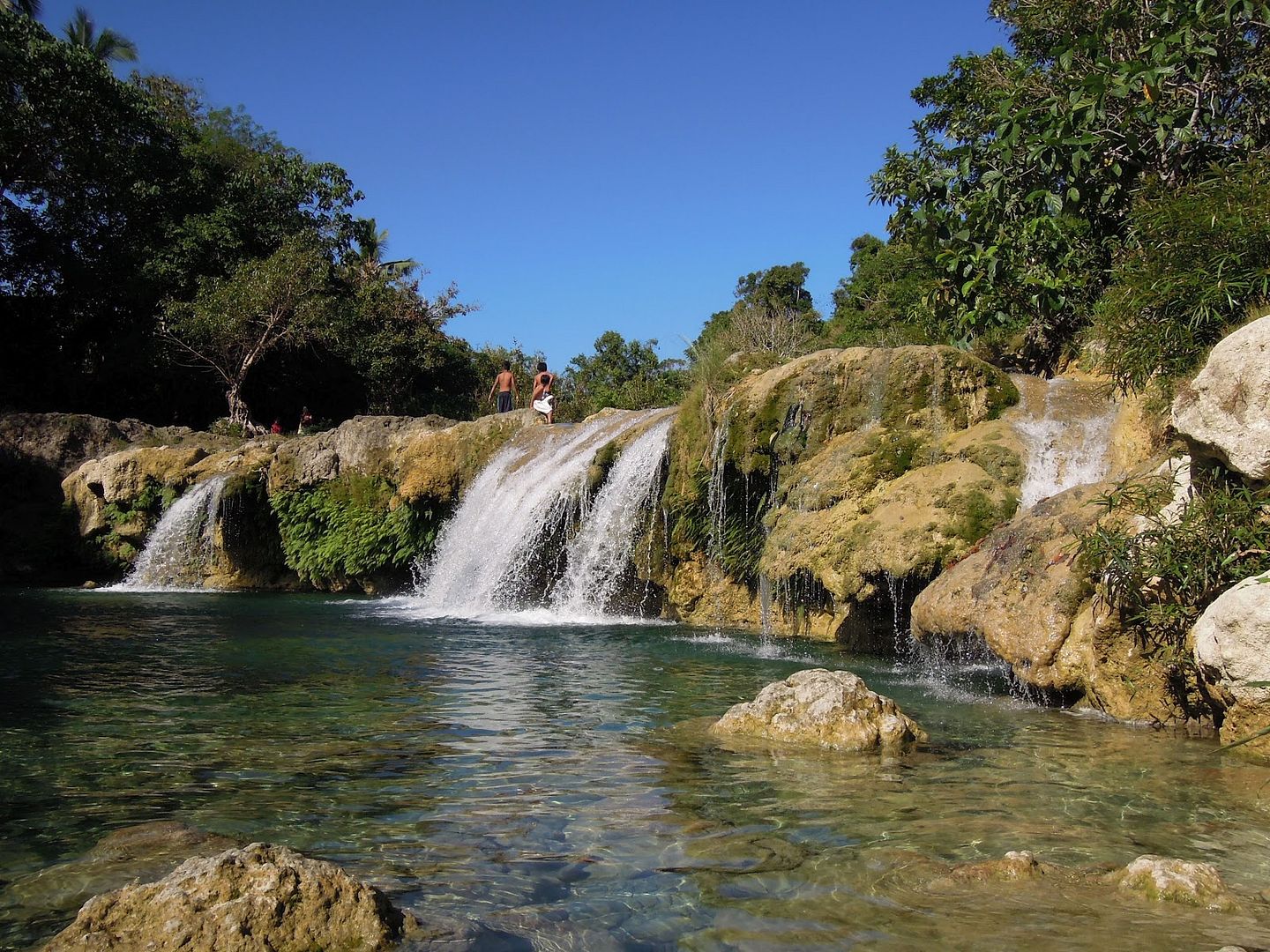 Now I regret it! I was already there! Why didn't I take a little risk? Sigh. Great lesson, while you're there,

just

take the plunge. It's better that you did something and regret it rather than regret because you d

id nothing. :(
Anyway,

t

he water is really inviting! If you are planning to just see the place and take photos, then I'm here to tell you that you will lose 50% of the purpose of your travel. It's not enough to just take photos, you have to jump in. So before you get off the car, be sure you are in your swimming attire. You won't be able to resist it.

:)
The water is so clear, you can see the rocks beneath.
But be careful. Step on the white rocks because those are the safe ones. The green rocks are the slippery

and

dangerous ones.

We should know. lol. My friends fell a couple of times! :)
I told you, you won't be able to resist it! My friends and I weren't able to. Hah! The others didn't want to jump in. I'm glad these girls

did! :)
The water feels so fresh and clean, if you know what I mean. I feel like I c

an

drink it. lol! It was 7 am when we swam there

but the water was neither too hot nor cold, just right temperature for you to have fun!
I've always wondered what

it feels

like to be a mermaid. This photo reminds me of Ariel that was turned from a mermaid to human rising form the water. hehe.
The boy that guided us, AJ! He looks so shy in the picture because it has only been an hour since we met. But everyone loved him when we left Bolinao. If you are heading to Bolinao falls, I hope you meet our cute little angel, too. AJ became out guide for 2 days. He even slept in our resort and swam with us, too. He is very trust-worthy. He kept out gadgets and held our bags and nothing went missing. He also takes good phot

os! :)
Our dirty yet happy feet after swimming! Can you tell which one is the dirtiest and which among those fe

et is mine?
Last photo! I thought bringing a bulky DSLR would be a hassle so I decided to bring my ever-

reliable

Canon digital camera. I used my Canon IXUS 230 HS the whole trip. This camera really never fails me! Images are sharp, focuses really well, zoom is good a

nd gives quality photos!

I love it!
If you are looking for the perfect destination this Summer, Bolinao is

a good one!
I hope you liked this post. I decided to split the whole trip into 3 different posts since I'm such a photo-flo

oder. hehe
Stay tuned for the other 2 posts

! :)
Kristine