Hi! This is part 2 of the 3-part series of my recent Bolinao trip with some friends.
So after plunging in the fresh and cool water of Bolinao Falls 2, we then headed straight to the resort where we would be spending the night at. It was another hot and long travel. It took about 30 minutes from the falls to Rock Garden Resort.
Our accommodation costed P4,000 for the entire dorm room. The room was not air-conditioned (which I think was a bad idea because it was extremely hot that day.) If you wish to stay at Rock Gaden Resort, I suggest getting an air-conditioned room because the temperature here, especially in Summer, is really hot. I think they will charge additional P2,000 for the air-con.
Anyway, pretty flowers greeted us when we entered the resort. It's funny how Bougainvillea is the closest thing to Cherry Blossoms us Filipinos have. hehe
You will also be greeted by this hard-working guard by the gate.
The place was not too big but it was pretty. I love that it's cozy enough to let the guests enjoy their stay.
Time for some outfit shots. :)
What's so good about Rock Garden Resort is that they allow their guests to bring in food from outside without asking for any corkage fee. My mommy office-mates did an amazing job planning the entire trip's meal. They cooked Sinigang na Baboy for lunch! We had lunch here at the gazebo.
My friends at the back were busy eating while I was busy taking some photos first.
After lunch, they decided to take a nap in the room first. But as I told you, it was extremely hot that day. Add the fact that we didn't get air-conditioned room! I couldn't take the heat so I decided to stroll around the place.
The resort has a mini-zoo inside with a couple of animals. This bird in particular caught my attention because all it says is PANGET. Lol! The usual word talking-birds learn.
The bird is cute, yes. But I thought otherwise when it bit my shirt after I took this shot and didn't want to let go!
If you plan to visit here, be careful of the animals. They may not be as friendly as they seem. Take the monkeys for example. (Not this monkey, but they monkey that's next to this one) The monkey caught my attention so I wanted to take a photo of it. I noticed how tiny the fingers were so I wanted to take a close-up photo. Next thing I know, the monkey grabbed my camera and it didn't want to let go! I was trying to get my camera back but the monkey was fighting! Suddenly, the camera strap snapped and then there it was, my camera laying dead on the rocky floor! :( Bad monkey!
The resort was close to the beach so we decided to go ahead and check it out. From the pictures, it looked really nice. But when we came to check it out, we were really surprised...
or rather, disappointed? This wasn't what we came here for. The beach was rocky! Hah! No wonder the resort was named Rock Garden! There was also a certain malansa smell.
The shore was extremely rocky and there were lots of seaweed! The water looked really dark and unclean. :/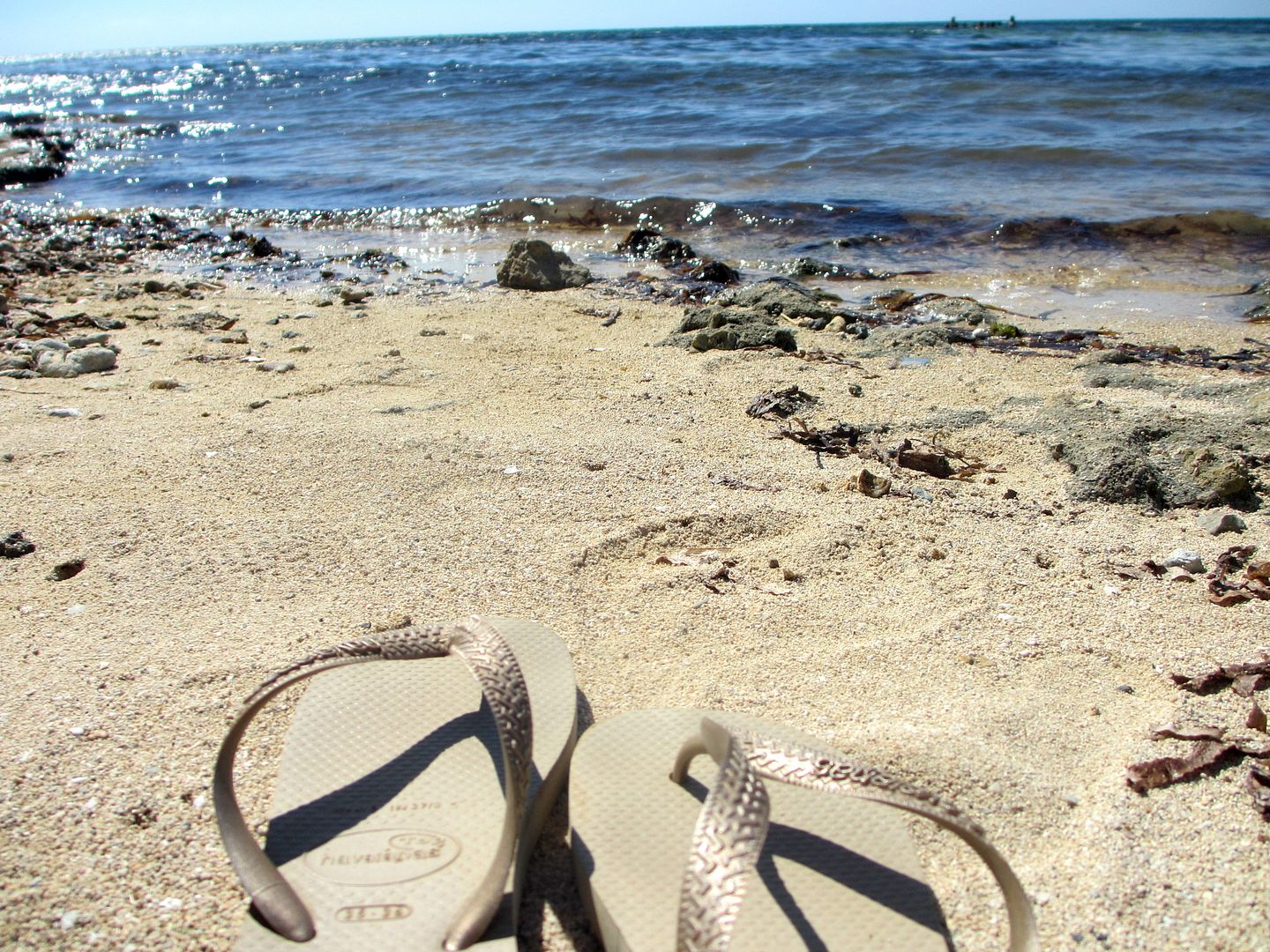 People there were also catching some sea urchins. And you know you can't swim in water with sea urchins, right? Unless you want to feel itchy all over.
We did see a cute starfish, though. Something that I like whenever I go swimming in beaches. But it was dead.
Much to our dismay, we just decided to swim in the pool. It wasn't for free, though. Guests must pay additional P75 to be able to use the resort's pool.
Oh yes, our angel tour guide - AJ. I told you he came with us to the resort. He also slept there with us. He became our guide, playmate, photographer, etc.
Can you guess where I am?
Oh! I wasn't able to take a photo of the room while it was still clean. Everything was chaotic and everyone were laying around or walking around when we arrived. After eating dinner in the gazebo, I hurriedly went back to the room so that I could take a photo of the room. Too bad, everything is messy! hehe. There are 15 beds in the dorm room. Everything is nice but the weather. If you want to stay here, get the air-con, please. :)
And then the sun bids good night! Staying in Bolinao made me sleep early. Probably one of the earliest sleeps I had in a long time. We were in bed at 11pm.
We had to sleep early since the next day would be another long and tiring day. We plan to go to Patar beach, the light-house, buy some pasalubong and then head back to Manila the next day. Our check out is at 12pm so we need to squeeze everything in a short time.
So that was our stay at the resort. Please read the previous

Bolinao Falls

blog (if you haven't yet and please look forward to the final Patar Beach entry.)
Thanks for reading! :)
Kristine