If eyes are the windows to the soul then the lashes must be the curtains! (lol) Today I'll share with you guys a very inexpensive and quick beauty procedure that I've been doing since college : EYELASH PERM!
Do you guys know the belief that when you trim a baby's lashes, he/she will grow up with full and volumized eyelashes? I do believe it since I see my cousin's eyelashes...and I envy them because they are boys. I mean, what are they going to do with those long and curled lashes? haha Too bad, my mom didn't trim mine when I was a baby. Now I have to curl my lashes in the morning and re-curl throughout the day. Sounds a bit tiring? Good thing eyelash perming was invented!
Take a look at how my lashes look before the eyelash perm :
There are lots of eyelash perming salons these days but I still go to my favorite one, Let's Face It. I like that their price is really inexpensive and the outcome is satisfying.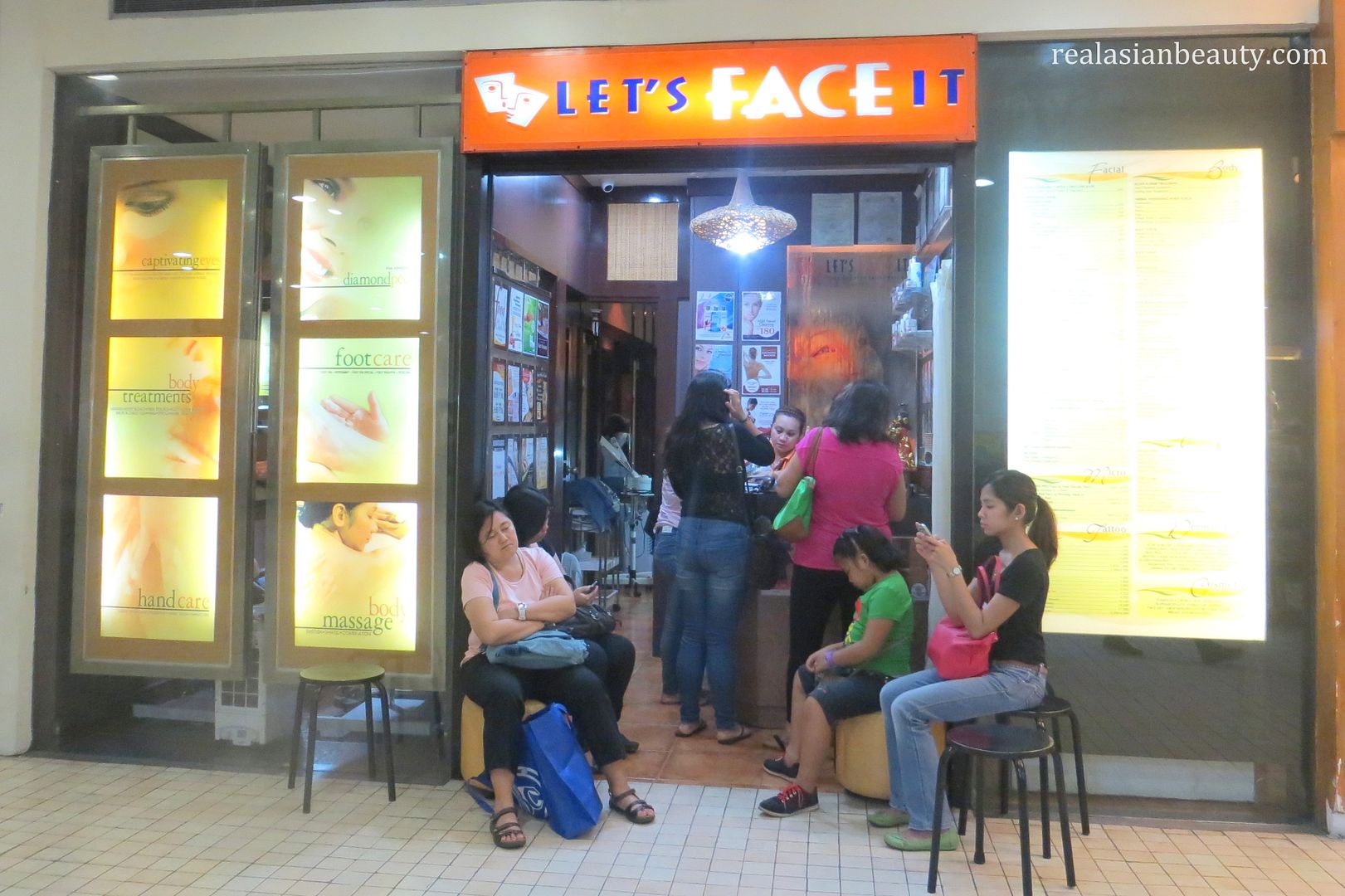 This post was NOT sponsored by Let's Face It. To be honest, I was a bit disappointed with their service. Let's Face It has been around for a long time. But I think they have become lax with their customer service. Also, their amenities and clinics need some overhaul, in my opinion. But because eyelash perming int heir clinic is really cheap, here I am recommending it to you! hehe
HOW MUCH

: Php 280 / session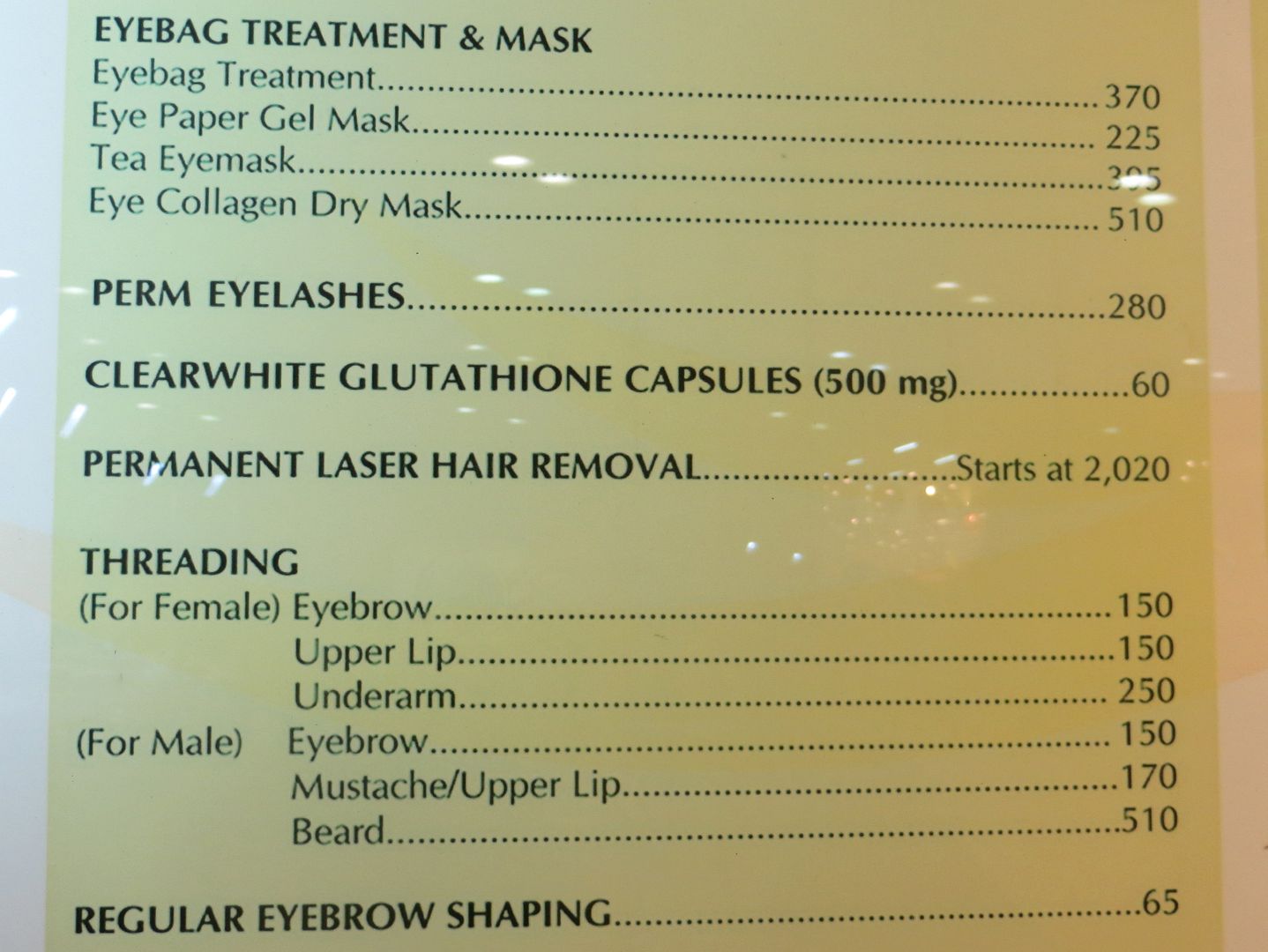 BEFORE THE PERM

:
Do not apply any gel/ cream/ peeling solution around your eyes

Do not put mascara on

Remove your contact lenses
Here's my eyes before the perm :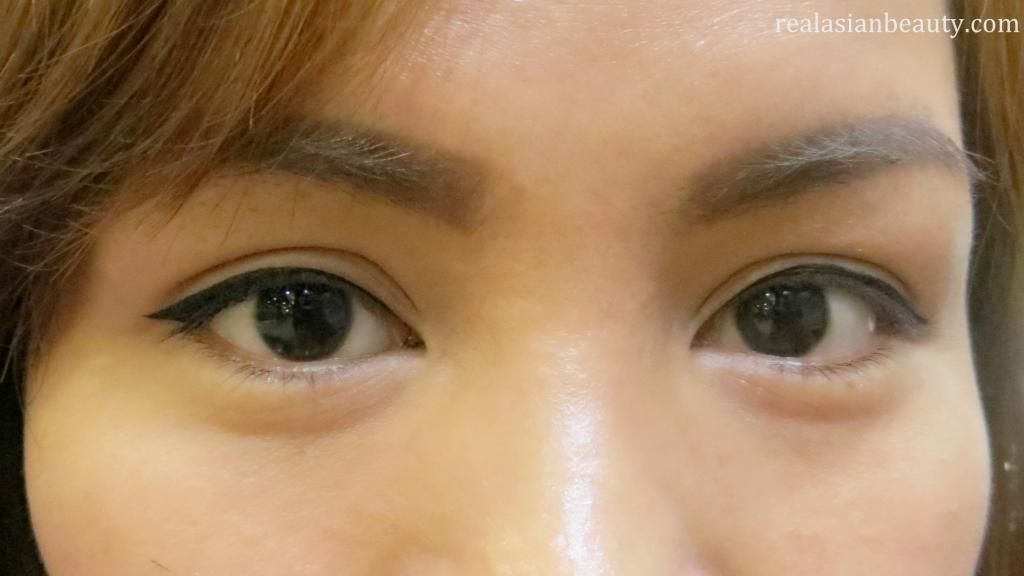 Oh, one more thing I was disappointed about was the fact that I had to be a ninja just to take these photos of the eyelash perm. I mean, blogs and sns are so vast these days! Don't companies realize how they can get FREE advertisement when they allow customers to their photos in their shops/clinics? When you upload it on your sns, poof! Instant advertisement. I never say that I am a blogger when I go to non-sponsored places. In that way, I could make a real and unbiased review of the place. Let's Face It don't allow photos. I even asked the lady doing my lashes if she could keep the light on for a bit because I was going to take photos. She didn't listen and just turned the light off. And that's the reason why the next photos are dark and noisy.
Anyway, here's how the eyelash perming is done:
1. The lady will painstakingly set your lashes one by one. The white thing on my lid is a sticky pad. She takes the lashes one by one and sticks them to the pad.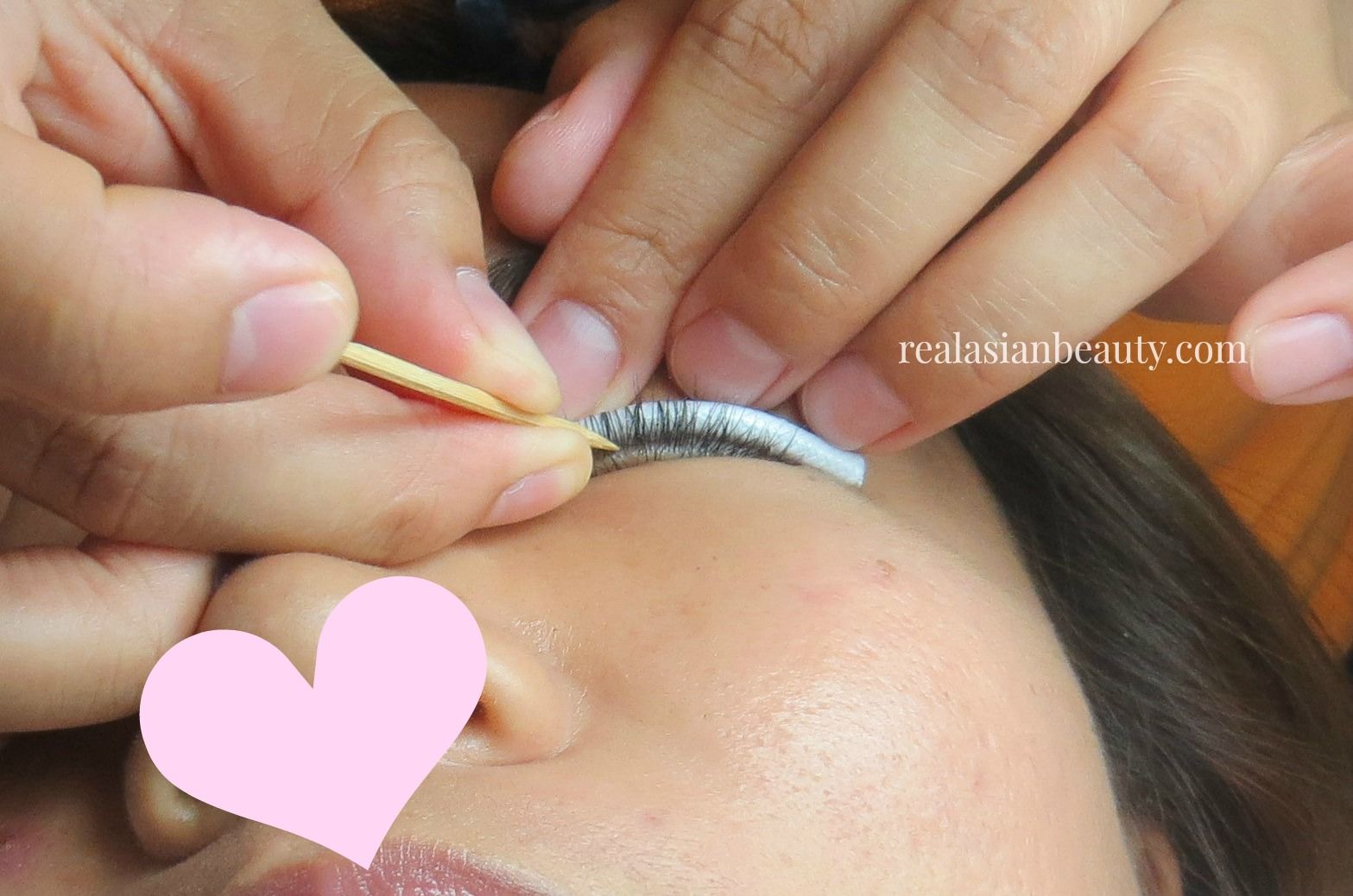 2. That process will take a loong time. Grab this opportunity to take a nap!
(That's if you can because their clinic is really noisy. And it's so small, really small. So the beds are next to each other. So I was literally rubbing elbows with the patients on my left and my right. They were both male so it was more awkward.)
3. After about an hour of separating the lashes, the lady will then apply a perming chemical and then wrap your lashes in plastic. Just to be safe, keep your eyes shut because you do not want the chemical in your eyes.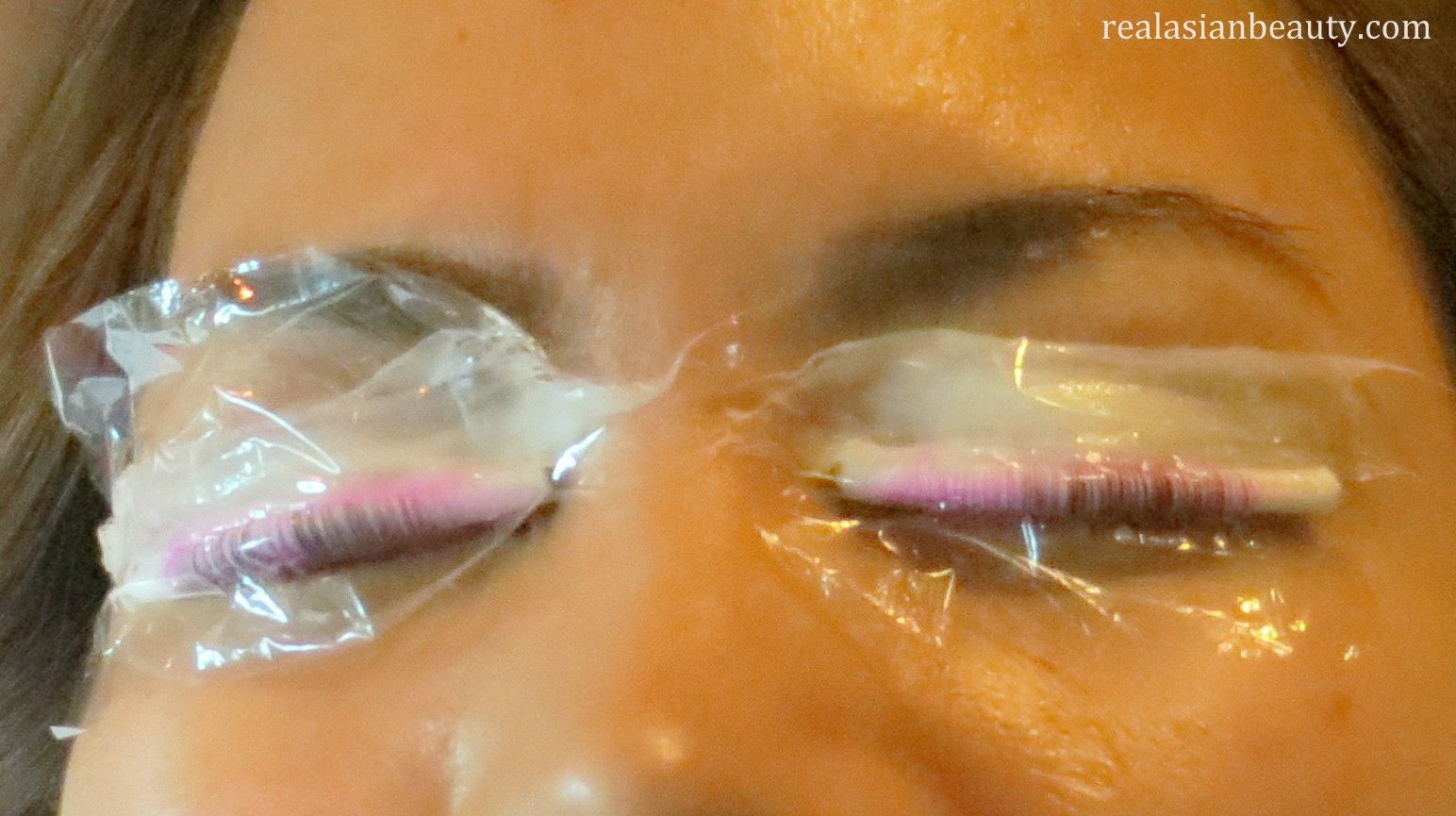 4. That will stay on your eyes for about 30 minutes. If your attendant neglects you, it may stay up to 1 hour. (lol) Just like my attendant. But I didn't mind it since the longer the chemical stays on my lashes, the more curled my lashes will become, I thought.
5. Last step is to carefully remove the lashes, again one-by-one, from the pad. She will then hand you a mirror so you could say hello to your extremely curled eyelashes!!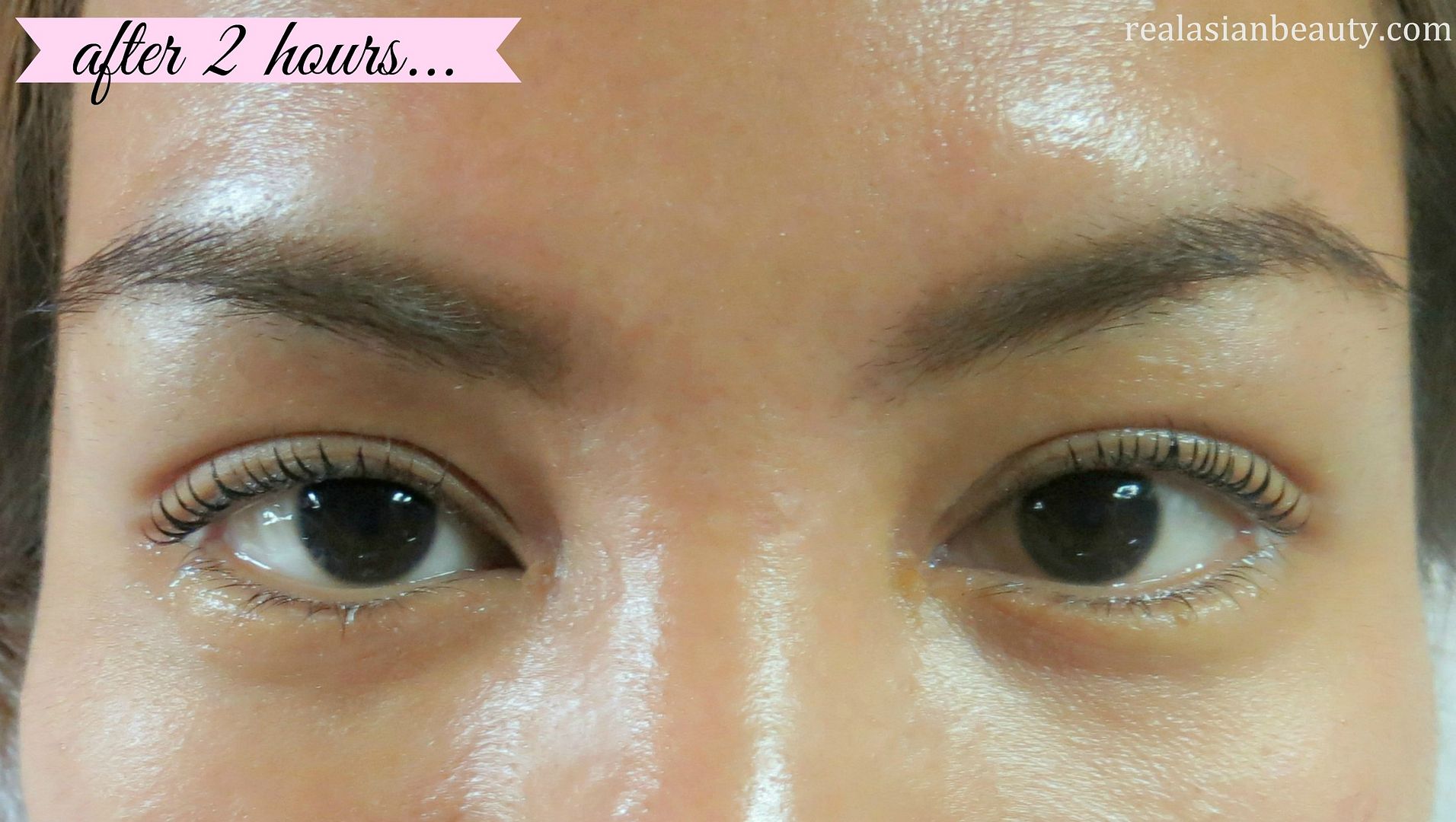 The lady will tell you not to wash your face, or at least your eyelashes, for 1 day. This is so the chemical will stay on the lashes longer. The next day, you could wash your lashes.
Here's how they look in the shower!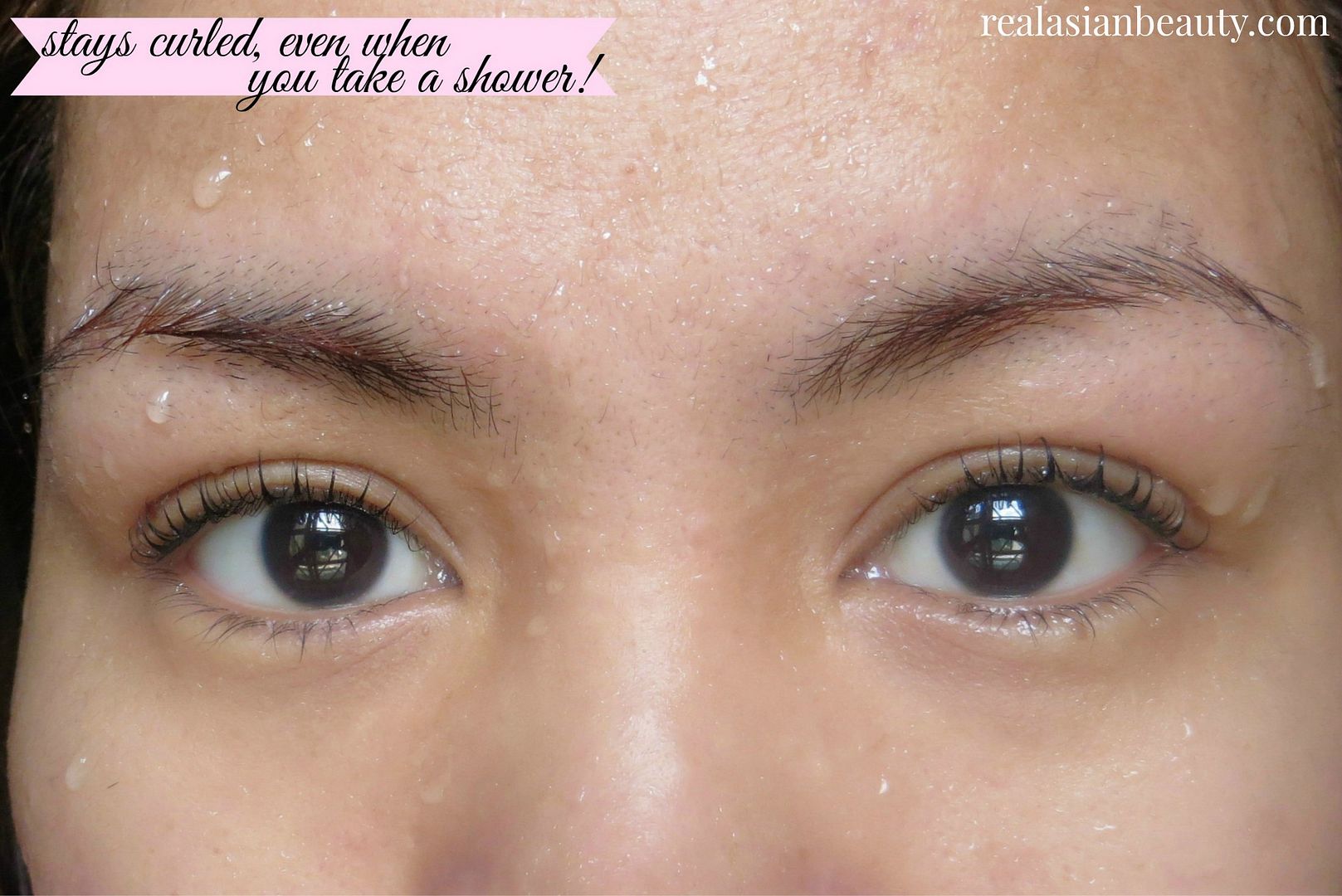 This is perfect for Summer since you will probably go swimming! Your lashes will stay curled even after hours and hours in the water! Yay!
Now, you can go ahead and say goodbye to your eyelash curler!
HOW LONG DOES IT LAST

: If you don't rub your eyes often and take care of the curl by regularly applying mascara, it will last until 3 months.
Here's how my lashes look without curling and without mascara!!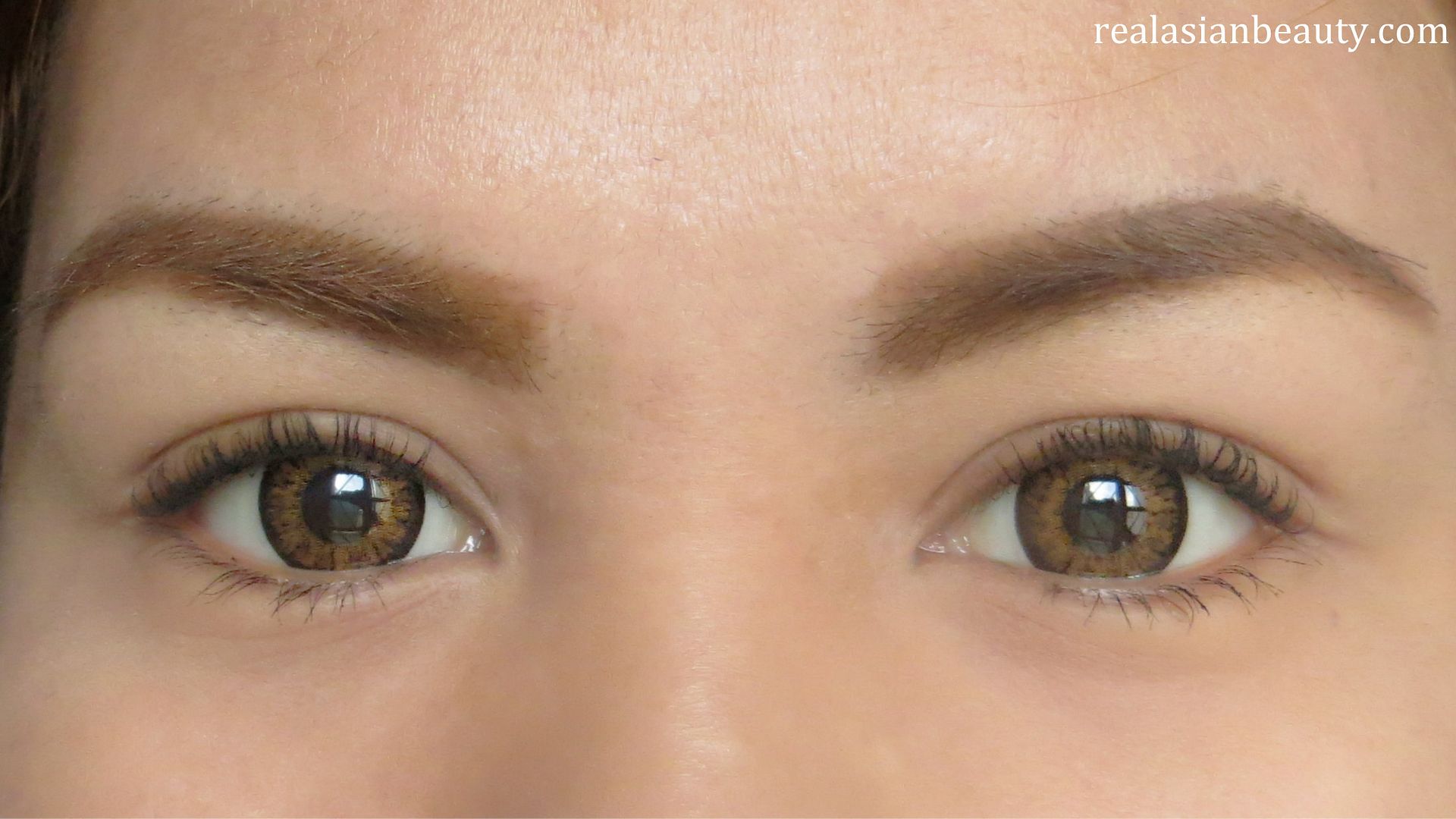 To give you a better idea of how my lashes look before and after, I used a photo from an old mascara review post that I did where I didn't have eyeliner on. (That's why my contact lenses colors are different.)
PROS

:
Inexpensive (Php280 only!)

Lasts up to 3 months

You could go in the water and lashes will stay curled
CONS

:
You can't rub your eyes

Applying liquid eyeliner will now become a pain since the lashes are all in the way

On the 3rd month, the lashes will look funny because some strands are still curled while some are already straight.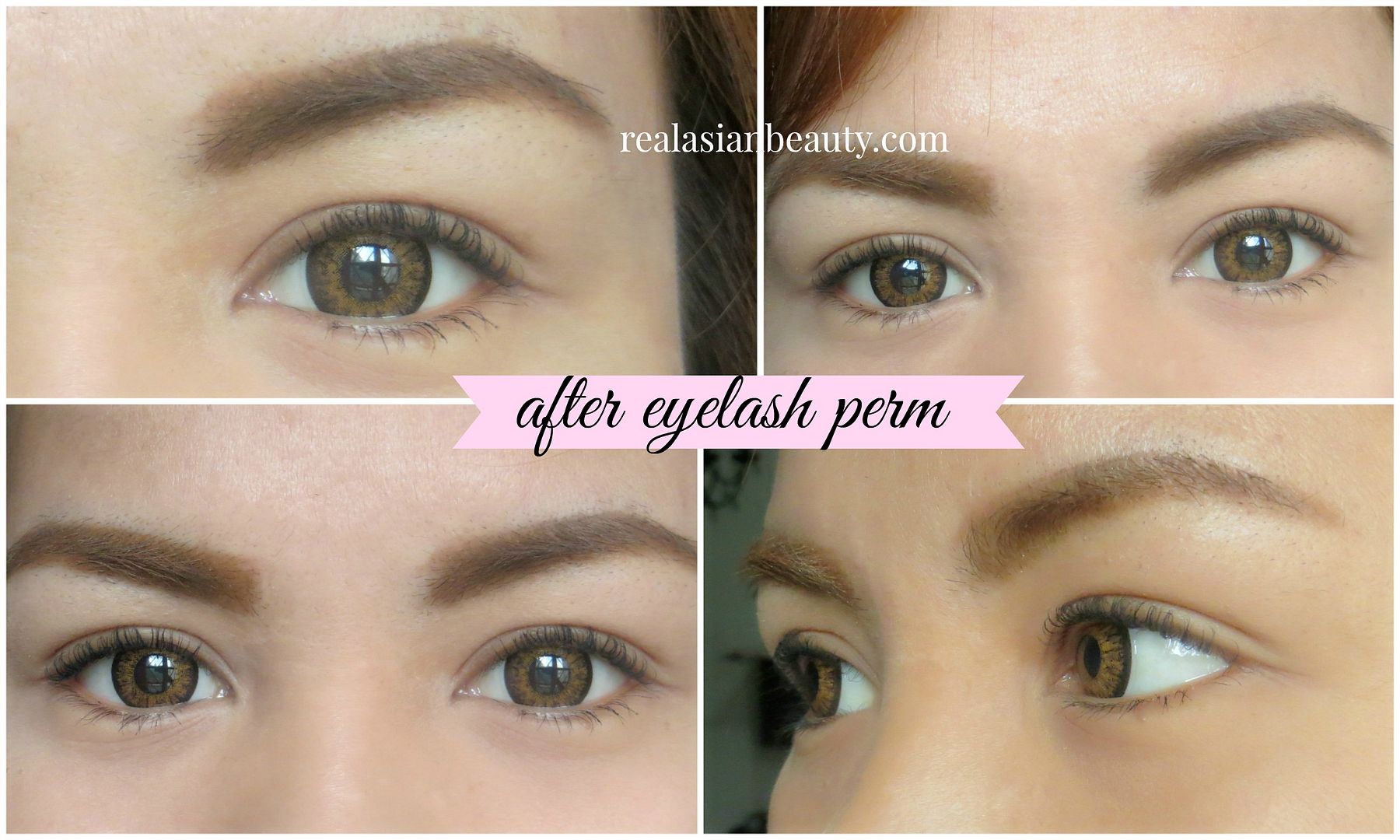 Also, there are two types of curl you cant choose from : Natural and Curly. I thought the natural was not going to be obvious so I went for the Curly one. It is extremely curly, which I like, but it made my lashes look a bit shorter than they actually are since the tips of the lashes are all the way on my lid.
Nonetheless, this is a very nice beauty treatment! I've forgotten how much I love eyelash perm. Now, I could toss away my eyelash curler. It saves me times in the morning!
Let me know what you think by leaving a comment below!

Kristine