Summer is here, finally! I'm not really a beach-bum kind of person but I always feel excited to go swimming every Summer! I guess the reason why I don't swim too often is because my skin is already dark. I don't need more sun tanning. lol. Anyway, I'm sure you are excited to hit the beach, too! But have you found the perfect bikini for your body type?
There are lots of body types in the world. And knowing how body conscious us girls are, I'm sure we all have one or two insecurities in our body. To help you find the best swimsuit, here are the 4 basic (and most common) body types :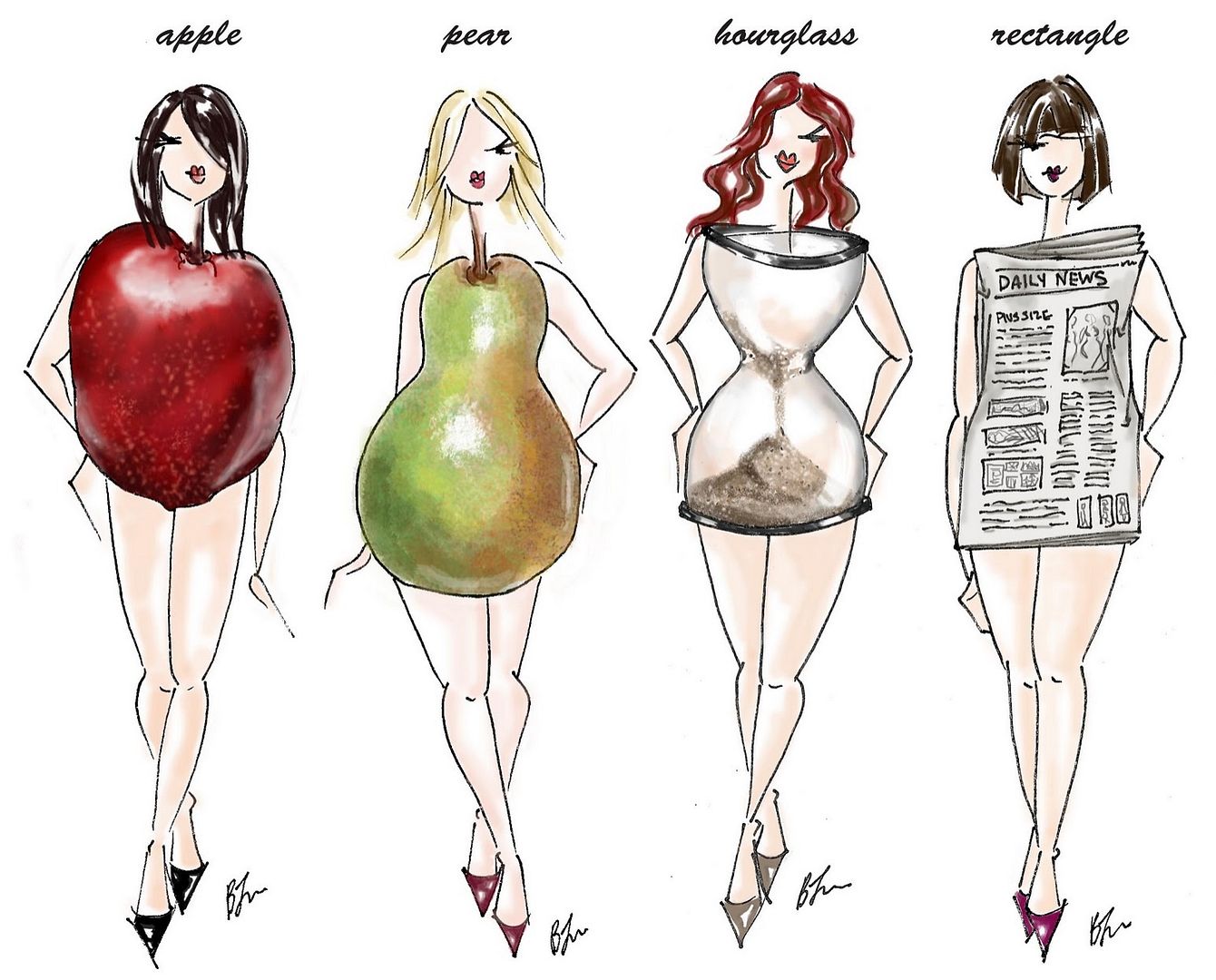 APPLE BODY TYPE :
Having Apple body type means the upper part of your body has more weight than the lower part. Chances are you have broad shoulders, larger bust and smaller hips and waist. When shopping for the swimsuits, avoid anything than will emphasize your upper body. Instead, try to draw emphasis on your bottoms.
DO's :
1 of the two pieces should printed (and the other plain) to keep balance

Go for tops that have flattering cuts
DON'Ts :
Avoid tube-tops and beandeaus

Don't pick shapeless and unflattering tops
1.) Printed top and plain bottom
2.) Halter / loose fitting top and plain bottom
3.) Topshop black and white bikini - (link here)
PEAR BODY TYPE :
Pear body shape is the opposite of the Apple body shape. This means your lower body is larger than you body. Hips and buttocks are wider than the chest and shoulders. More often than not, your buttocks are big but your chest are small. For this body type, remember to draw emphasis on the top and downplay the bottom to make the shape of your body look balanced.
DOs :
put emphasis on the top (halter or string)

high-waist bottoms in plain

printed top and plain bottom

Draw attention on top by choosing details like halter or cleavage revealing
DON'Ts :
Boyleg bottoms (it will emphasize hips)

Bottoms with huge/loud print

(it will emphasize hips)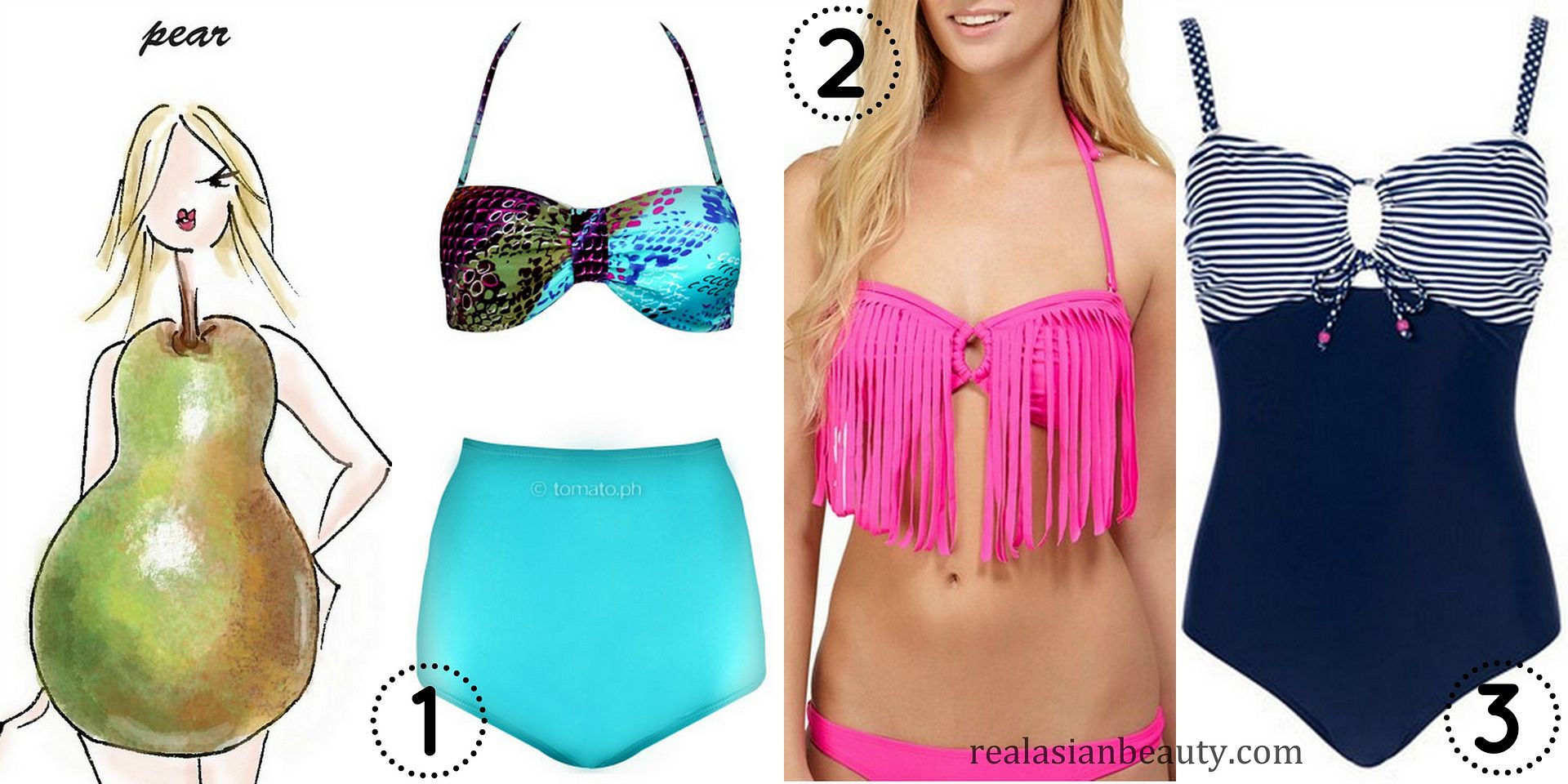 1. ) Tomato high-waist bikini - (link here)
2.) Roxy fringe bikini - (link here)
3.) Bon Marche 1-piece swimsuit
HOURGLASS BODY TYPE :
An hourglass figure is the most coveted body type of all, of course! If your body is like this, ikaw na! lol. Having hourglass body type means your upper and lower body are similar in width and your waist is more on the narrow side. You shouldn't have a problem choosing the best bikini since you will probably look good in anything. But to accentuate your figure, bikini in solid color or small print is the best since it won't distort your proportions. Monokini that has thin string will also accentuate your shape.
DOs :
You will surely look good in bikini, so go ahead and flaunt your body! :)

Swimsuits that have slim/thin strings

Monikinis that have slim strings
DON'Ts :
Avoid swimsuits that have thick strings as they will draw attention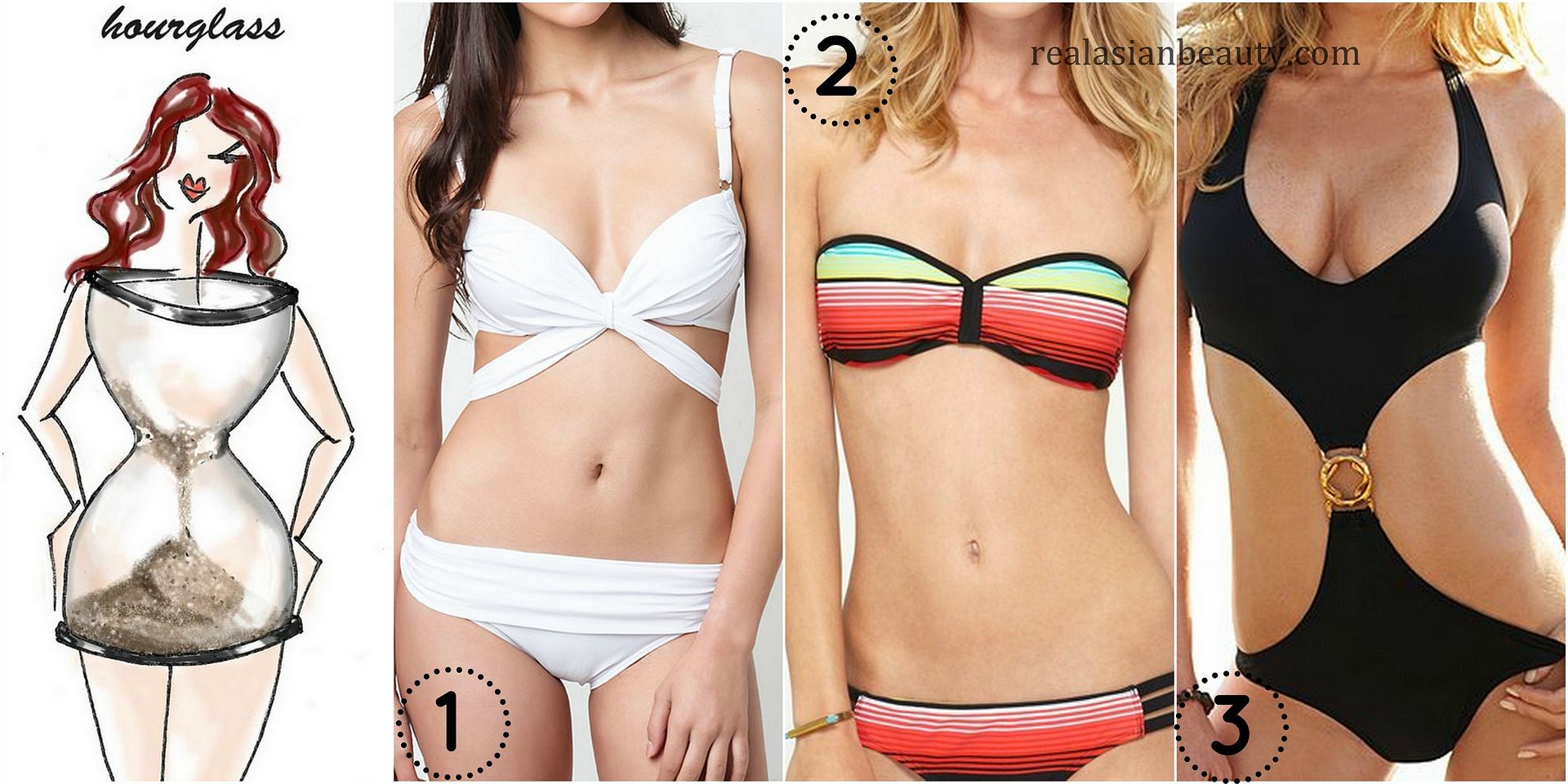 1.)
Zalora white bikini - (link here)
2.)

Roxy strapless bikini - (link here)
3.) Black Monokini
RECTANGLE / BOXY BODY TYPE :
This means your hip and shoulder's width are the same. I regret to say this, but this body type has very few curves because the bust, waist and hips have same measurements. There are two options. The first one is to choose a swimsuit that would fake some curves! Or go all the way and wear a skimpy bikini.
DOs :
Monokini's (to fake curves)

2-piece swimsuits

String bikinis

Fake curves with padding
DON'Ts :
Unflattering 1-piece swimsuits

Bikinis with thick straps

Swimsuits that are heavy on the waist

Avoid bandeau or tube-tops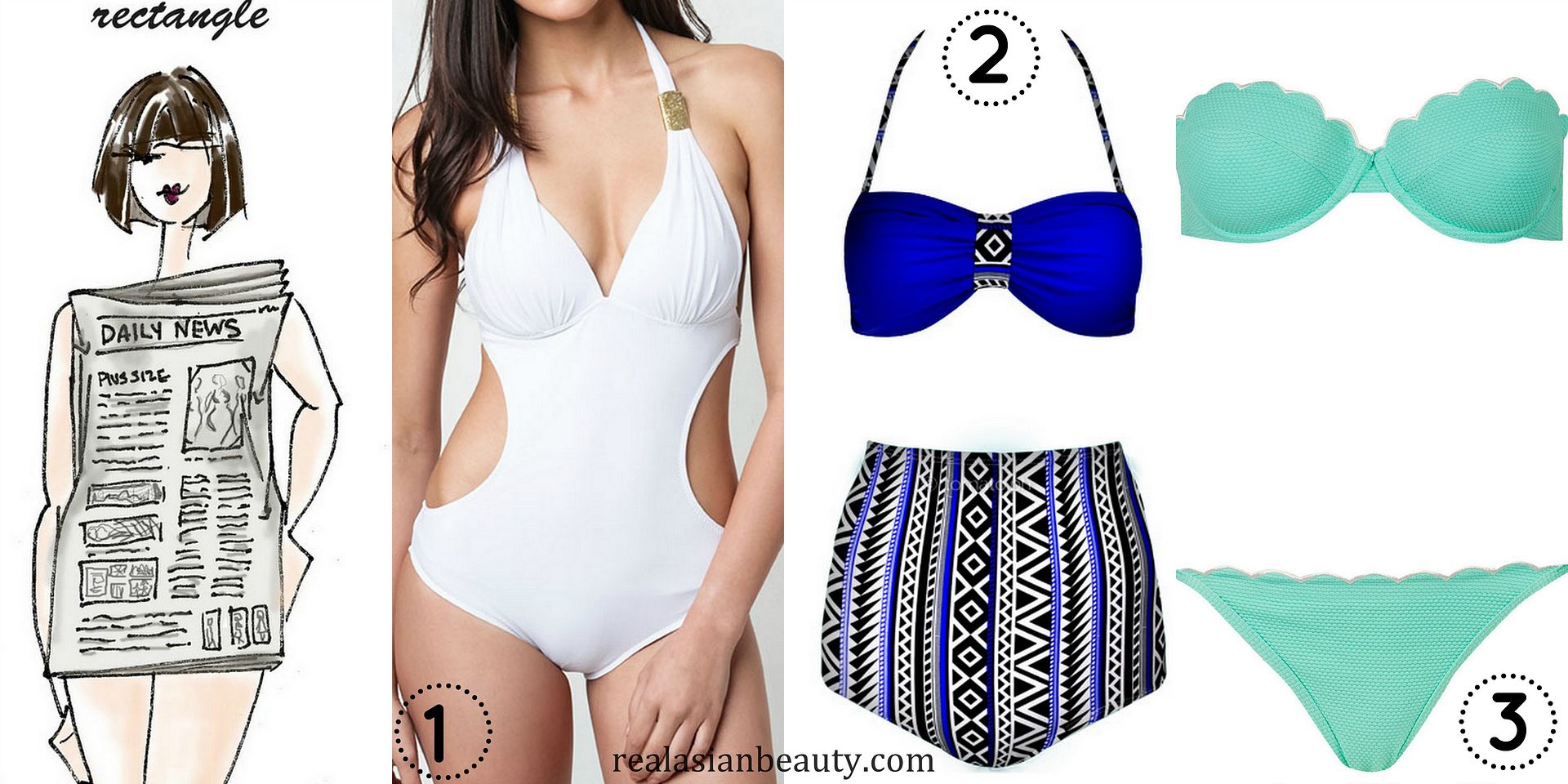 1.) Zalora 1-piece monokini - (link here)
2.) Tomato high-waist bikini - (link here)
3.) Topshop scallop bikini - (link here)
Now, I know being aware of your body type isn't enough as some have hourglass figure but have a problem with the chest area. There are also that that aren't confident enough to flaunt their bodies.
Here are some of the most common body problems that women have :
SMALL CHEST
Most Asian women have small chest. That's why no matter how curvy our bodies are or how flat our stomachs are, we still won't be half as sexy as the Brazialians and Mexicans! (lol) Anyway, to conceal small chest and make them seem a bit bigger, finding the right bikini top is the key!
(

Roxy Floral Swimsuit

| Tomato Fringe 2-piece | Purple Shore Pink Gingham |

ILoveKoi Floral Swimsuit

)
DOs :
Printed tops

Bikini tops with under-wire / bustier tops

Fringes are your best friend

V-cut tops that push the breasts a little

Choose bikini tops that have volume on the top
BIG CHEST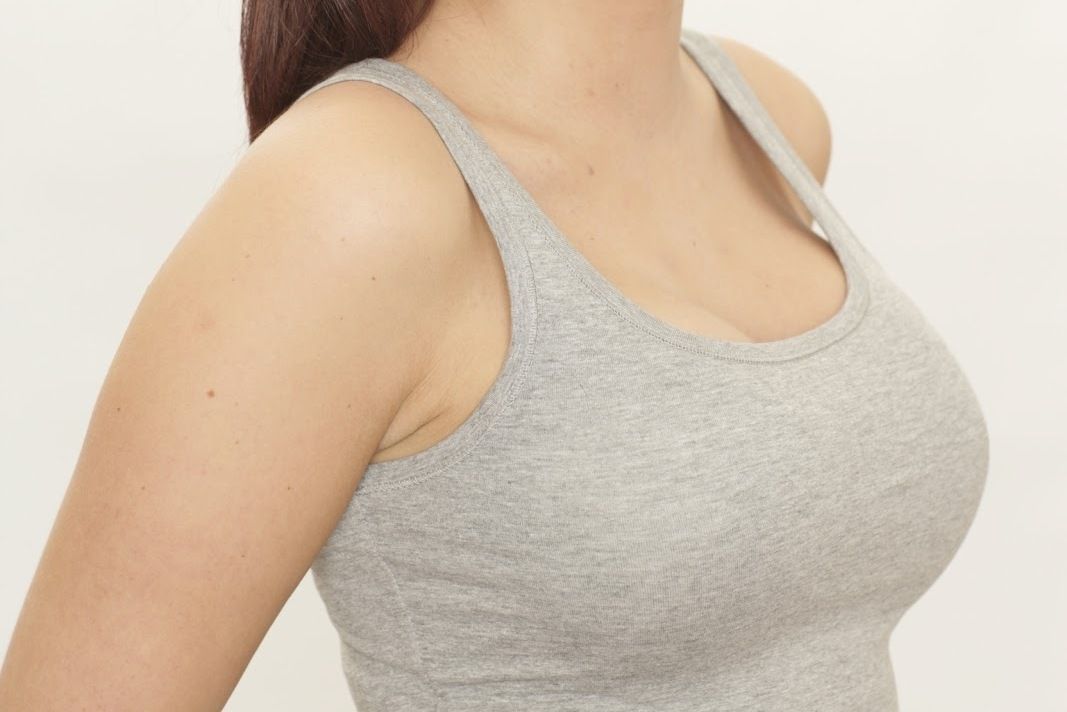 I don't know why this should be a problem in Summer. I mean, Summer is the only legit time where we get to flaunt our bodies without looking tacky or anything. But, in case this is really a problem then fret not, because choosing the right top will also lessen the probability of you being the center of attention at the beach.
(Forever21 Baroque Print 2-piece |

Tomato High-waist swimsuit

| ILoveKoi Swimsuit )
DO's :
Tops that don't come in V cut

Tube tops and Bandeaus are perfect!

Find a top that can support your chest (We do not want any of those waldrobe malfunction!)
UNFLATTERING TUMMY / STRETCH MARKS
Most people I know that have problem with their tummies are those who have given birth already. Most mommy friends I know are very conscious when we go swimming because they worry about their stretchmarks.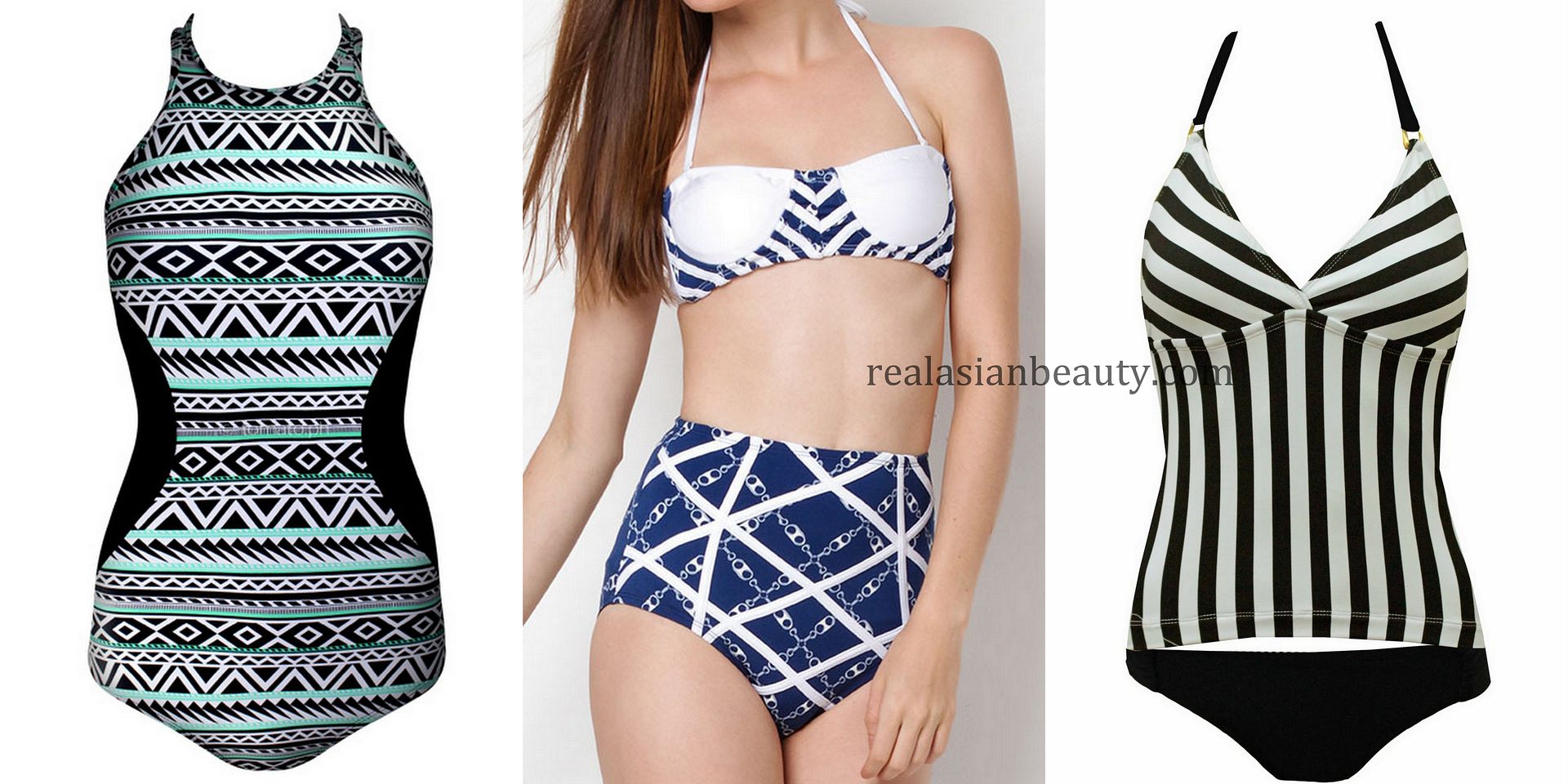 ( Tomato 1-piece swimsuit | ILoveKoi high-waist swimsuit | unknow brand of Tankini )
DO's :
1-piece swimsuits are back in trend, take advantage of it!

High-waist bottoms

Tankinis!
SMALL BUTT/HIPS and/or STRETCHMARKS
This is also one of my problems! I'm not very confident to expose my buttocks area. Cover-ups are very helpful but once you get in the water, cover ups get wet this exposing the areas you'd rather not allow other people to see. Good thing, pin-up girl inspired swimsuits are back in trend!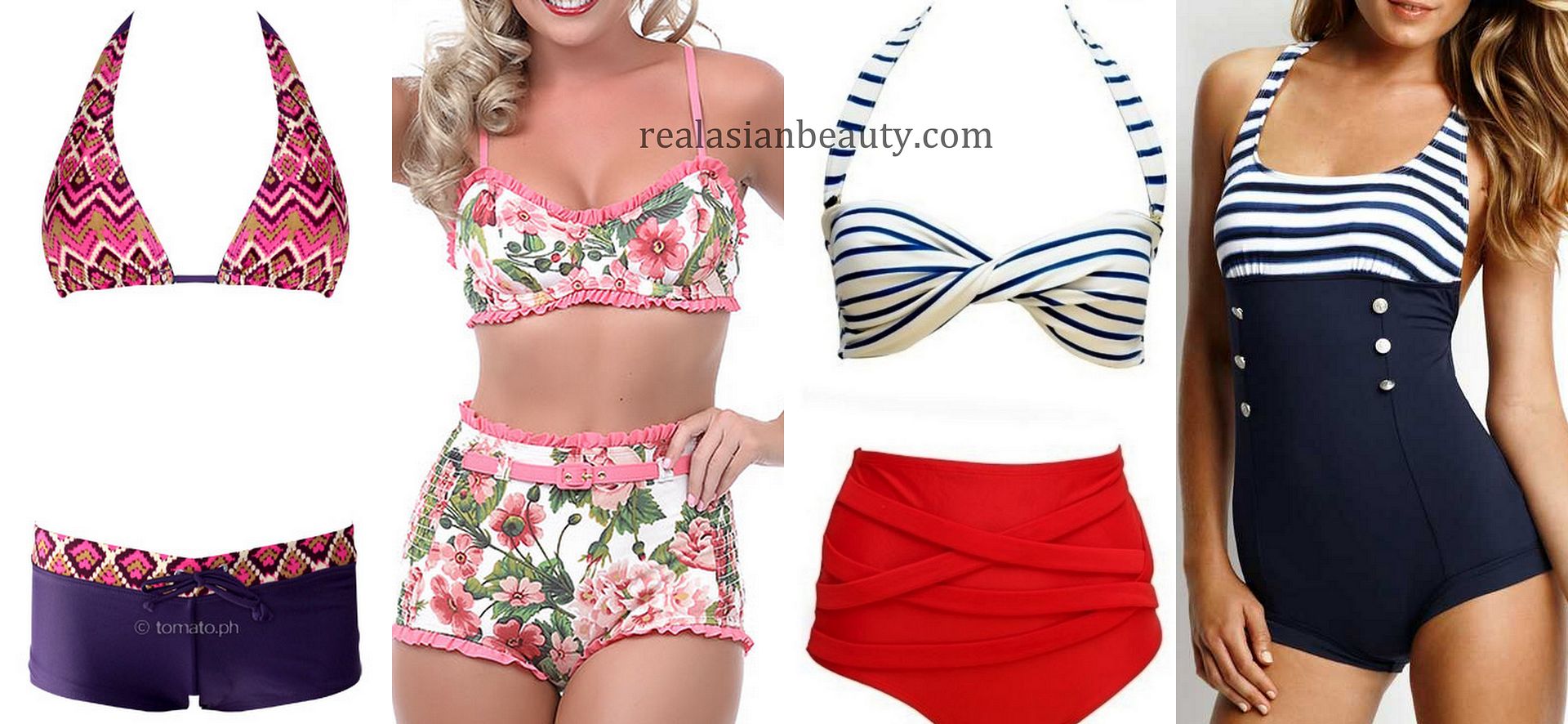 (Tomato 2-piece boyleg swimsuit | Unique Vintage Floral High-waist , more here | unkown brand pin-up girl inspired | ASOS Nautical boyleg swimsuit )
DO's :
Boylegs bottoms

Printed bottoms

Swimsuits that have volume on the bottom like ruffles, cuts, fold or embellishments
And that's it! Everything you need to know about choosing the perfect swimsuit!
Ahhh, I spent the whole day doing this post! haha. Now, I am so tired that I can't spell and grammar check this post anymore. I'll do that tomorrow! I usually take 1-2 hours to finish a post but this one took me 7 hours! I painstakingly tried to search the entire net for these swimsuits! Then, I made the collages.. then I studied the different body types. haha! I hope this post was helpful.
Thank you for reading!
Kristine