I could use my fingers and toes but they still would not be enough to count how many friends and relatives I've asked to help me with this blog. I ask some of them to take my photos, go with me to a shoot, ask some to help me take my video, come with me to the mall to buy stuff... and a whole lot more!
Today, I asked my friend, Karen, to take my photos again for this post. Guess where we took these photos! hehe
Anyway, neon colors are so in trend these days. Had it been another year, this cardigan would have definitely gotten weird stares from people. Amazingly, I got no weird stares when I wore it to the mall yesterday! Hooray!
Floral Sneakers : Parisian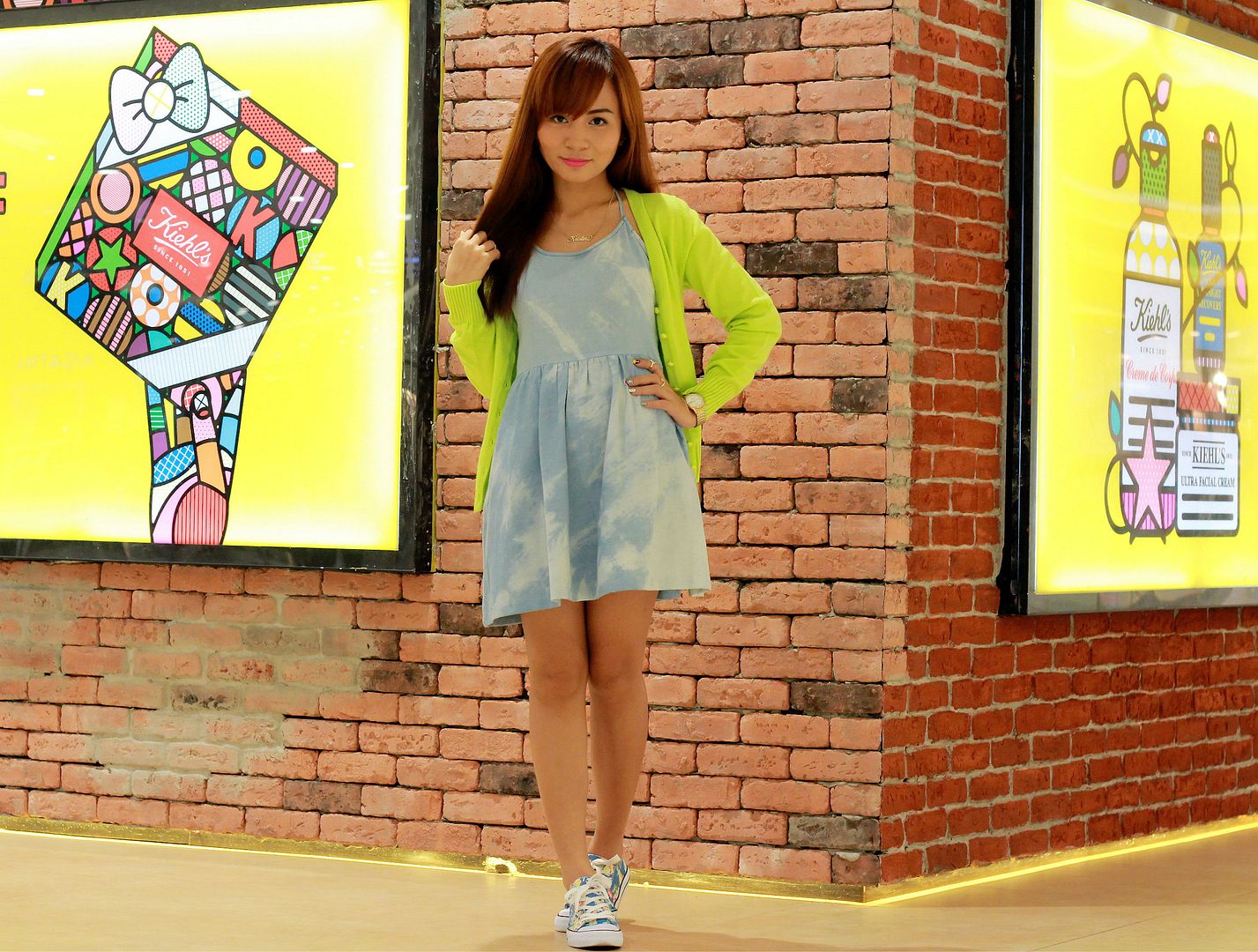 If you were curious about the story behind the title of this blog post then let me share a short story.
A few posts ago, I told you that an acquitance of mine went to Korea. And you know how much I want to go to Korea... A few days ago, as well, I posted some photos of old Kpop stuff that I found in my room while cleaning. I posted it on Facebook and asked if anyone was interested. While she was in Korea, she commented and told me she was interested. So, I said she can have it. Right there, I remembered that she was indeed in Korea and there are 2 lip stains from Etude House that I really like but the first one got phased out here and the other one is pricey. So, I asked her if she could buy them for me there and I'll just pay her back when she gets back home. I mean, it's not everyday that a friend goes to Korea, right? And I could save 50% the price! She said she'll try. A few days later, she even messaged me and sent me a photo she took inside Etude store asking me if it was the right product. I said yes. I didn't send her any messages after that because I might disturb her vacation. A few more days and I saw her post that she was coming back. I was hoping she did remember to get the 2 lip stains that I kindly asked her to. Total amount should be about 12,000 won, about Php560 ($13) in the Philippines. I waited a week for her to tell me if she was able to buy them or not. I didn't want to send her a message first thinking she'd be too tired from the trip. So, I waited about a week. The other night, I messaged her on Facebook asking if she was able to buy them. "Nope. Sorry." She responded. I was confused because of the way she responded. So I said, "Naghintay pa ako. (I even waited...) lol. Okay, thanks!" To which she responded "What do you mean by that?" and then I responded with "Naghintay lang kasi ako.. Buti tinatong ko. hehe Thanks nalang" (I waited. Glad I asked you. Thanks, anyway!) to which she responded "Sorry kung nag hintay ka. (Sorry if you waited) But in the first place, I'm not obligated to report to everyone if I did their favor. I have things to do in life besides taking favors." A few seconds later, she deleted me on Facebook.
I was so angry that she had to say those words. I mean, those are just 2 lips stains that cost $13! I wanted to burst my anger like the way she did. Knowing her, I know she had already posted negative words about me on her Facebook. I've seen a lot of her posts with negative stories and swear words about others. I wanted to do the same... but I held back. I just messaged my best friend and told her about the story. Glad she doesn't take sides and told me my fault and the other person's fault...
That's when I realized that the person could be right. I realized that I may be asking for too much favors from people. I expect a lot. The reason behind that is because, I also give a lot of favors. You need my help? Sure, I'd help you! You want me to braid or curl you hair or do your make-up? I'd do that for you. Need my styling tips or need someone to talk to? I'm here even in the middle of the night. You need to borrow my stuff? Come raid my room! I'd go to the moon just to help a friend. And the wrong thing about that is I expect people to do the same thing for me. I ask them to take my photos, to help me with my videos... without realizing that they are busy with their own life, too. I give a lot but expect a lot from them, as well. I was hurt by that person but later that day, I realized that I was wrong. I even had to re-think if I was able to sincerely thank the people that have helped me...
So, if you have somehow helped me with this blog like took a photo for me, helped me take a video, came with me to a shoot, came with me to the mall, read my blog, watch my video, borrowed anything from you, then let me sincerely THANK YOU. I realized that I should not be asking for too much favors from people, give what I can wholeheartedly, and never expect for them to do the same.
Thanks to her for teaching me a lesson today!
And thank YOU for reading yet another long post! hehe
Have a nice day! Let us know if you've had a similar story.
_________________________
Thanks to Karen for the photos! :)