It's no secret that I love nail polish and nail art! That's why I always enjoy going to BDJ Nail Soiree's because they always combine things that I love : nail polish, nice people and good food!
I recently went to BDJ's Holiday Polish | Revlon Nail Party Series at the BTTC Center.
The event was hosted by nail art blogger, Ninna Dujunco. Look at her, isn't she so pretty? I saw her in person and thought she kind of looks like Janna Victoria.
I went with my friend, Flora. Andy from Shimmerjjang.com was there, too! My seatmates for the day!
The event was held at Serenitea, so we were also able to enjoy yummy drinks! Each of the attendees was also given a loot bag that contains Revlon nail polishes. The polishes were the ones that we used to create our own "holiday polish".
Bare nails!
So what we did was to listen to Ninna's talk. She showed us some of her Christmas nail art designs. They were all pretty! But, I heard she was asked to present really easy designs for beginners. In my opinion, though, what she showed us belong to the middle to above-average levels. But the Bellas did their best to recreate the cute penguins, Christmas trees and snowmans!
Here I am trying to help my friend, Flora, paint her nails.
Then, it was my turn to do mine. I really can't do my nails in public. When I do mine, I need a lamp/spotlight so I could see what I am doing clearly. I also need more time! hehe Have I mentioned that it takes me more than 3 hours to do my nails? I'm O.C. just like that!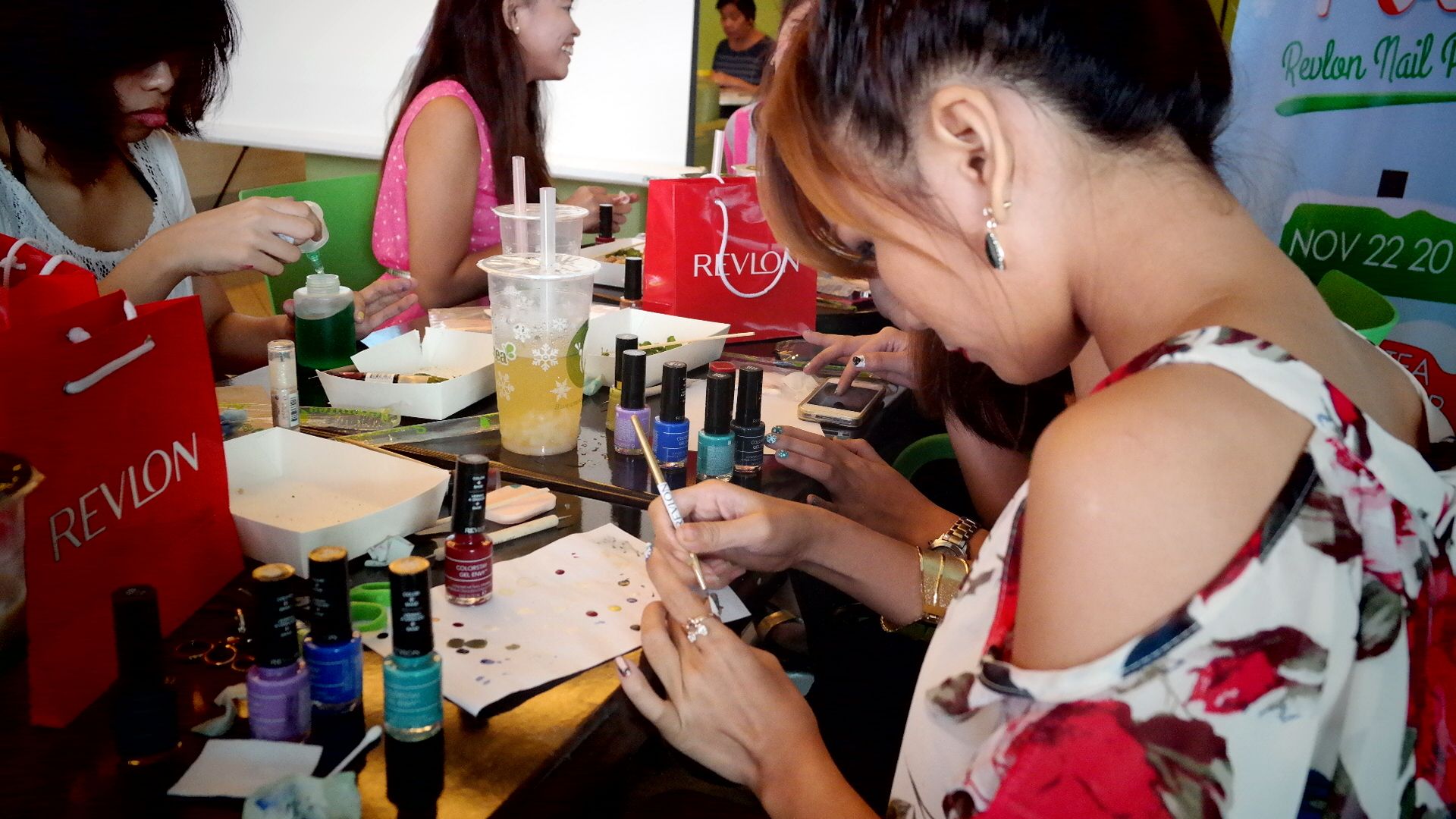 We had more time so I told Andy I'd paint her nails with "G-DRAGON"! hehe Too bad we didn't have enough time to finish it and at the end of the event, she smudged the GD-Taeyang logo nails. TT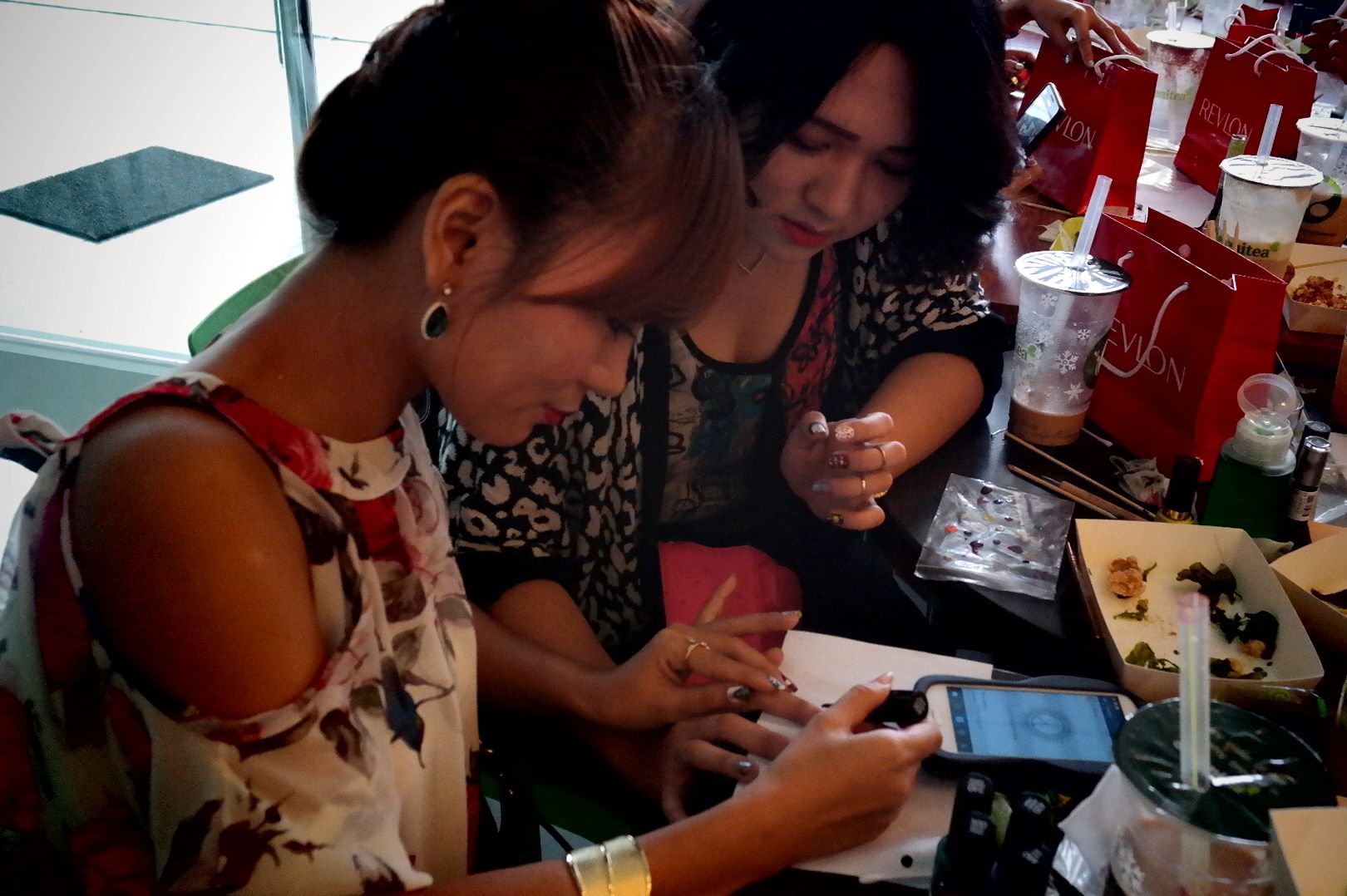 The aftermath! I feel bad that I stained Serenitea's table. I checked at the end of the event, though. I asked the lady if she was able to clean and remove the nail polish stains, she said yes! What a relief!
Thanks to Ms. Leah and to Ms. Michelle of BDJ for inviting us!
I love this photo of Andy and I!
Andy is such a nice girl! Prior to the event, Flora and I took some OOTD photos. The best lens for that is the 50mm lens, which is a zoom lens! Meaning, the view is zoomed so you can't really use it for events, unless you just want to capture the faces, or really close-up things. Andy was very kind to let me use her camera to take photos! 8 pictures on this post were from her! THANK YOU, love!
Andy also took this photo! I love these "bird cage" seats!
I really like it! Thank you, Andy, for this cute photo of me! hehehe
Here's the rest of the bloggers and Bella attendees at the nail art party!
Were you there? Can you spot yourself in the picture? :)
It was a fun event! Looking forward to more BDJ nail art parties!