L'oreal Professionel launches the latest trend in hairstyle - The V LOOK. It's a hairstyle designed to achieve your V-shaped face with the right cut, color and style through the expertise of L'oreal Professionnel.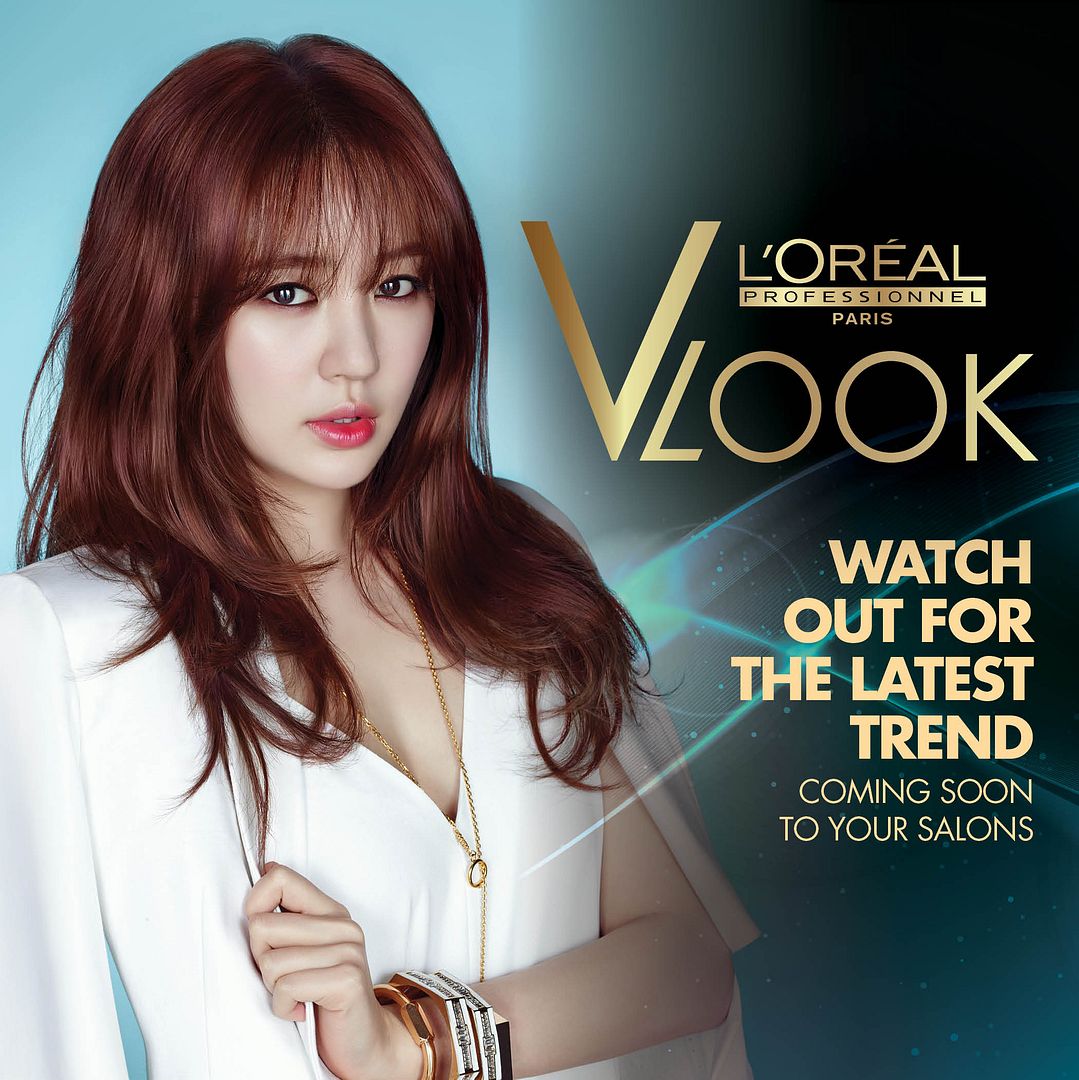 To show you how it works, I personally tried the hair service first! Here's how my hair looked before getting the V-LOOK! I want my hair to stand our from the ocean of dark brown to black that we have here in the Philippines. So, I always color my hair the lightest shade possible.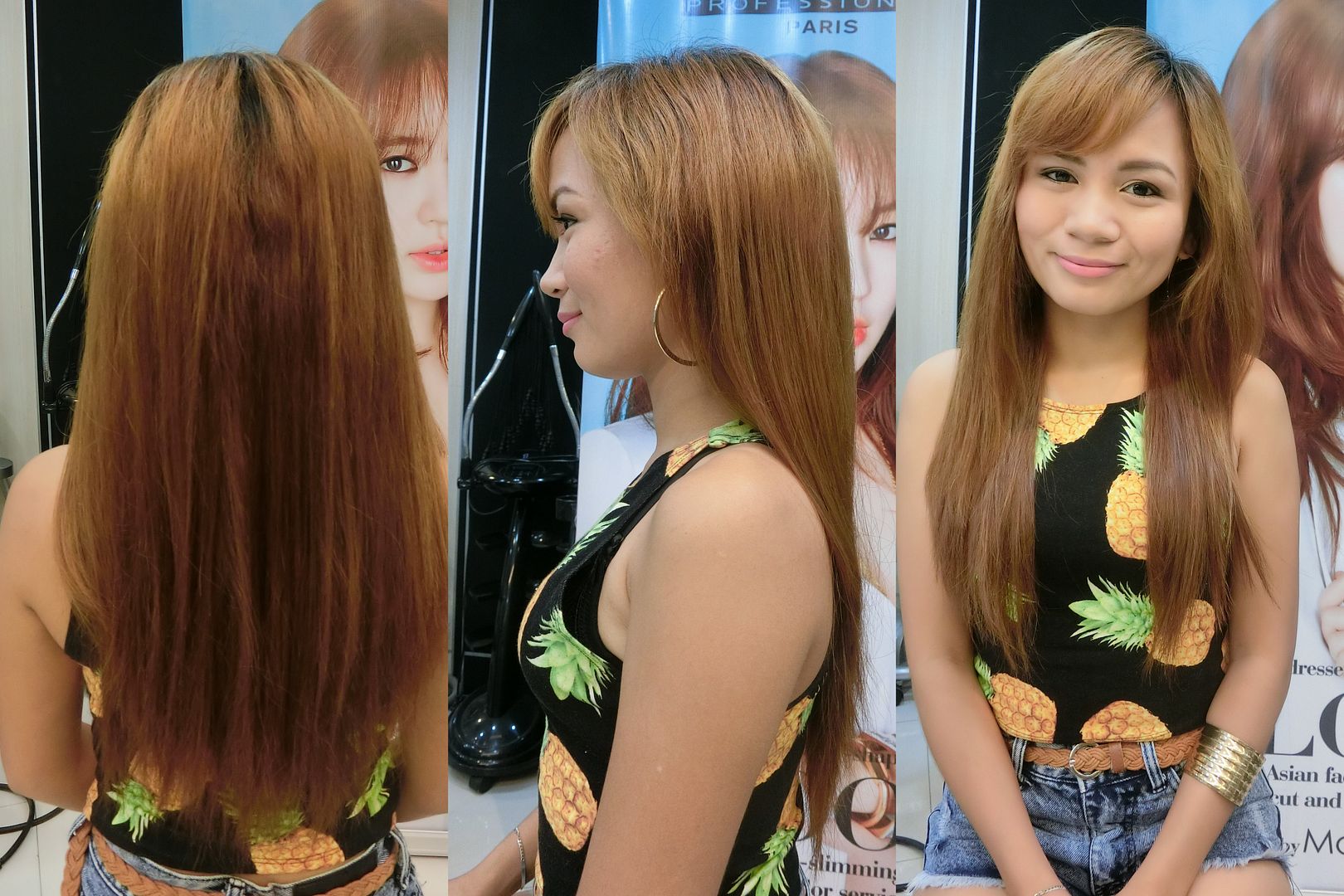 One of my issues about my face is that it's too round and my cheekbones are quite high. That's why always envy people with V-shaped face, especially the Koreans. But I never thought there was a way to get the enviable V-shaped face without going under the knife!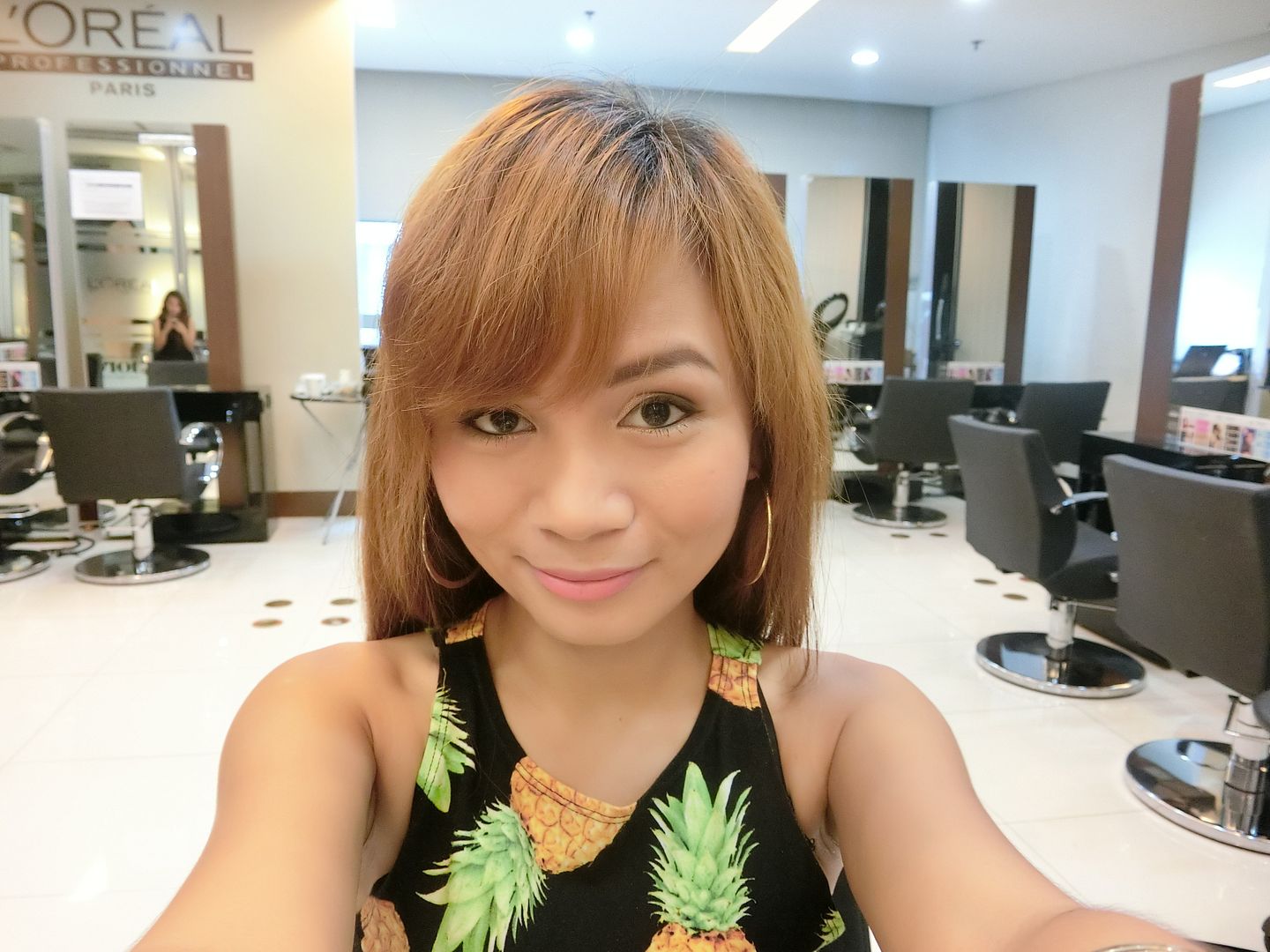 For the V-Look, Hair Stylist Rod Nuevas of L'oreal Philippines will help me achieve the look.
The first step was to cut the hair. And oh my, this is definitely one of the best haircuts I've had in my life! Don't you guys hate it when you have to fight for your hair when going to the salon? I mean, you tell the hair stylist what you want and then he'd end up doing a totally different thing. Or, you'd have to watch every single inch he cuts else your hair would go from super long to extremely short! Rod cut it exactly how I was imagining it, the volume, shape and the length were perfect!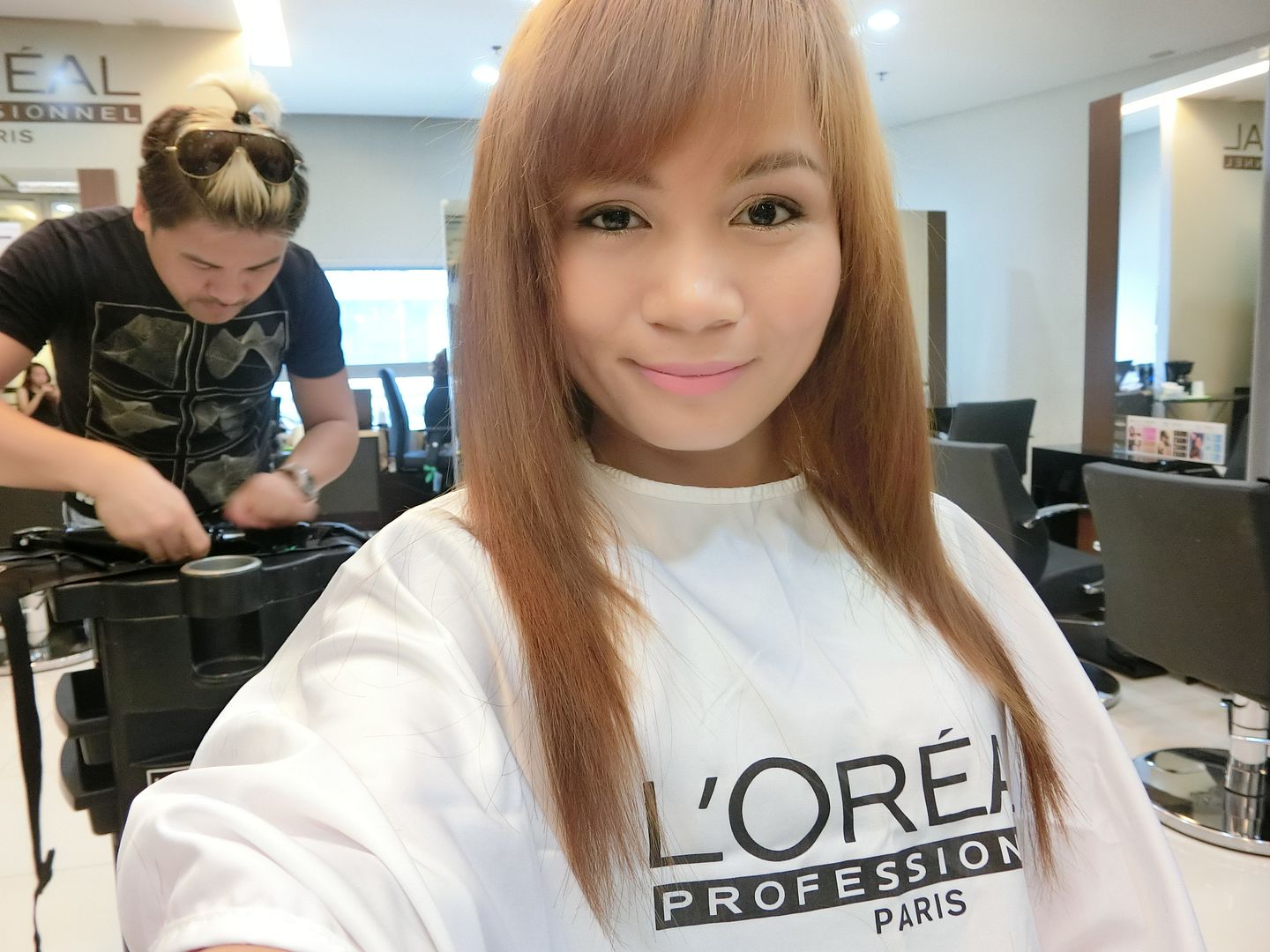 The hair cut was all about framing the face and giving edges and layers to hide the forehead, cheeks and jaw to give the client a slimmer, perfect V-shaped face.
Next step was to color the hair. According to Rod, light hair makes the face look washed out and it also highlight the areas of the face, therefore making it seem bigger/broad.
It was a nice experience to work with someone that knows so much about hair. He did my hair for 3 hours and never have I enjoyed hanging out with a hair stylist until that day. I learned so much from Rod. I will share some of the things I learned.
Every hair is different. That's why a shade of hair color won't have the same effect on everyone. One must consider the pigment, condition and texture of the hair when trying to achieve a certain color.

Plucking the hair is not good. In a lifetime, a single pore will only grow hair 25 times. Each hair strand will live for 3-5 years, so when you continously pluck the hair, it will fasten the life span of the pore, therefore making someone get thin hair quickly.

Keratin Treatment is not healthy for the hair as the original form of it contains formaldehyde, which is toxic for humans.

Shampooing the hair everyday, especially for the Filipinos is much needed, especially with our environment and climate. Conditioning, too. Shampoo the hair on the roots and then condition the hair on the tips.
I actually learned a lot more but I forgot the others. Good thing I remember the important ones, though.
Anyway, the hair color that was done to me was not a single, flat hair color. Rod added depth to it by doing some dark colors and then adding some highlights. But he mainly focused on the color Mahogany to make my face look smaller.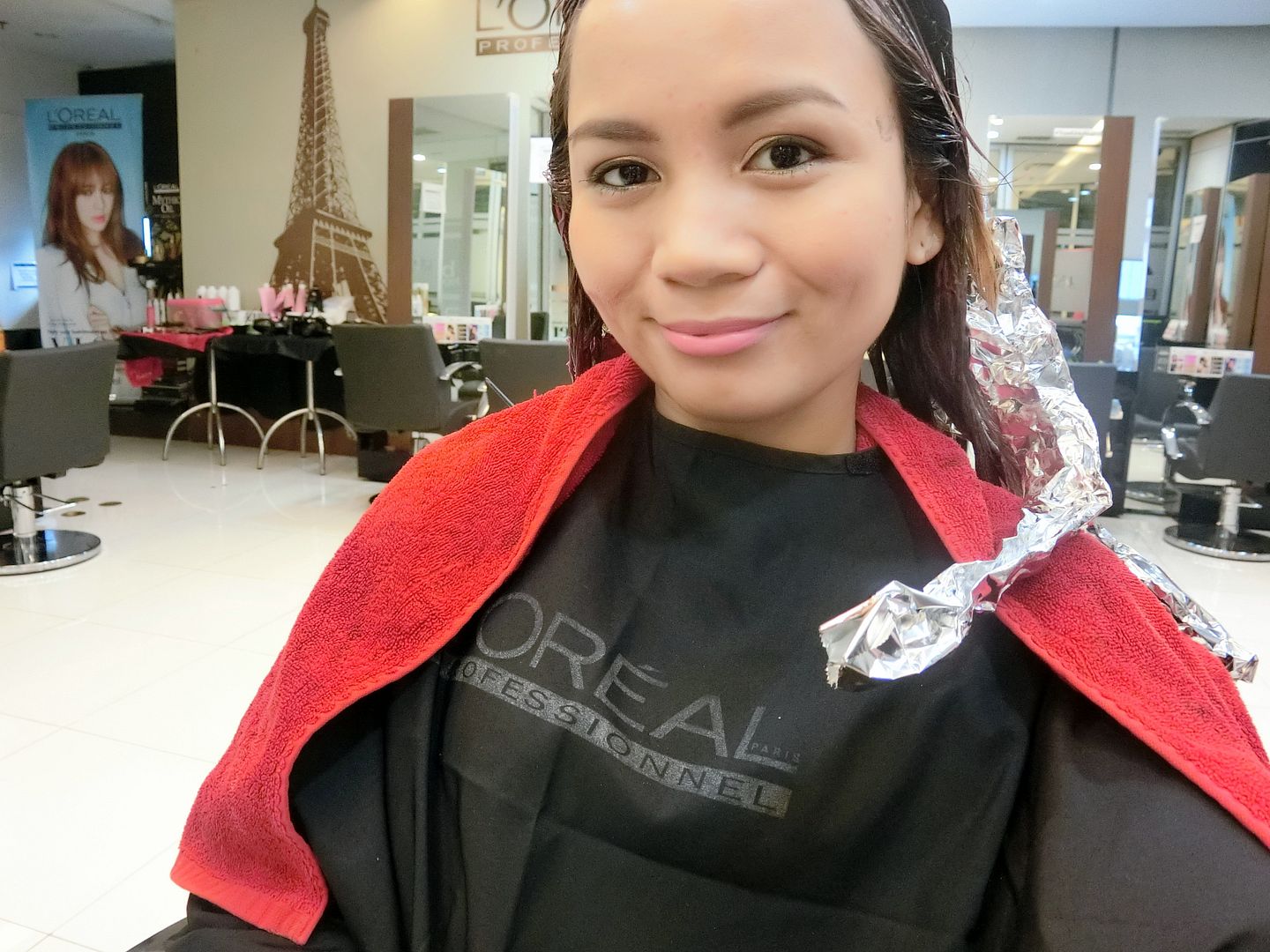 As you see in the picture, I really have big, round face. Especially my jaw, cheek bones and forehead, OMG.
Then, it was time to style the hair. Make it look like Yoon Eun Hye's hairstyle int he picture, yes!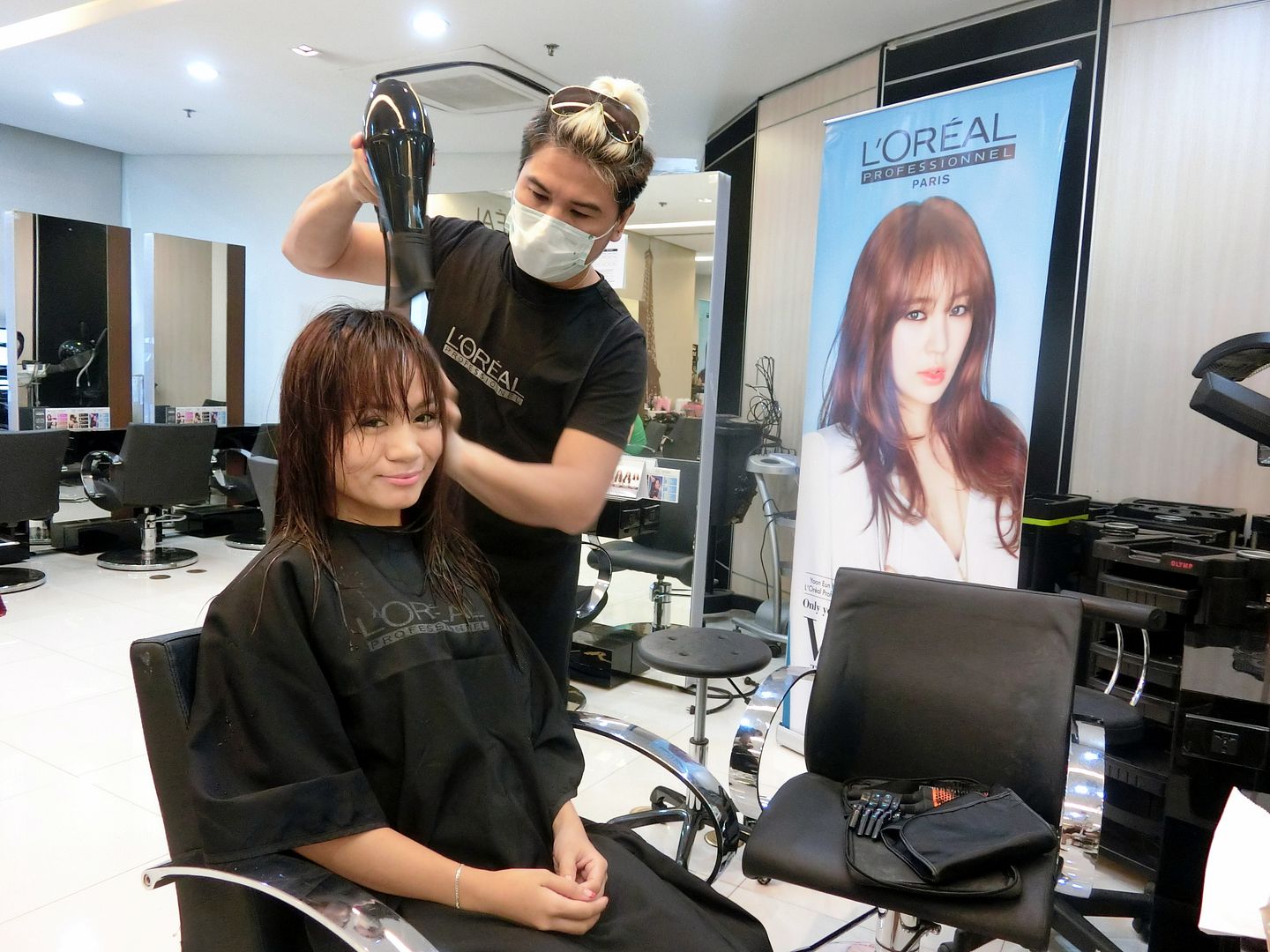 After a few minutes, the magic was revealed! Tada! How do I look?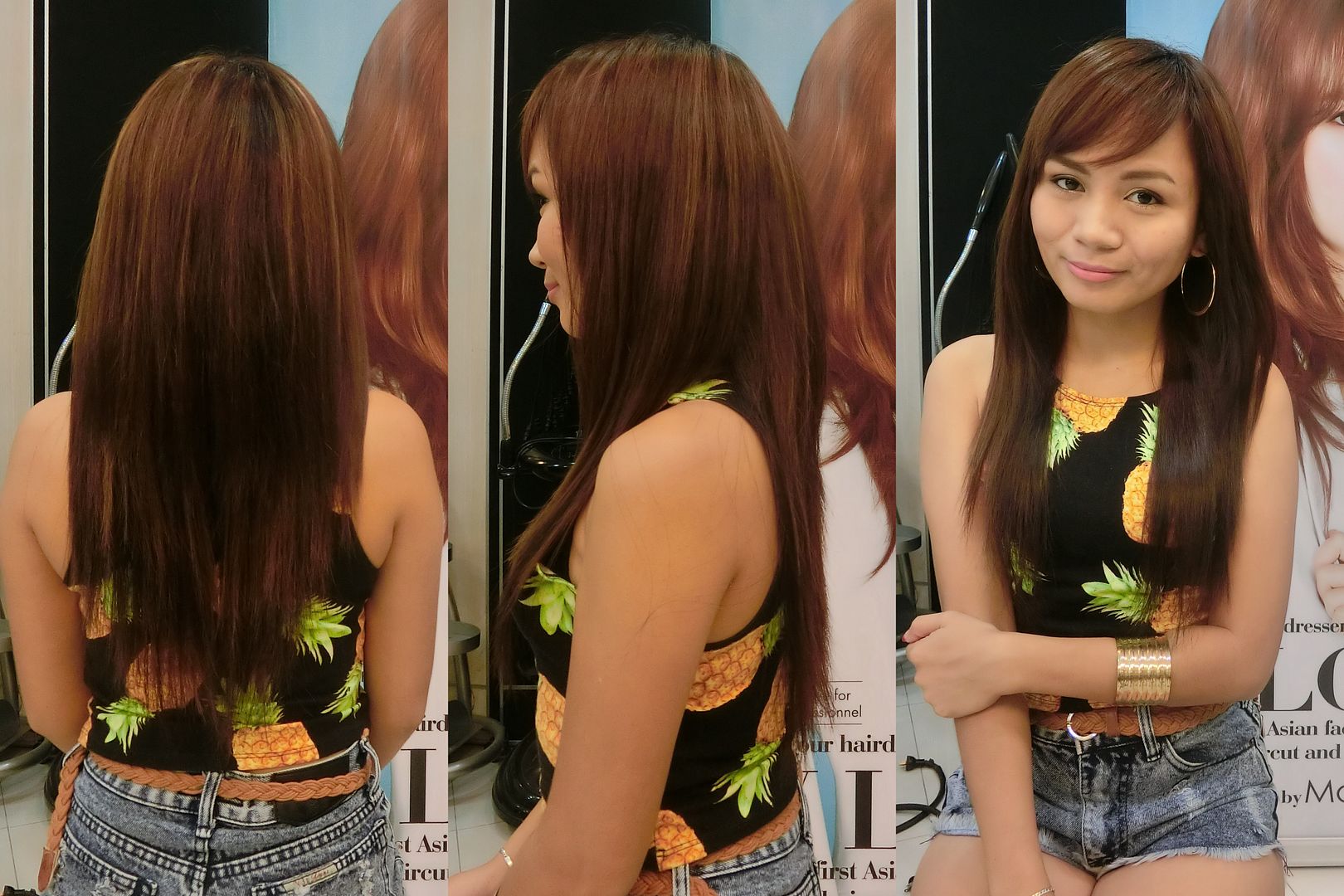 This is the darkest hair color I've had in what, 2 or 3 years?? I've forgotten how much healthier and smoother hair looks when colored in dark. That's why I looked pale, washed-out and my hair was so dry! It was because of the hair color! Chestnut Brown + Golden Blonde, shame on you! (harhar!)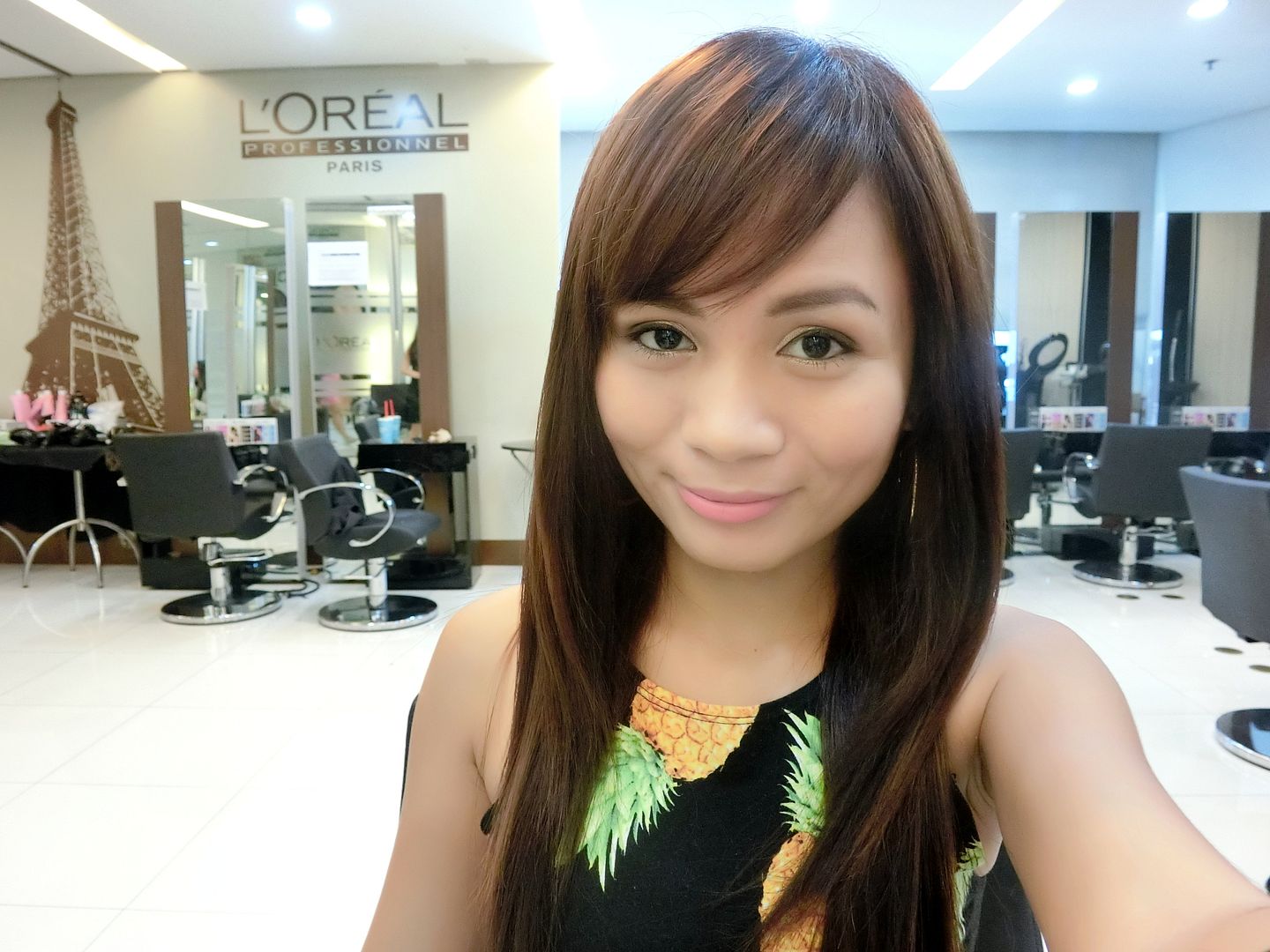 Do you see the difference?
I totally do!
(Pictures are unedited and untouched) My face in the left photo looks big and round while the in right photo, my face looks slimmer and smaller. Yay, I finally
achieved the V-LOOK that I've been wanting!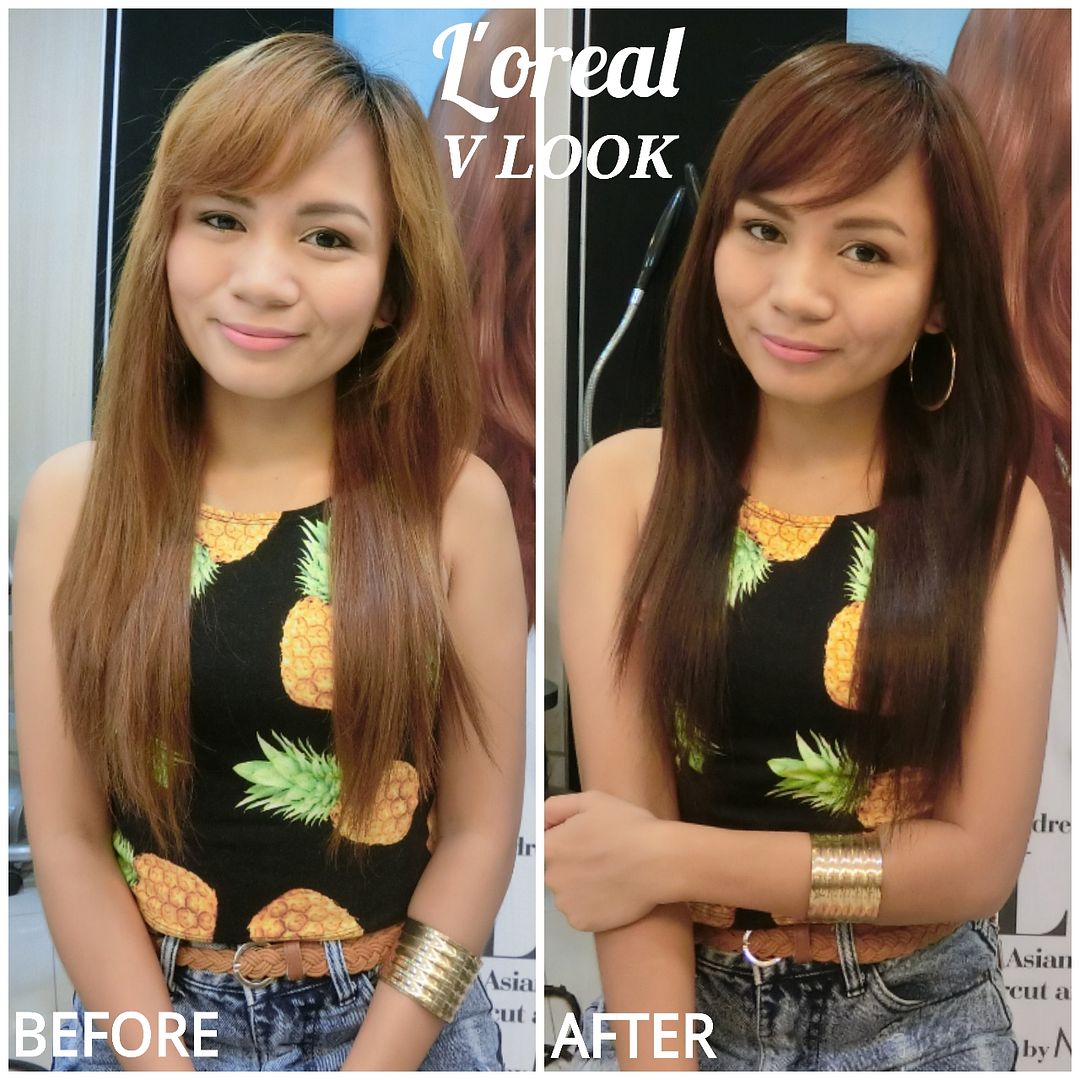 A big thanks to L'oreal Professionnel Philippines for this look! Here are Rod Nuevas of L'oreal and Angie and Valerie of PurpleBug Inc.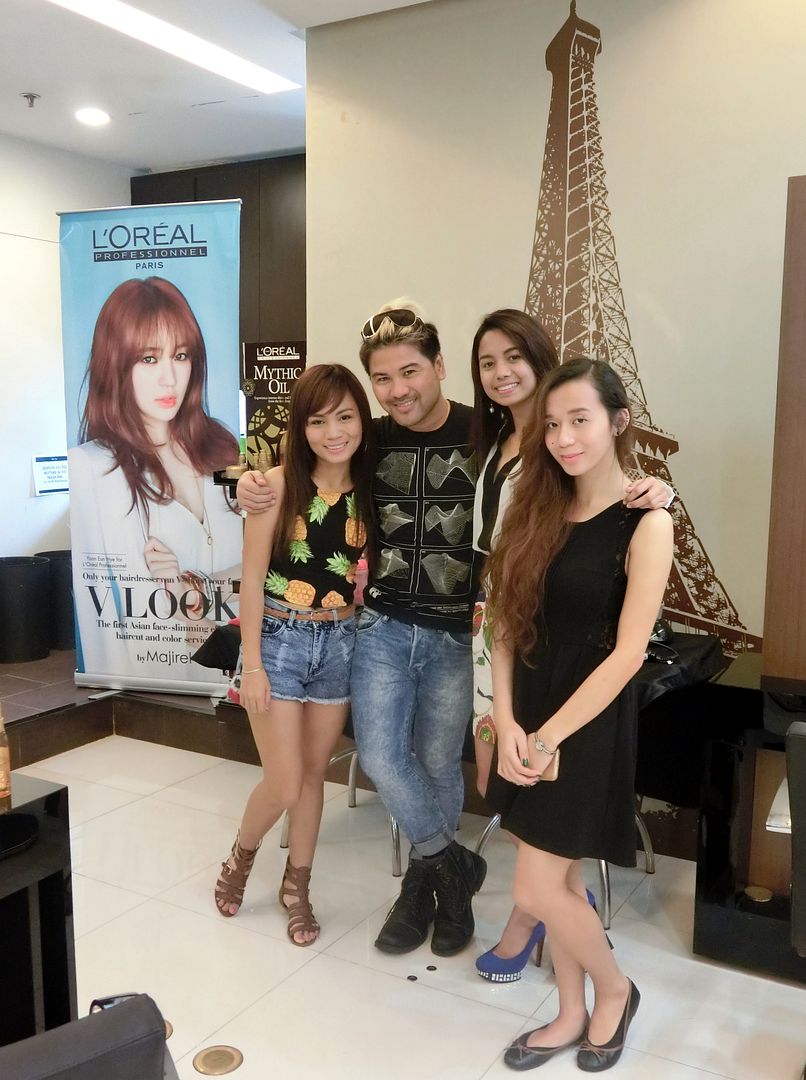 Because I now have slimmer face, I can totally take a photo beside Yoon Eun Hye. Yay for V-shaped looking face achieved with just the right cut, color and style!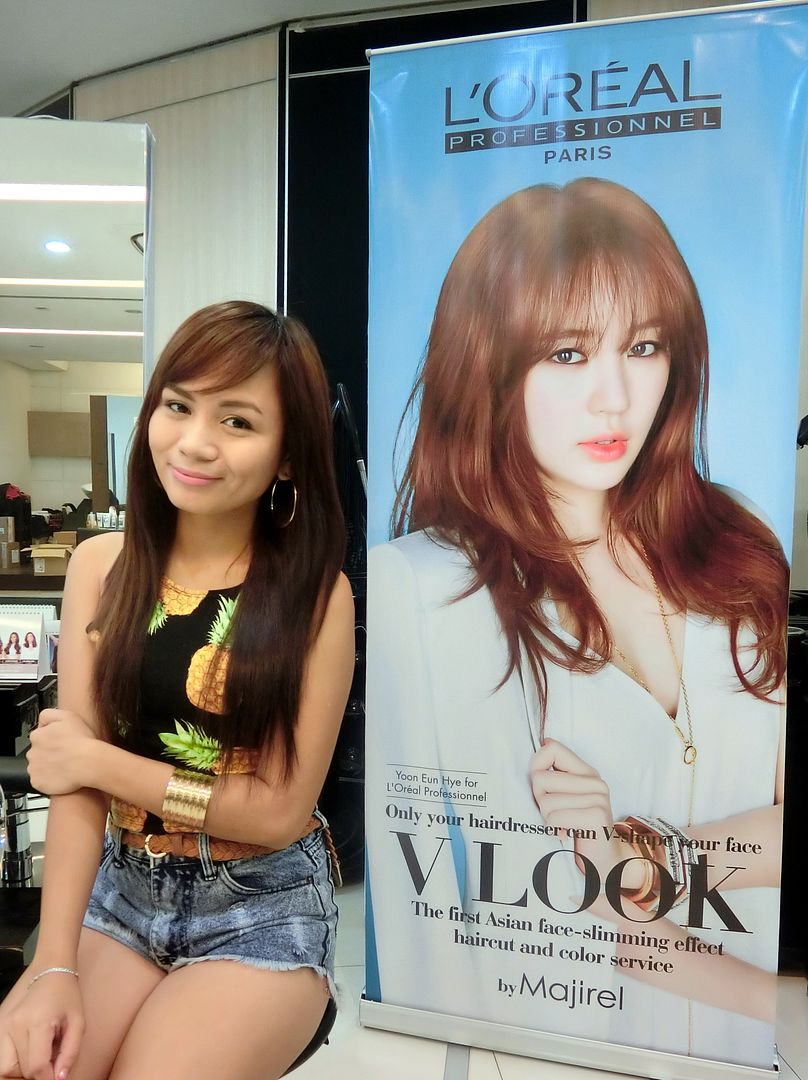 Thanks to L'oreal Professionnel for always helping Asian women get the look that we want through your expertise in hair!
L'oreal Professionnel's V-LOOK is coming to you today! Visit any L'oreal Professionnel partner salon and ask for this look now! For more information, visit

L'oreal Pro Philippines Facebook Page HERE

.
Thanks for reading. I want to know what you guys think of my hair! Did I look better with the light hair color or do I look better with this hair cut and hair color? Let me know in the comments section below!