How would you like to go to a birthday bash you're not invited to, see people you did not expect wearing an outfit you least prepared for? Today, I did all three!
I woke up today ready to face scorching heat in Divisoria and walk it's muddy streets. But some people apparently had a BETTER plan for me. They threw a birthday bash for me!
HOW IT HAPPENED :
Anne, one of the Fluffies, messaged me if her sister could interview me for a school paper report. I said yes but when I was told it would be on a Sunday, I asked her if the interview could be over e-mail instead. My weekends are usually reserved for my BF and my family and friends. So, she had a better idea! She actually ordered from my online shop and asked for a meet-up/pick-up on Sunday around Cubao which I agreed to.
On that day, we met in front of a cake shop. The first thing I noticed was her fuchsia dress. The next thing was that she wasn't carrying a bag with her. She then said her Mom will pay for her and that they are at Shakey's waiting because they had just finished Sunday church service. Without hesitation, I agreed. While we were walking, I quietly arranged a tita-approved greeting. "Ay, hello po! Good afternoon po. Naku pasensya na po sa abala ko sa family lunch niyo. Naku, sobrang bait po nitong anak niyo!" When we got inside, I noticed the empty plates on the table we were heading to. I wondered why her family hasn't started eating yet. A few more steps forward and I was greeted by a cheer and giggles from the other Fluffies! Poof, it was a surprise birthday bash for me! And I was wearing Divi-proof outfit, minimal makeup, connect-the-dots pimple breakout and brought no camera!
I did not have my camera with me so we'd have to deal with these low quality cellphone photos, my friends.
I was so surprised when I saw them, especially with the DIY banner! For me, it's the sweetest banner ever! I appreciate the fact that they put so much effort like this. And I am aware it's not cheap to print many pictures! Thank you so much!!
Everyone, meet Charyse, Anna, Anne, Cha, Dea and Rochel!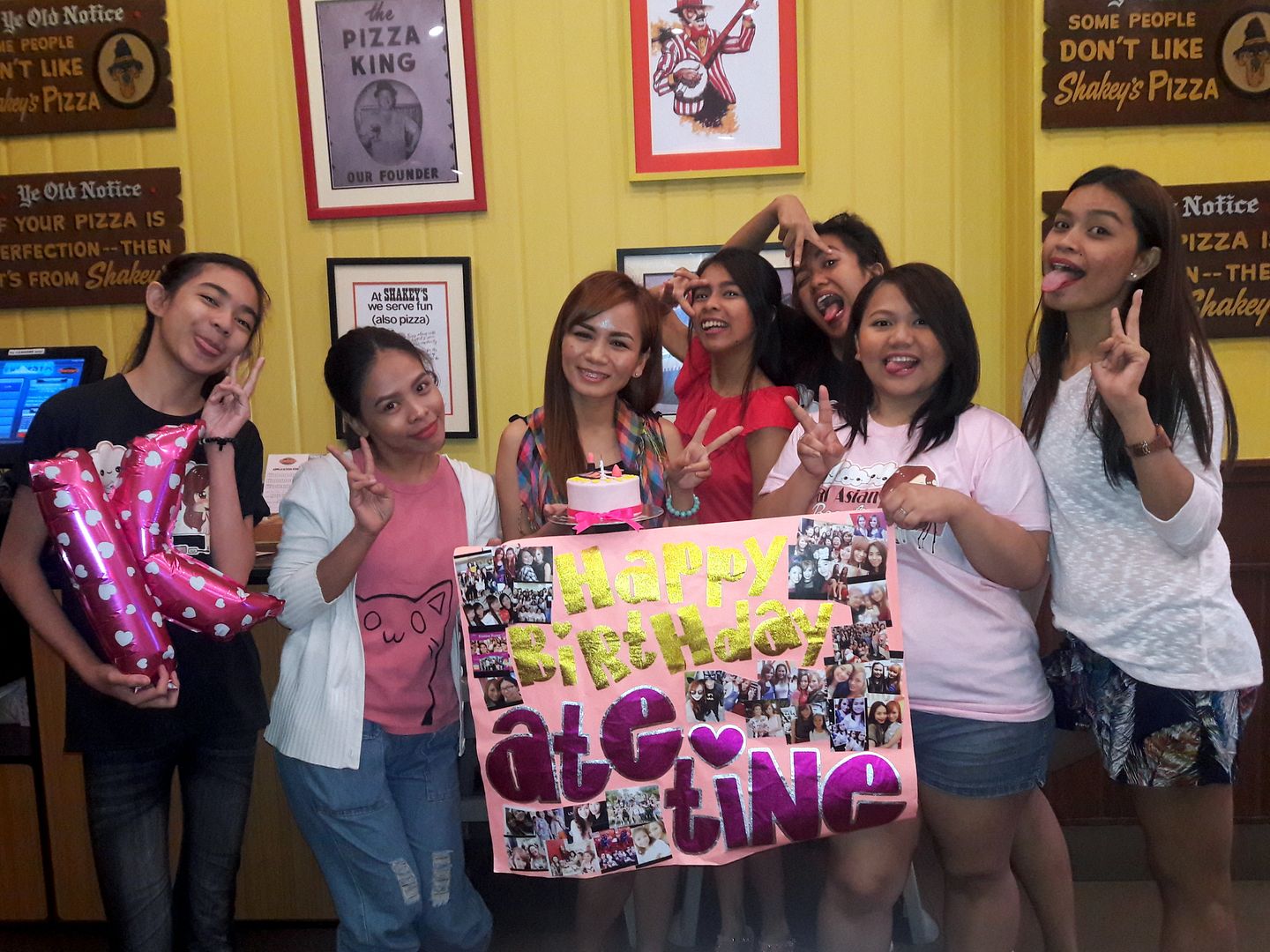 And look at the cake! Isn't so cute? I love how it was done, so cute and polished! I would have hard time cutting this one and actually getting myself to eat it. It's just so cute!!
After a few minutes, or hours (hehe), Gelai and Kylie joined us, too!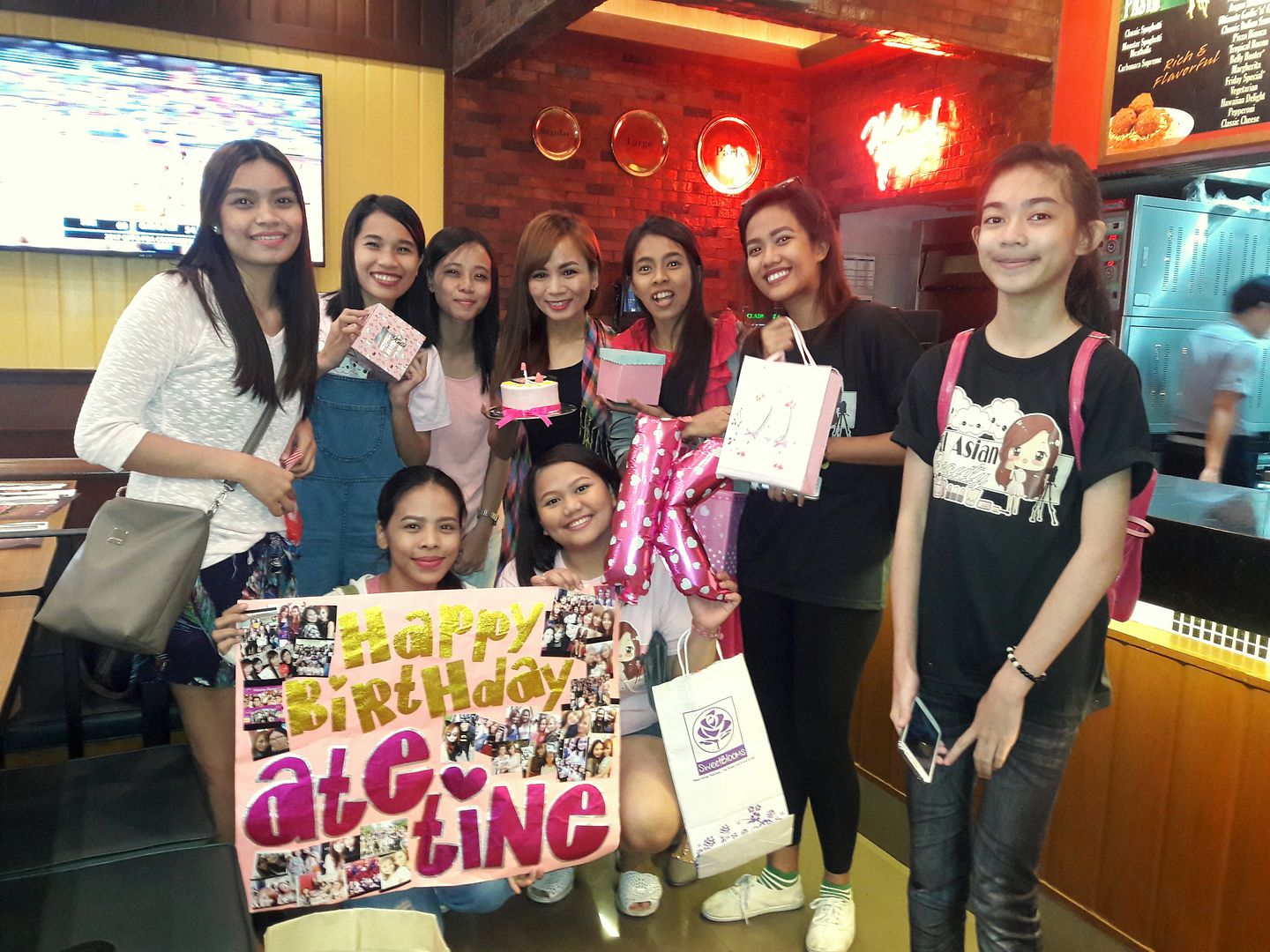 MY MESSAGE TO THE FLUFFIES : (highlight to show the message)
It's 1:13 now, more than 12 hours after the surprise bash. Some of you may be wondering why I did not cry when I saw you guys at Shakeys with those cake, banner and balloon and gifts. Was I not touched? Truth is, I am more than touched. I am really grateful. The tears got overshadowed by my happiness! It was my fist-time ever to be surprised by my followers- my Fluffies! It's the sweetest thing ever. You don't know but the past weeks, I have been thinking about few things. Some of you know how emotional I am in real life; the needy and clingy side of me. I have been thinking about few people who seemed to have left. I may not be showing it but I really am hurt inside. But seeing you there today made me realize how blessed I really am. You are aware that we are not as many as the others. But I honestly don't need a lot, I just need few yet true. Even with my friends, I like keeping my circle small and intimate rather than big and loud.
I am really thankful to ALL THE FLUFFIES for staying and always believing in me, even on times I doubt my own abilities and strengths. But for now, please allow me to thank few girls. :)
Anna - I still remember clearly your PM to me after you saw me open your portrait gift. I won't say here what we talked about but I just want you to know how it still amazes me that you now feel what you feel towards me. Sometimes, life really has turning points and I am so grateful that you looked back and saw what you saw in me!
Anne - Thank you so much for planning and organizing all of this. It's funny how it hasn't been over a year since you've become a part of my life yet it already feels as if you were with me since day 1. I really appreciate how you are always present whenever we have events and gatherings. Seeing your face in the crowd always gives me a calming feeling. I don't know how better I could put my emotions into words but that's how you make me feel each time!
Cha - Remember how this started? I sent you a PM on my personal FB to greet you a happy birthday because your aunt asked me to. From then on, it was history. Thank you for letting me realize that small acts like those really matter. I am really grateful that you always make me feel loved and appreciated despite your busy life. Thank you for helping me with the comments section on our YouTube!
Charyse - In your silence, I hear so much. I hear pure love and affection even with words you don't utter. I want you to know how I really appreciate you for coming to our events and gatherings. I know, it's difficult for someone as young as you to travel and go places but you always make it a point to show up. Please thank your parents for me!
Dea - Thank you for proving to me that time is not always everything. You have only followed me early this year but have been so supportive since. Thank you so much for showing up and showing me love. I hope to improve myself so I could be a good role model to people like you!
Gelai - Sometimes, it doesn't have to be loud and big to know it's there. You are the proof of it. You always keep me wondering "Is she here, Is she coming, Did she watch?", but in the end, ,you always prove me that you are and you do. Thank you for seeing me despite your busy schedule. I appreciate!
Rochel - Funny how a random Daiso moment could start something deep. Believe me, I was so embarrassed that day when you saw me with that limp, flat hair! Hehe But despite that, I am really thankful to you for showing up each time. I always get jumpy feeling whenever I see you just appear and say hi to me. I want to do better and be better so I could inspire more people like you.
After the lunch at Shakey's, we went to J.Co to grab dessert.
Yehey, I'm so happy!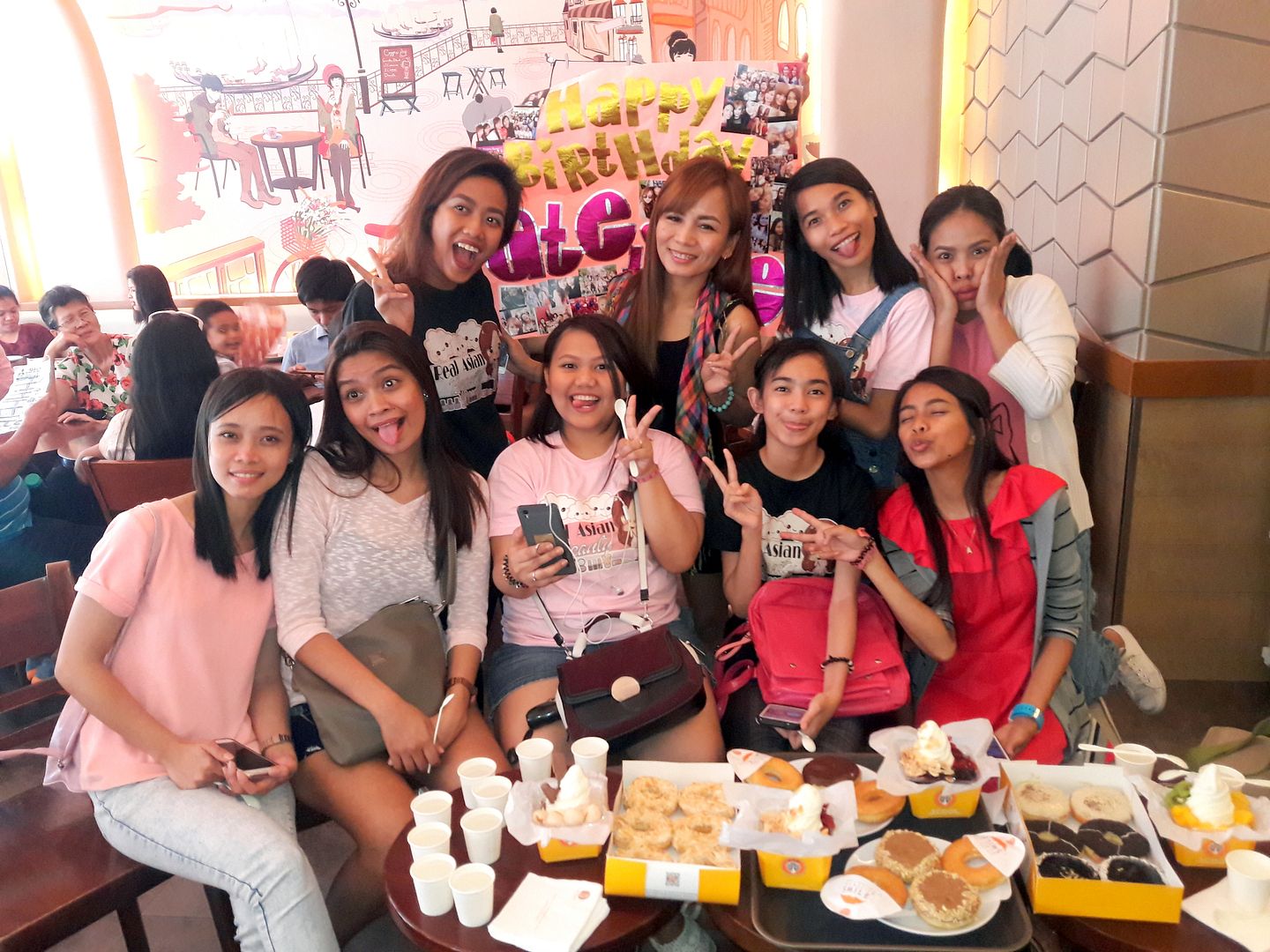 After this, I told my BF how happy and thankful I am that you guys exert effort for me like this and really go your way to see me, even though I have nothing to offer anymore. I witnessed that at the Fluffies Do My Makeup event and here today. I'm so touched that you guys travel and do things like this even though I don't have free products or giveaways. For me, it's so touching that you still want to see me just as me, without expecting anything in return. I want you to know how special you made this birthday for me. I actually have nothing planned this year for my birthday so thank you so much for planning for me. I am really happy!!
I would like to thank the other Fluffies who also contributed and helped the Fluffies with the preparation. I heard some contributed money and I saw that some sent photos of us. I may not know why you were not at the birthday bash but I want you to know that I wish you guys were there, too. Anyway, I am really happy and thankful that you helped even though you were not coming!
Thank you for the gift of LOVE!