One of the things I can't live without is a computer. I guess many people, blogger or not, will agree with me. We do so many things on the computer: keep in touch with family and friends, make business deals, update social network sites, watch videos, read blogs and articles...and so much more!
That's why I need my computer to be on the go! We do have a desktop computer at home. And then a laptop which I used for almost 2 years. It was a gift from my dad. I force-asked (lol) him to buy me one when I was starting to blog. But since he was in the US, we misunderstood each other so he ended up giving me a bigger laptop than what I wanted. So when I try to bring my laptop outside the house to be productive, my back would always be painful since it's too heavy and bulky!
So, I bought a new laptop! Yay! Thanks to my mom for allowing me to buy a new one! :)
Samsung A4 Superslim W8 (NP535U3C-P01PH) Laptop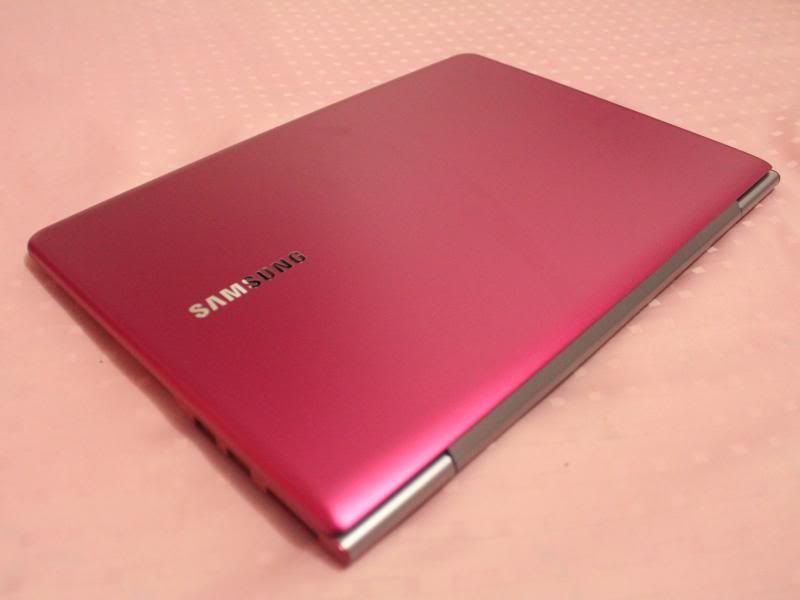 What I was looking for

:
Size (something that's really thin and light)

Appearance

Something I could use for editing videos
I know, but you can't blame me since I'm a girl! lol. People who know a lot about computers will look for the computer specs first but I looked at the appearance. I just really needed something thin and small that could fit in my bag, something I can carry around. This unit was the perfect size.
SPECS

:
Windows 8

AMD Dual Core A4-4355M Accelerated Processor

13.3" Superbright 300nit HD LED display

1.52 kg (3.35lbs)

2GB DDR3 System memory

500GB S-ATAII Hard Drive
PRICE

:
Php 25, 990.00
Now, let's compare the new laptop with the old laptop :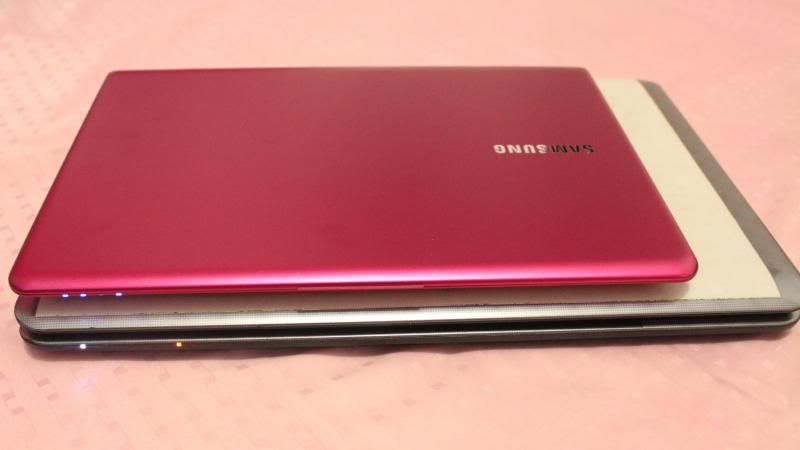 The old one is too big and bulky, isn't it?
I also like that it's the same color as my point and shoot camera! Pink!
I was actually torned between this laptop and an Asus 12 inch i3 touch screen laptop. But the day we bought this laptop, we were too impulsive. My mom and I don't buy something right away. It would usually take us about 3 weeks before we actually buy something. This unit is okay, the perfect size I was looking for! Thin, light, not too small and not too big. I just dislike dishonest sales attendants. The attendant told us this unit runs on quad core and 4gb system memory. Only to go home with a dual core 2gb memory unit. A touch screen i3 would have been nicer if I only found out the truth. Sigh.
But I really like this unit. And I am thankful for all the blessings that I receive. So I won't complain much anymore. This should just serve as a lesson to us, think think and think again (read reviews,too) before buying something. :)
I like the size and weight of this laptop. I'm using it now as we speak. It actually feels almost like a Macbook air. It's so light! Now I can take my blogging duties outside and be more productive! Yay!
What do you think about this laptop?
Kristine