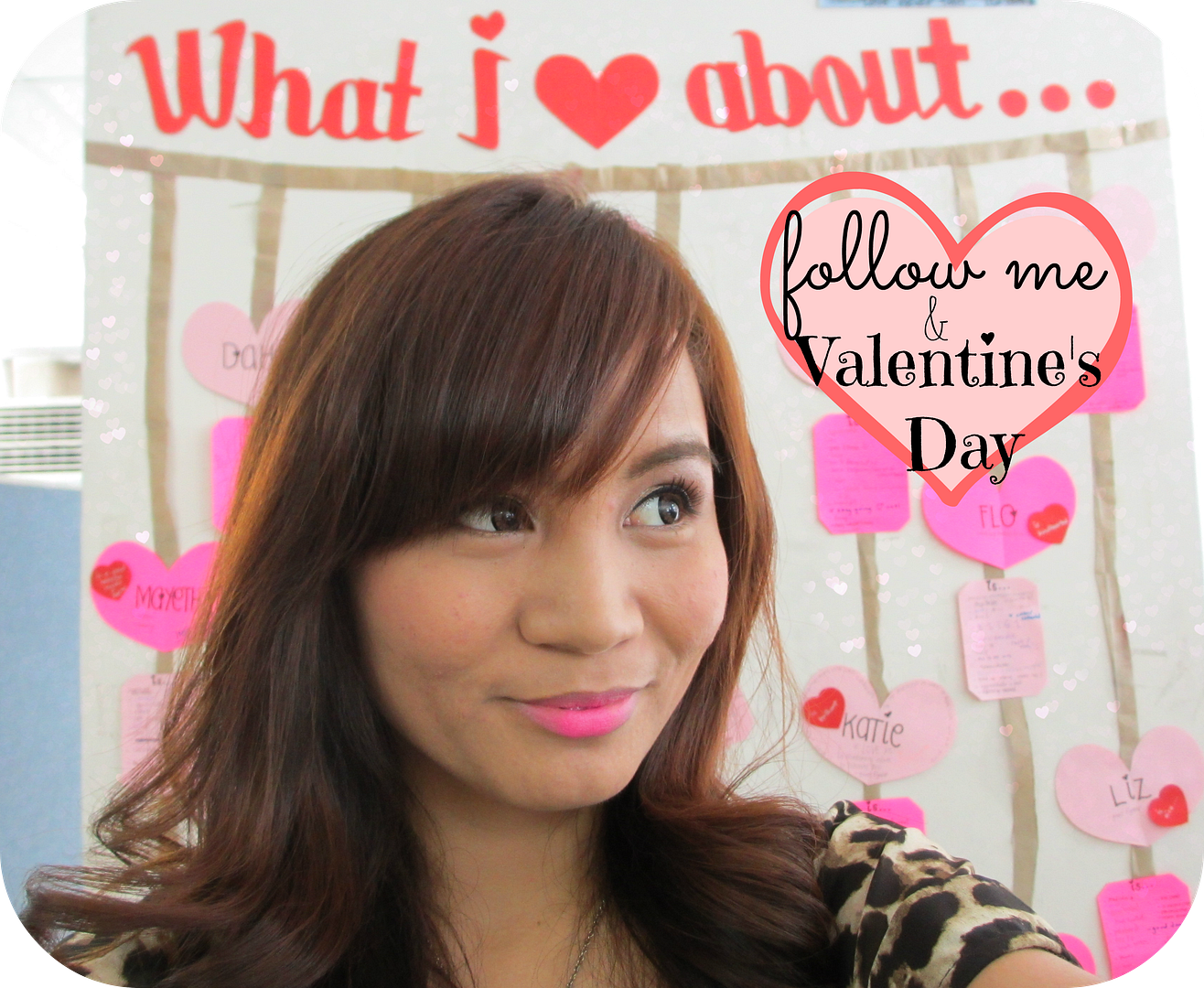 Hi everyone! Valentine's day has just passed! How did you guys celebrate? I'm single so I didn't have lunch or dinner date with a significant man... but I had a great time with my friends.
I've also been meaning to do a 'follow me' video for my YouTube channel so I thought Valentine's day would be the perfect day. So let me show you what I normally do on weekdays and how I celebrated Valentine's day.
It depends what day it is. MWF, I wake up around 11am, TTH, I wake up at 6.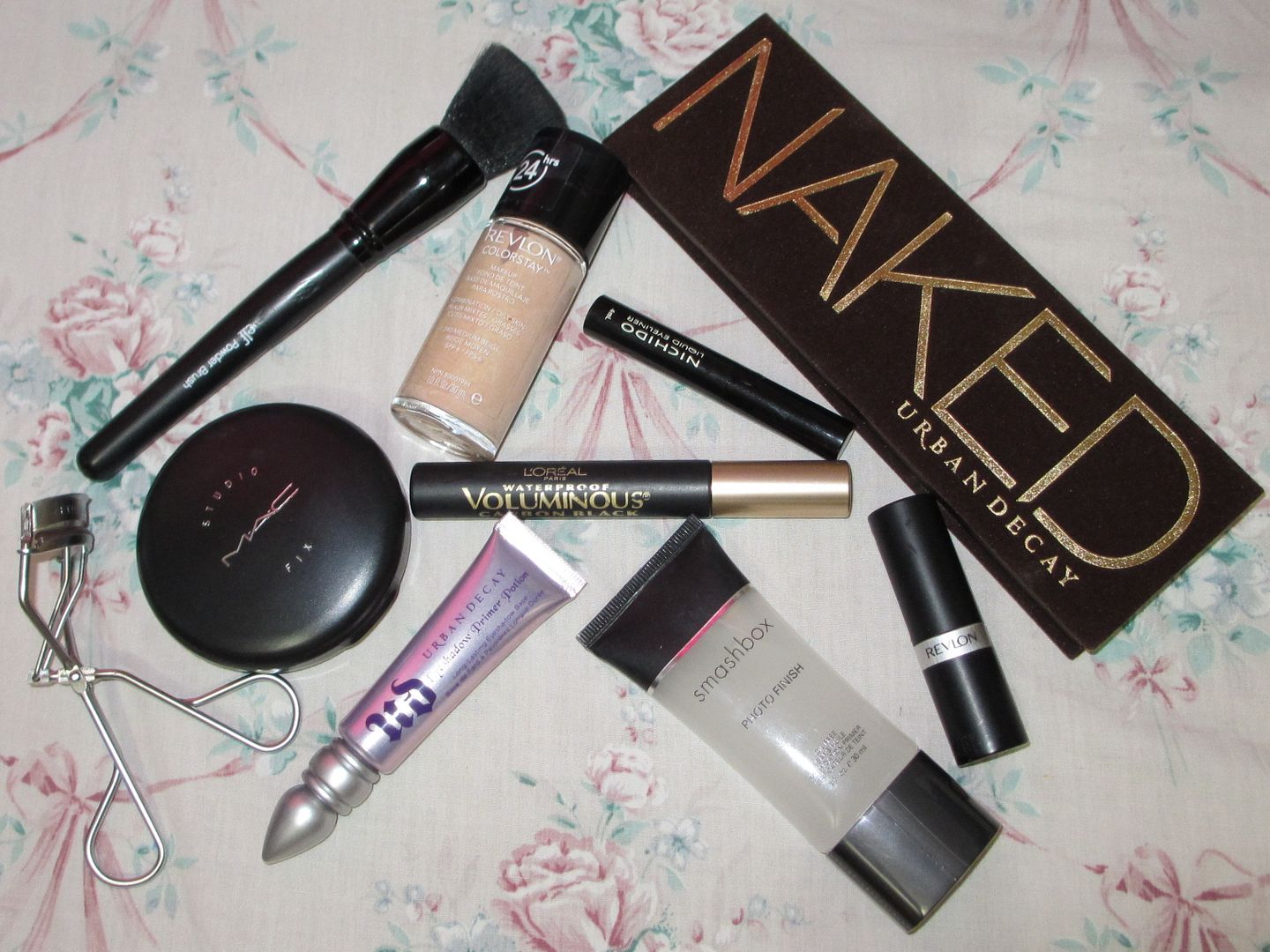 I'm not afraid to go out of the house without make-up, when I'm in a hurry I sometimes even forget to comb my hair. But yesterday, a viewer told me she saw me at a train station! I got so nervous, should I start worrying about people recognizing me on the streets? I'm just worried someone might see me when I'm not in my best state. Haha!
Anywaaay, I attend Korean class every Tuesday and Thursday, 9am-12noon.
I study Korean at the
Korean Cultural Center
in Taguig City in the Philippines.
The reason why I'm studying Korean is because I work at a Korean company and my job requires me to speak a little Korean.
This is my Korean teacher, Yoon Ha Gyung (윤하경 선생님).
Isn't she so cute? She doesn't tell us her age, but I'm guessing I'm older than her?
Right after my class, I go straight to my office in Ortigas. It's not tiring but the thing is my time is calculated. I need to walk and travel straight without stopping elsewhere. Something goes wrong and I get late for work. It's like I'm on the Amazing Race. :)
My work starts at 2pm. I got there just in time. What greeted me were hormonal-ly happy people who were greeting and hugging while giving chocolates to one another.
Here is a photo with some of my office mates.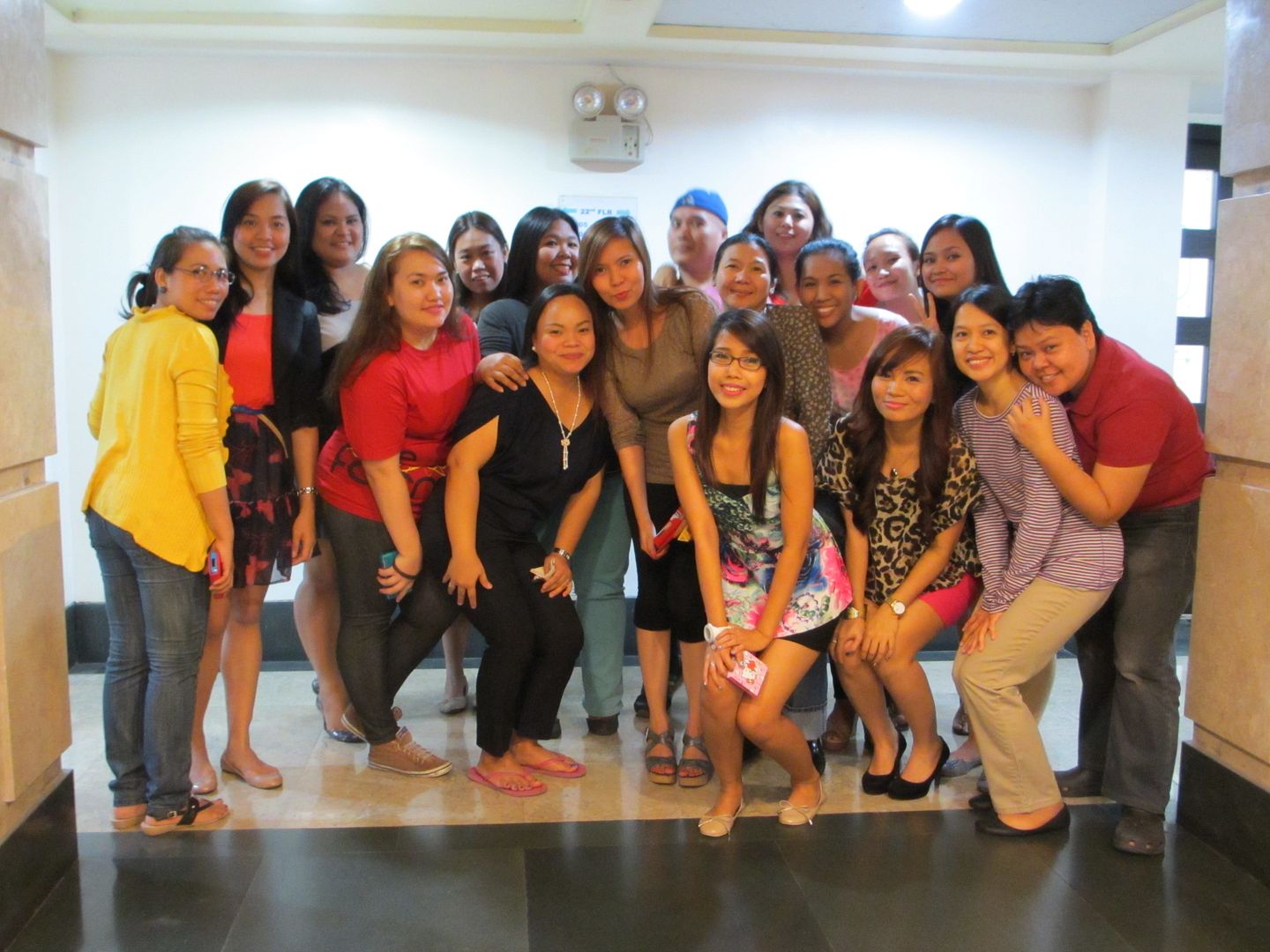 It's Valentine's day aka Singe Awareness Day! haha! It's not only on February 14 that I'm aware that I am single, though.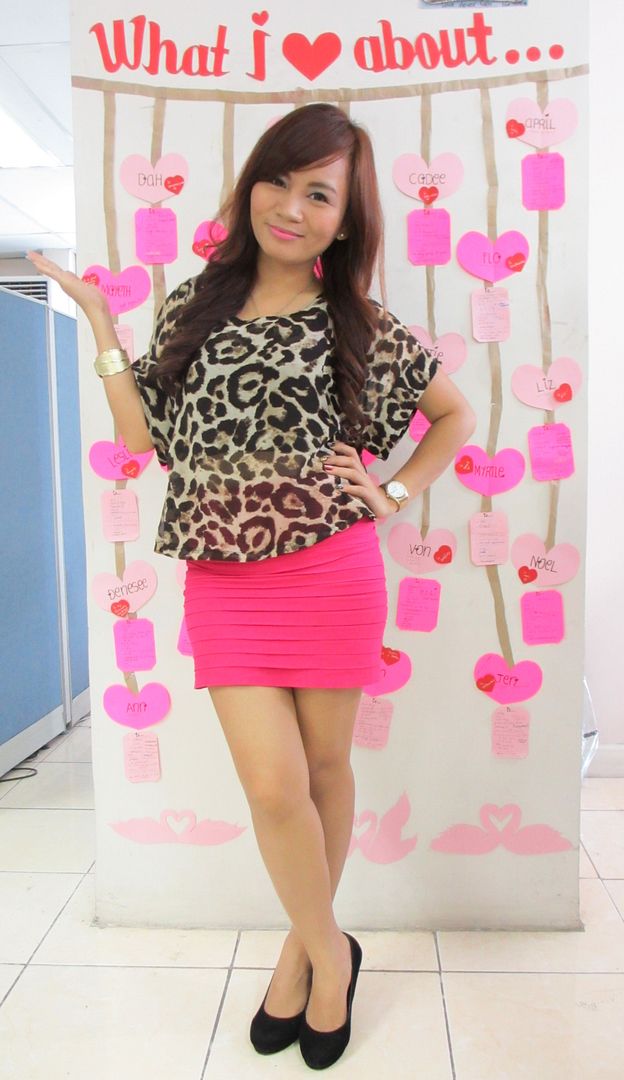 I'm taking my picture in front of our love wall, as I like to call it. We had this activity where other people in the office wrote what they like about another person.
Here's what the sweet people wrote about me.
I truly believe that other people won't tell you what and how you should perceive yourself, because really what other people think of you is none of your business. But still, it was so nice to know what my friends appreciate about me. Thank you! :)
Since I'm single, I was pretty sure no one was going to give me a bouquet of pink roses of a huge box of Ferrero Rocher chocolate, so I just bought some chocolates for my friends instead.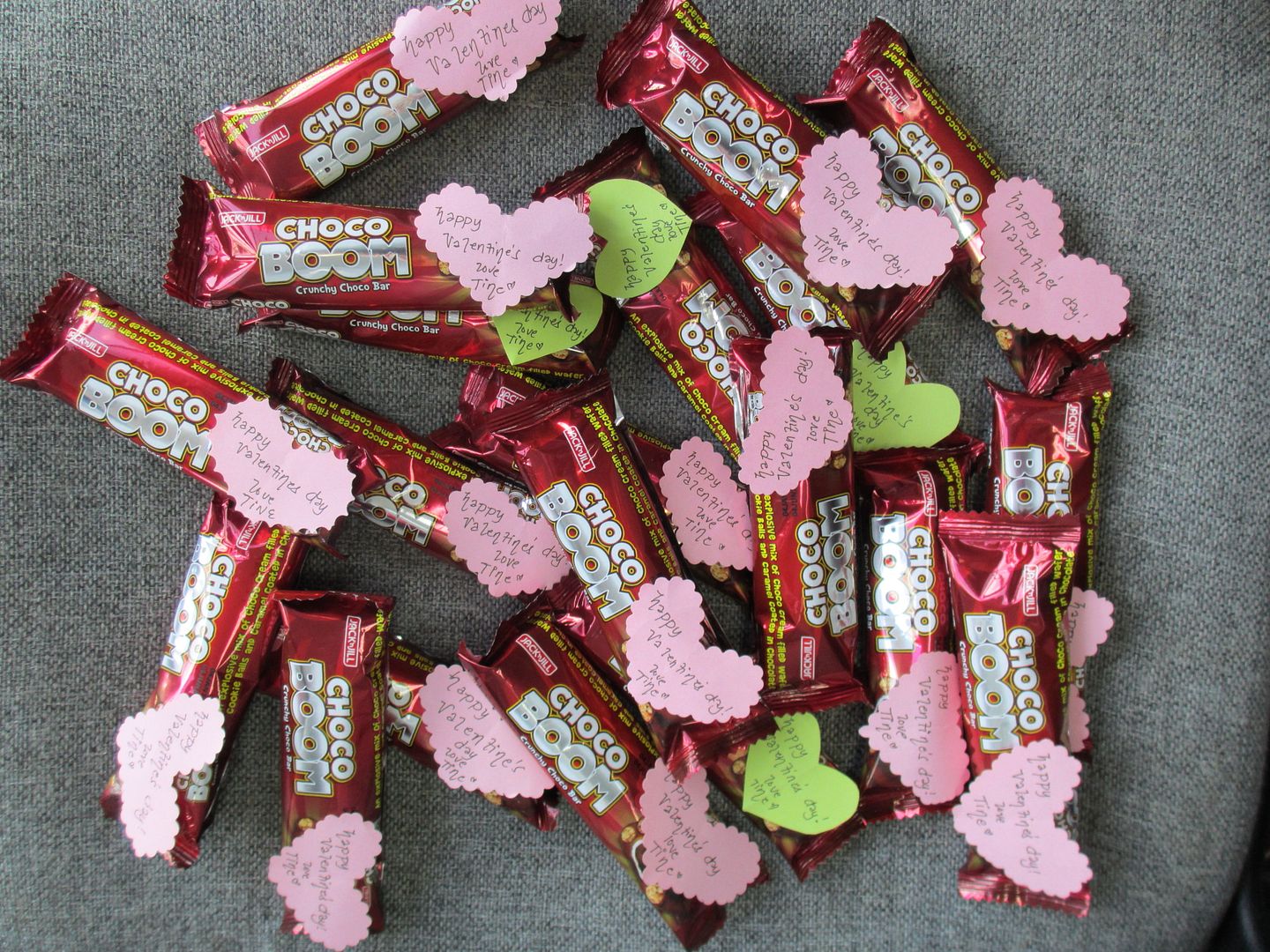 I was not expecting anything in return, but here's what I got. Aww, so sweet! I truly appreciate everything people give me, be it small or big.
And you see that poster on the right? Not sure if you are into Kpop, maybe not. But that's Kim Sunggyu, Infinite's leader. My friend Karen gave that poster to me as a gift! Thank you, Karen! :)
I was taking a normal photo with the poster until some of my friends in the office saw me and had this crazzzy idea! lol!
I guess they just wanted me not to be alone on this day. It does look really hilarious, doesn't it?
I guess having many friends compensates the fact that I am still single and the man that I want is in another country and he surely doesn't even know I exist or that I am writing about him. Lol.
And you know what's crazy? It's the drive in me to keep working hard so that I somehow make it big so that one day, our paths would cross then he would finally know that I exist. I've been told that dreams do come true, so I am dreaming... and working hard! :)
Happy Valentine's day, sweet reader! Yes, YOU! I hope you had a great time!
Oh, here's the Follow Me video that I uploaded on YouTube. Please watch! :)
Kristine