Today, let me talk about one of the best parts of our recent trip - Macau! I know some people that went to Hong Kong but skipped Macau. I may not know their reason but I only have one-word question : "WHY?"
Macau is just so beautiful! When we were there, I kept telling my friend "Para tayong nasa ibang bansa!" (It's like we're in another country.) It's silly, though, because we were really in a foreign country. I just mean that aside from actually being in Macau, we felt like we moved from Macau to Venice or something!
Here's what happened that day...
This is probably going to be a loong post so if you want to skip all the scrolling and reading, simply click the video below:
It was a calm 7 AM. Far from the busy Kowloon streets that we got used to. We wondered why the streets were empty on a supposed to be rush hour. Then we remembered, it was a Saturday!
We got discounted ferry tickets from our guest house

Golden Crown

. We saved around $80 for the two-way tickets.
The ferry ride took one hour from Hong Kong to Macau. We thought it was going to be a smooth-sail trip until we got stuck at the Macau port/airport because we didn't know which bus to take. After an hour, we finally found the right bus!
Finally saw a beautiful scenery! I thought we were going to be stuck at the airport forever!
They were preparing for the Mooncake Festival so there were decorations. It would have been better if it was clear so we could have enjoyed the structures better. Nonetheless, it was still a beautiful view!
Oh, the dress I wore this day was something I got from the Ladies Market! Life saver!
We went inside some churches but didn't get really amazed because we have a lot of those here in the Philippines as we are a Catholic country.
After that, we climbed what we consider the highest peak in Macau. It was so steep that I asked my friend how people even get home from a long day without a car! It was so tiring! She could only imagine. But we enjoyed it, of course!
I told you, our mission was to find the perfect egg tart! Now that I'm talking about it, I miss the sweetness and the crispiness of it! I wish we have them here. Oh, I did try an egg tart from Le Cour de France but it was nothing compared to those in Hong Kong and Macau. Sigh...
So this egg tart was from Koi Kei. It was funny because I couldn't remember and pronounce the name correctly. I kept saying Koy Key and stuff. It's pronounced KWE KI though. ($9 per piece)
And you bet it was delicious! No wonder the lady in our guest house recommended it when we asked her for the best egg tart. I'm sad that I wasn't able to bring some back home.
After a lot of walking, we finally reached the Ruins of St. Paul. It was beautiful!
But because we went on a Saturday, there were a lot of people.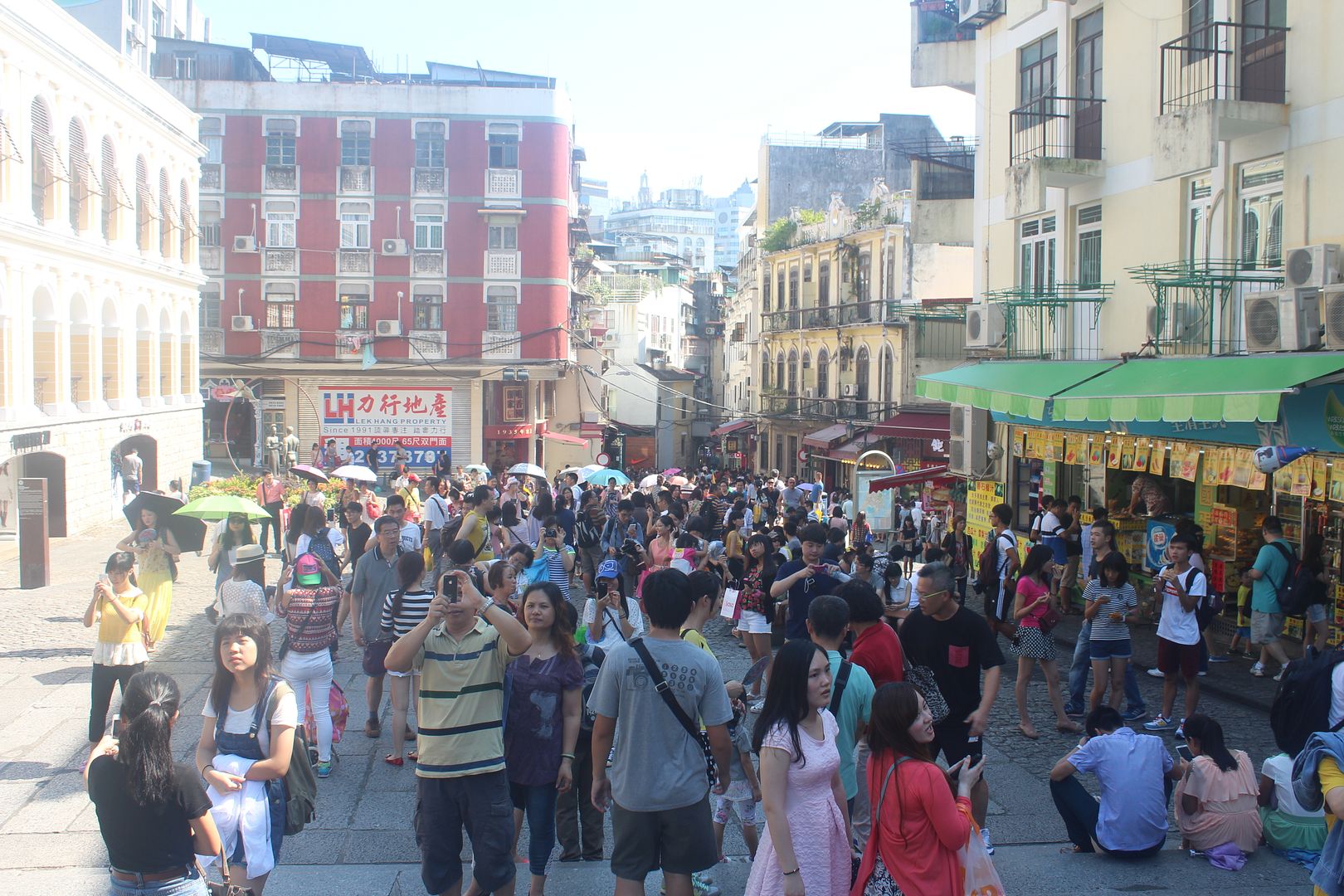 And taking a decent photo with minimal photo bombers could get difficult. It took us 20 shots to finally come up with this decent photo. hehe
Oh, if you are in Macau don't forget to try Beef Jerky!
Each store offers "free taste" and if you're hungry you could just go around all the stores and walk away feeling full! There are lots of people, too, so I doubt they'd recognize you. hehe
Then we also tried the egg tart that was featured on Boys Over Flowers. ($10 per piece)
I think it's overrated, though. The crust was flaky and the custard was bland and bitter at the same time. It was the most pricey egg tart we tried yet the taste was mediocre.
Off to the Venetian Hotel! I just think that the hardest part in Hong Kong and in Macau is trying to find the right bus to take. Unlike here in the Philippines where you only have a few choices, they have a lot. And the numbers and stations could get a bit confusing.
How to spot a Filipino abroad? Look for the one that holds a monopod/selfie stick! Haha. I don't know why they think it's hilarious to use it. It's really convenient! You can't say that they are ignorant to it because their stores actually sell it. It's just that they never really use it. The ones I saw that actually use it are Filipinos and Koreans.
I was the free-loader in this trip because my friend was the one who made the itinerary and searched for the directions. So I was clueless the entire them. And for me, it was good because I got surprised each time. When we got here, my friend said "Welcome to Goo Jun Pyo's hotel..." and when I got in; speechless.
Last stop was the Grand Canal Street! Ah, I used to only see this in pictures and movies. So surreal that we were actually there!
My friend and I made sure to explore the entire area and took photos of every corner possible.
Before going back to Hong Kong, my friend and I made sure to make a wish!
It was so bright inside the Venetian Hotel that we forgot about the time. When we got outside, it was already dark. But the lights were equally beautiful, nonetheless.
I just wish we could've enjoyed Macau during the night. We couldn't because we had to rush back to the port to catch the ferry going back to Hong Kong, I would definitely want to go back! Next time, I'd probably spend a night there so I could explore the streets at night.
Likes and Observations of the day :
-Koi Kei egg tart is the best, in my opinion.
-Macau is so beautiful!
-Spot a Monopod/Selfie Pod to spot a Filipino
I hope you enjoyed this post! 2 more travel posts to come!