Merry Christmas, everyone! How was your Christmas celebration? Mine was very simple but it was still special and I was still grateful that I got to celebrate another Christmas.
Anyway, a few days before Christmas, I filmed a makeup haul showing the products I got for the month of December. Some of you have noticed that I'm becoming more inclined to makeup these days. That's because my skin is somehow getting better! Yay!
I love doing hauls because I love recommending new products to you guys! I also love the excitement in opening new packages and parcels and showing them to you in a video!
How do you like the new background, by the way? Instead of the usual plain white wall, I decided to film in front of my shoe cabinet. I'm not sure if that's a good idea, though. So, please let me know if you like it or if I should go back to the plain white wall background. Leave your comments below! :)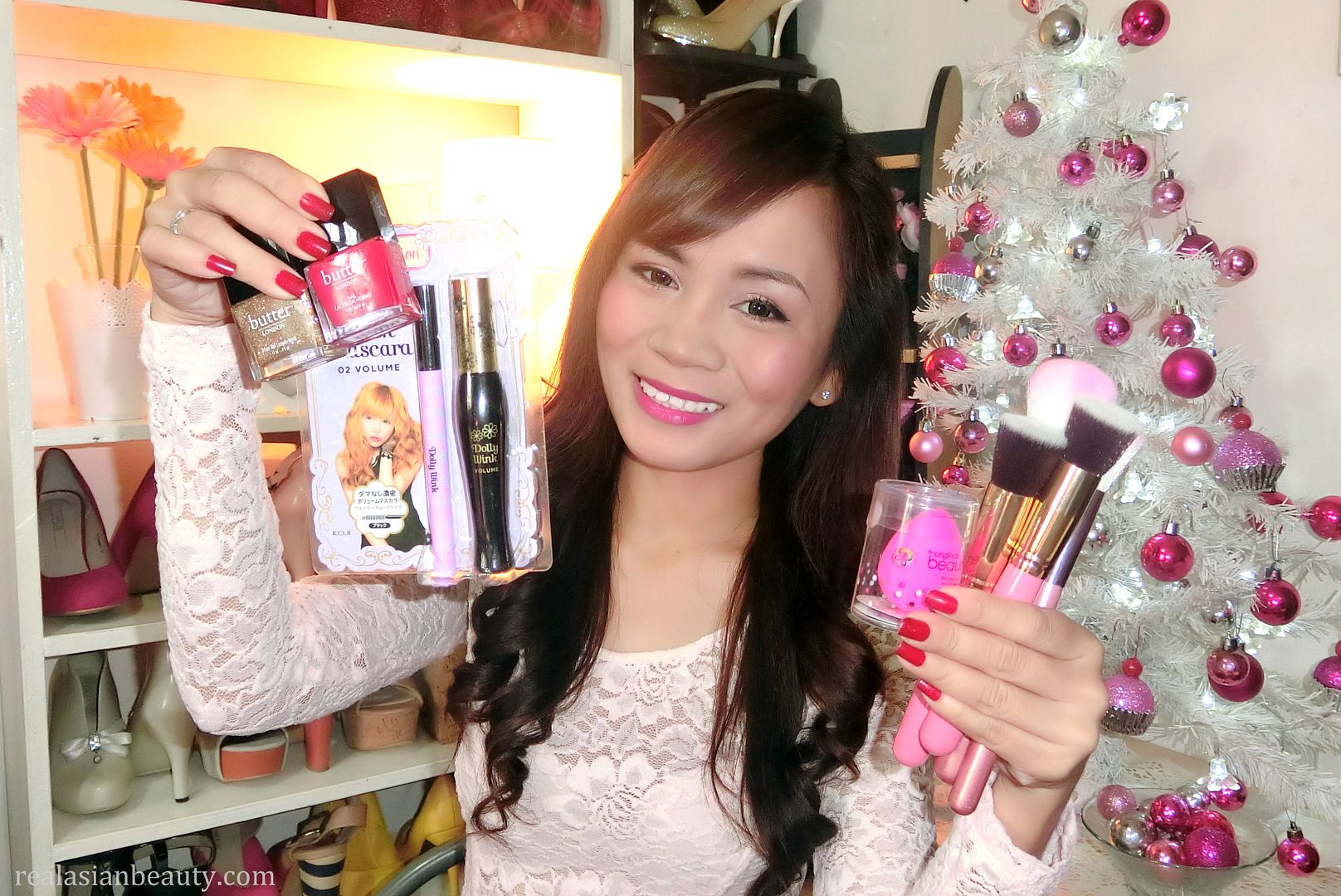 Watch the haul video here :
I am so excited to try the Butter London nail polishes since I have been wanting to try that brand for the longest time! Blog/Video review on the Pro Studio Brushes, Beauty Blender, Lancome Mascara and Daiso Makeup coming soon so please stay tuned!
* * *
As for my Christmas Eve and Christmas Day celebration, I just spent it at home with my Mom, Step-dad and dog. It was small and simple, but I was still thankful that everyone is healthy for Christmas. We were together and that's what really matters, right?
I made some Chocolate cupcakes with pink frosting, Baked One-pot Alfredo and Blueberry Cheesecake. My Mom made DIY Ham, Lumpia, Chicken and Pork Barbecue and Macaroni Salad. Yummmmm!
It was my first time doing the 3 dishes, so I was lacking in some areas. My Chocolate cupcake's frosting was too sweet and it wasn't stiff enough, my Baked Alfredo was too dry and the Blueberry Cheesecake's cream didn't get fluffy... But everything was still good, especially the blueberry cheesecake! I loved it! hehe I just got the recipe from YouTube and it's a no-bake cheesecake.
As for the gifts, I did not receive a lot of gifts this year. It's okay, though. Because once you get older, you slowly receive less and less gifts. Because of that, I just became my own Santa and bought myself a gift! I have looooong been wanting to have an Instax camera but didn't want to splurge because I thought it would be absurd to have another camera when I already have 3 working cameras. But a day before Christmas, I went to a camera shop, closed my eyes and just purchased a Pink Polaroid! hehe
I haven't used the camera yet but I will definitely film an unboxing and review video on it! Please stay tuned.
Merry Christmas, everyone! How did you guys celebrate and what gifts did you receive?