So, you want to travel to El Nido, Palawan in the Philippines but don't know where to start or how to plan your trip? This blog post will show you how we were able to tour El Nido, Palawan for 3 days and 2 nights without going to a travel agency and with only a couple of thousand pesos in our wallets!
Destination : El Nido, Palawan, Philippines
Point of Origin : Manila, Philippines
Travel Date : August 26 - August 28, 2016
Season : Wet (Rainy) Season
PAX : 2 Adults
Tickets Purchased : Urgent!
Our Budget : Php 20,000
Ideally, one would book tickets for a flight at least 2 months before the travel date. Doing so ensures cheap airline flights. This also allows the traveler to save ample amount of money for the trip. For one must be prepared physically, mentally and financially. But our story is different! We booked our plane tickets just a week before the flight! Crazy, I know!
The reason for this is because last July 2016, I got an offer from a Korean company to go to Seoul for a Blogger's event - all expense paid! I was 100% sure my passport expires May 2017. So, I was confident I still had a few valid months until my passport expires so I didn't feel the need to renew it before the Korea trip! I thought I was being smart! Actually, no! It was a crazy move! On the first week of August, I took my passport to comply with the requirements for the trip. Loe and behold, my passport expires January 2017!!! I tried to set an appointment at near DFA centers : Aseana, Alimall, Megamall, Manila mall branches, but to no avail! I even tried to book an appointment at DFA Pampanga and Baguio, but every office was fully-booked until October 2016! OMFG! I was so close to hitting myself for the stupidity until my BF told me "You know what, Korea is your dream destination and I always want to support you. Let's fly to Palawan so you could go to DFA Palawan!" He checks the DFA Palawan website and poof! Available slots 2nd, 3rd and 4th weeks of August! Next thing I knew, we were all set for Palawan! And since we were already traveling, my BF told me we're going to El Nido as well!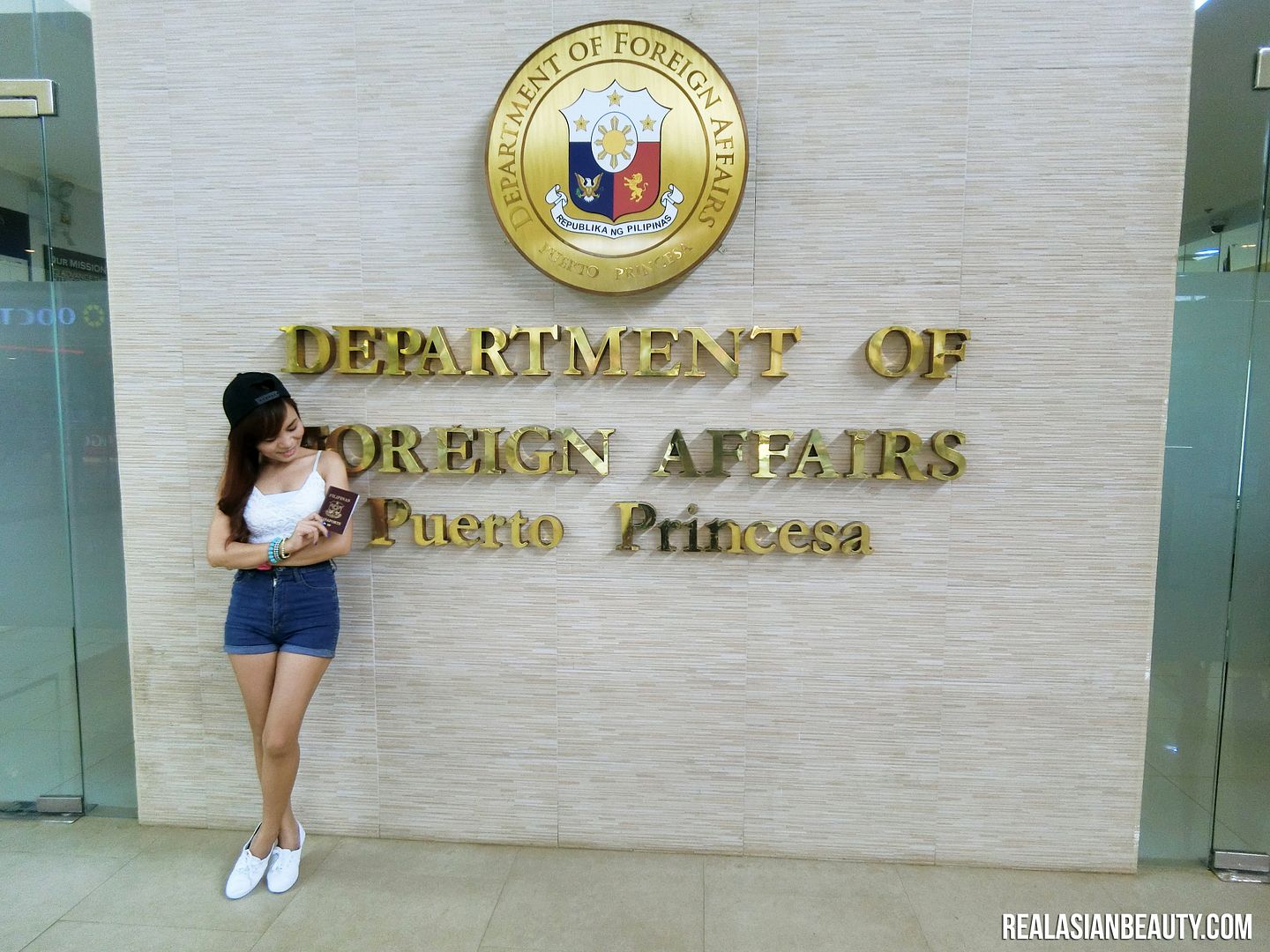 After my DFA Puerto Princesa appointment, which last for about 30 minutes, we booked a van going to El Nido. Next thing we knew, we were all dizzy and hungry while on the van going to El Nido! Yup, true story! *wink* KUDOS to DFA Palawan, too! Their customer service is exceptional!
By the way kids, always renew your passport at least a year before it expires, even if you don't have plans to travel yet. You will never know when a travel opportunity would come and find out your passport is invalid. It's always best to have it and not need it. Than to need it and not have it.
* * *
Now that I've told you our story, let's move on to how YOU could make your own story in El Nido!
BUDGET


AIRFARE : Round Trip tickets for 2 people
Our tickets were bought through AirAsia online. Since we secured them just a week before the trip, the tickets were expensive! We paid Php 11,106.80 for 2 PAX. (Or Php5,553.40 Each) Travel time from Manila to Puerto Princesa is short thus we didn't bother ordering food on the plane. We also traveled light and didn't have any luggage or bags to check in. Skipping those saved us from extra charges on the total cost of the tickets!
If you were to ask me which cheap airline to take between AirAsia and Cebu Pacific, I'd strongly suggest you take AirAsia. The latter being one of the best low-cost airlines. And why I didn't choose Cebu Pacific? Simple, bad experience! Ohh, nothing... They just lost my luggage when I touchdown Hong-Kong in 2014! Read my Cebu Pacific LOST BAGGAGE story

HERE

.
ACCOMODATION : Centeno Inn, El Nido, Palawan for 3 days and 2 nights
We wanted to spend the entire time in El Nido, so we didn't book any hotel in Puerto Prinsesa. Honestly, I do not go for fancy hotels when traveling. To me, all I ever need is a place I could sleep, take a shower and leave my stuff. We settled for an inexpensive inn by the bay called Centeno Inn. We paid Php 3,557.96 for our 3 Days and 2 Nights stay. We booked the place through Agoda. You couldn't expect too much from the Inn, though. Considering the price you're paying. Í have to admit it was scary booking the inn at first since they didn't have a lot of reviews on Agoda.
The place looks like an apartment with only 4 units/doors. To some, it could be a downside, but we liked it better, really. Since there are only 4 units, the place is small and peaceful. It is also located right in front of the beach, only 5 steps away, so you sleep and wake up next to a beautiful view. The rooms are small, but decent, fully-air conditioned, has own bathroom with shower, TV, and Free Breakfast for 2! If you are coming as a family or group, it would also be a great idea to just get all the rooms so you have the place all to yourselves! Honestly, that sounds so much fun!
Though, I reckon the door locks could still be improved for better security. I was worried the entire time someone would just kick it and be able to open because it only has one lock - a push-button door knob.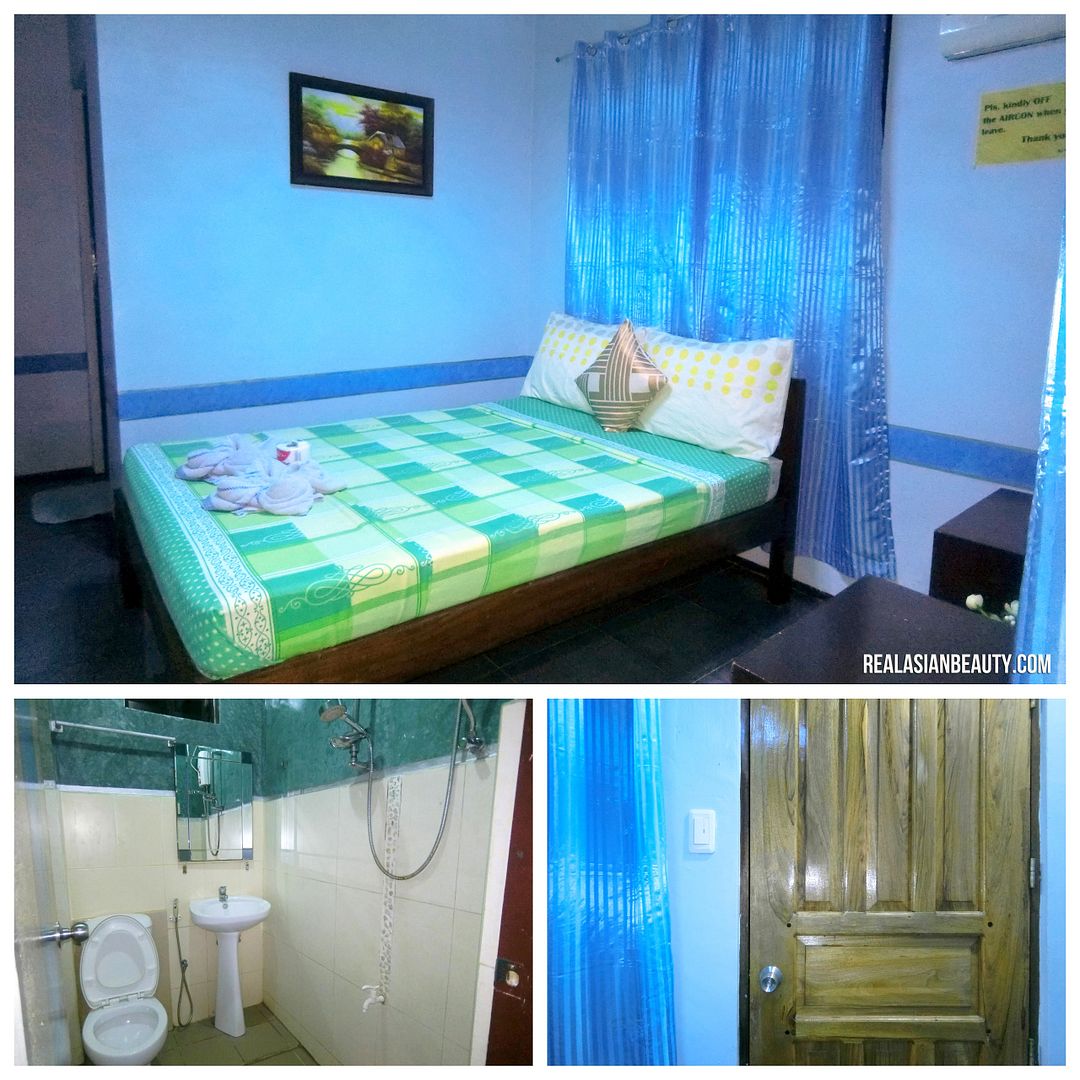 TRANSPORTATION : Puerto Prinsesa to El Nido back to Puerto Prinsesa
We took the plane from Manila to Puerto Prinsesa. From Puerto Prinsesa, it would take 5-7 hours travel by land. You have 2 options : either go by BUS or by VAN. We chose to go by van since I have motion sickness and easily feel dizzy on the bus. Van is more pricey but it would take you to your destination faster. Bus could take up to 7 hours while van, if the driver is alert enough, would only take 5 hours. Trip starts as early as 5 AM and the last trip is at 12 midnight. Van costs Php 500 per person, 1 way. So, from Puerto Prinsesa to El Nido, we paid Php 1,000 for 2 persons. And from El Nido, going back to Puerto Prinsesa, we paid another Php 1,000.
Just like with the plane tickets, we played a little game and didn't book any shuttle service ahead of time. We went for the "book it when you get there" thing. But I suggest you book yours ahead of time, especially if you're coming in Summer/Peak season! Here is the link to their

website

.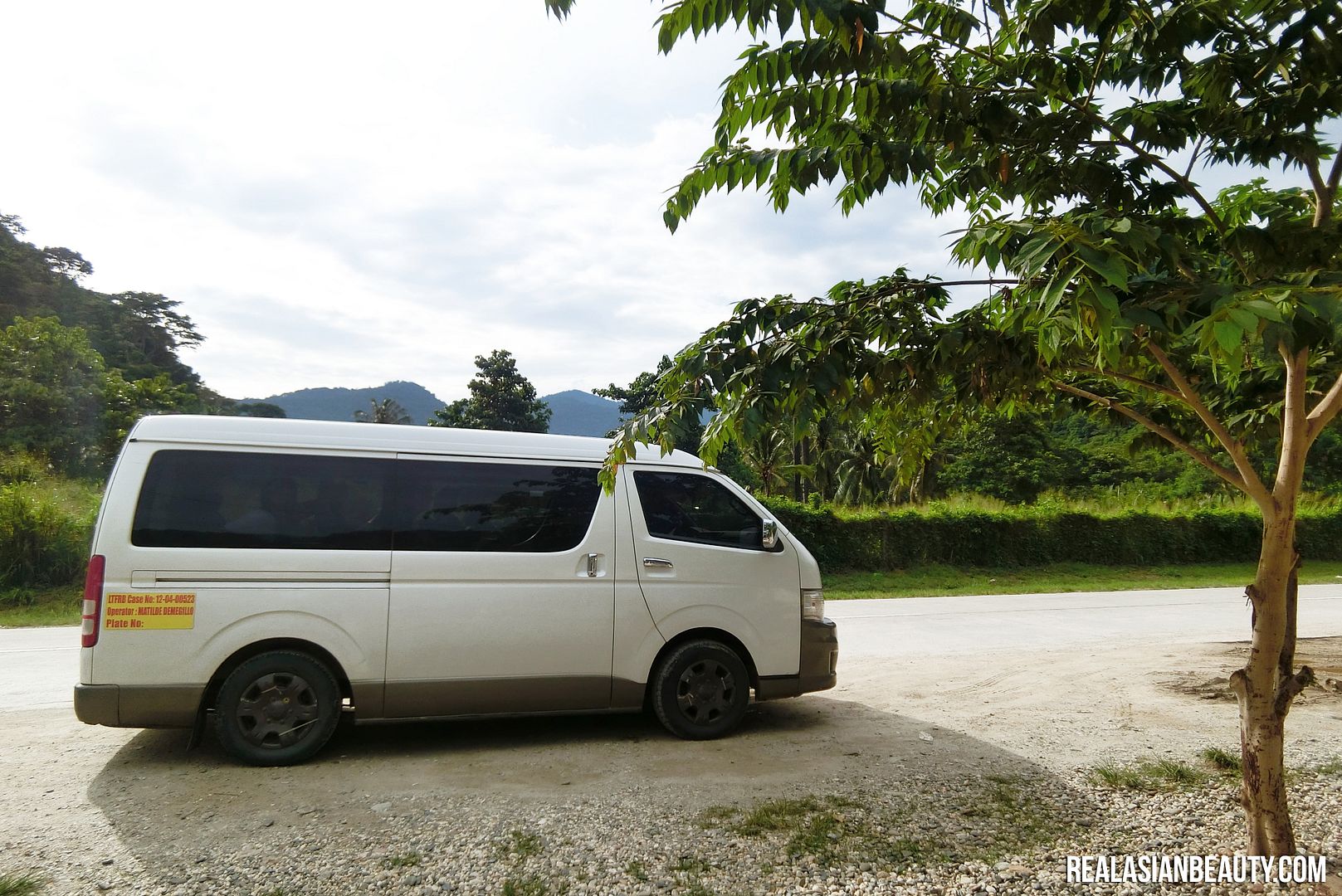 The VAN ride was comfortable, thought it still made me feel dizzy. Be sure you pack few tablets of Bonamine to avoid motion sickness. Though, it would be a shame if you rode with someone that has strong body odor as you're stuck with the smell in a small vehicle for hours. Kids, don't let friends die of foul smell! The Philippines is a hot and sunny tropical country, please use deodorant before the trip. Hehe
Getting around the town is easy, you only need to spot the tricycles. Though they tend to make the fare steep for foreigners and tourists. The standard fare is Php 10 per person. But they raise it to Php 50 or even Php 100!!
Good thing is that there is little to no traffic in Palawan. Getting around town in a tryk is fun!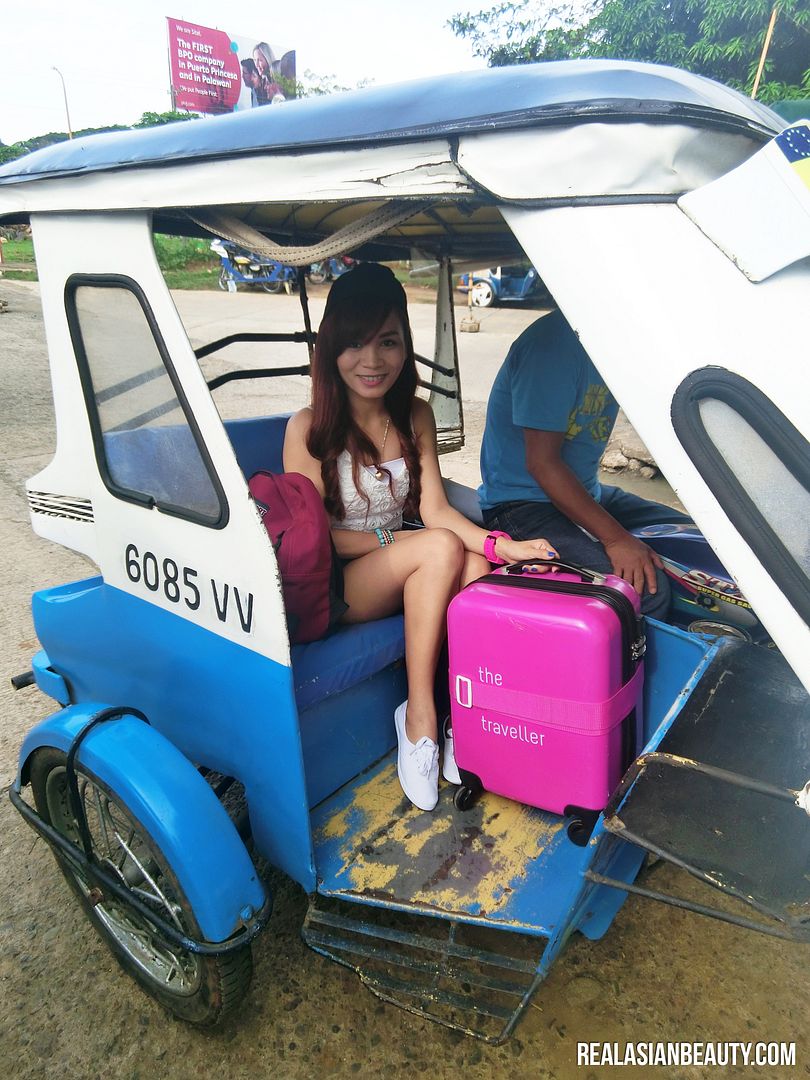 ISLAND TOUR: Island Hopping Tour A
There are 4 ways to enjoy the beauty of El Nido! That is through the 4 Island Tours that they offer. The tour costs Php 1200 - Php1,400 each. Since we were going for the "hipster" book-it-when-you-get-there trip, we didn't book our trip online, either. Instead, we just asked the owner of the inn where we stayed the night we got to El Nido. Yes, we love taking risks like that. (hehe) Since we didn't have enough time, we could only tour 1 day so we went for TOUR A. We paid Php 1,200 per person.
You can book your Island Tours ahead of time

HERE

.
If you are staying for couple of days, they say the best Island Tour combo is Tour A and Tour C!
The use of safety jacket, goggles, snorkeling gear and towel are included in the Island Tour package worth Php 1,200 per person. It also comes with FREE Island lunch which I'll be talking about later.
If you are taking TOUR A and are going to the Big Lagoon, you may be lured to renting a Kayak so you could explore the deep parts of the water. Kayak rental is Php 300 per boat for 1 hour use.
FOOD : Lunch on the Island
If you want to experience real island life, you must have your lunch on the island! Another thing to worry, you say? Actually, it's not! The lunch will be provided to you and is already included in the tour package. You get steamy rice and freshly grilled seafood for lunch! The seafood was fresh and delicious! I would have eaten more of the grilled chicken and steamed prawns if not for my fellow island tourists that were also starving. Hehe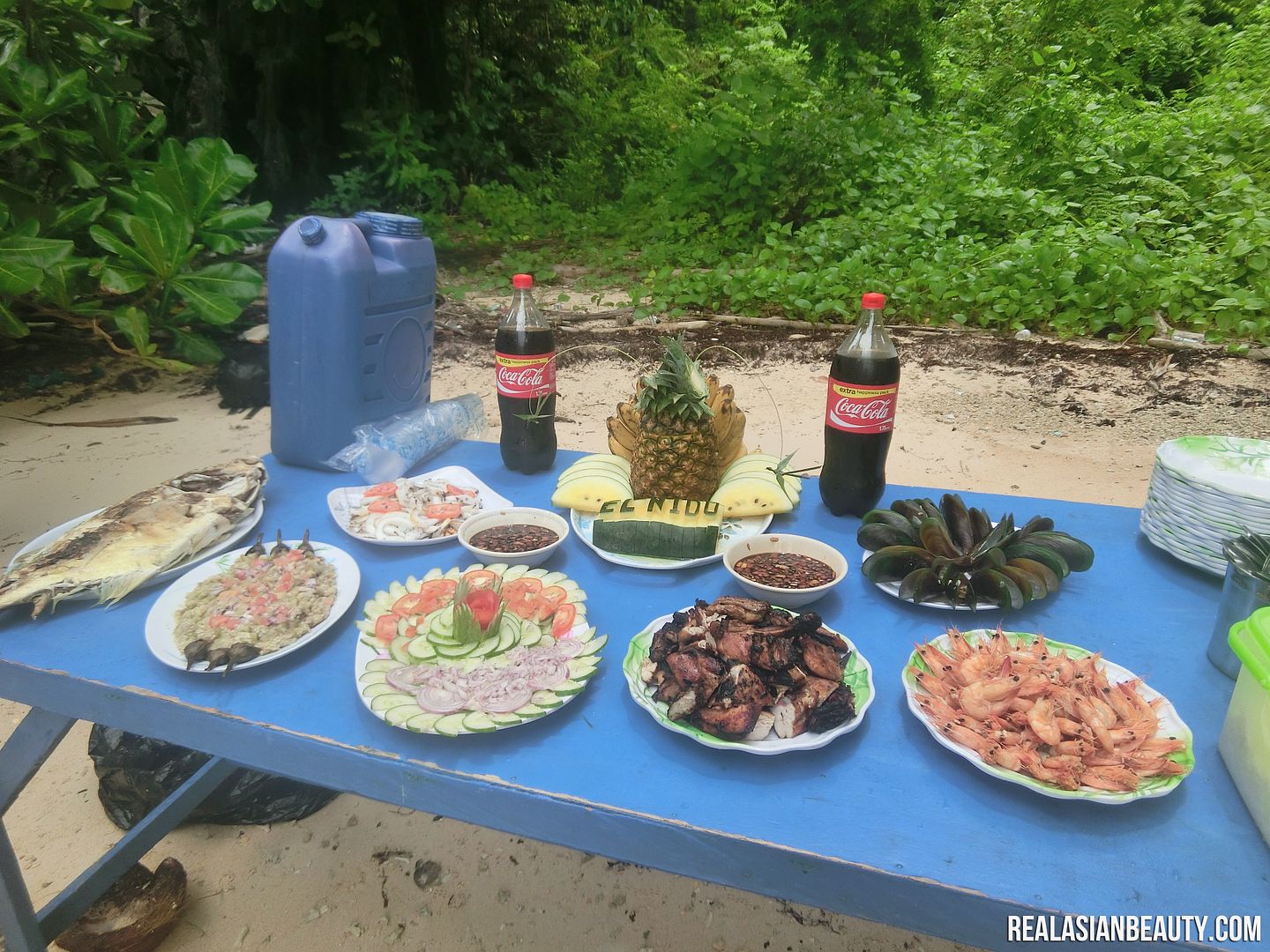 Another thing less to worry is breakfast. Centeno Inn offers free breakfast to their tenants which I thought was a good deal. They serve toast, bacon, egg, jam and butter, banana bread, banana and coffee! ll
Other than the island lunch, you have to pay for everything else. Seafood is heaven in El Nido so you may want to consider having some by the beach. If you are allergic to seafood, I warn you that there are no fast-food chains (and no ATM) in the island yet. What you can do, instead, is to buy food from Puerto Prinsesa then stuff it in your bag before heading to El Nido. This will also save you few bucks.
Here's everything that we spent!
The TOTAL cost may seem over-whelming. And that's because we splurged on the urgently booked airplane tickets. There are also few things you could skip or change to help you save a few bucks!
What you can do to lessen the expenses :
Book your plane tickets at least 2 months before the travel date

Look for cheaper accommodation without air-condition

Take the bus instead of van

Skip pricey food, go for the basic meals

Opt out buying over-priced souvenirs

Haggle with the tryk drivers and pretend you're a local
Here's our complete EL NIDO, PALAWAN 3 Days and 2 Nights ITINERARY!
ITINERARY
DAY 1 : ARRIVAL
3:30 AM - NAIA Airport Check In

5:55 AM - NAIA Departure at 5:55 AM >> Puerto Princesa

7:15 AM - Arrival at Puerto Princesa Airport

8:00 - 10:00 AM - Breakfast at Jollibee Puerto Princesa

12 Noon - DFA Puerto Princesa Palawan appoitment

1 PM - Booked VAN Service to El Nido

2 PM - Rode the VAN Service to El Nido

7 PM - Arrival at El Nido, Palawan

7: 30 PM - Check in at Centeno Inn

8:00 PM - Dinner by the beach

11:00 PM - Lights off

DAY 2 : ISLAND TOUR
8:00 AM - Free breakfast at Centeno Inn

9:00 AM - Picked up by the Island Tour service from the inn

10:00 AM - (1st Island Stop) 7 Commando Beach

11:30 AM - (2nd Island Stop) Shimizu Island

12:00 Noon - Island Lunch at Shimizu Island

1:30 PM - (3rd Island Stop) Big Lagoon

3-5 PM - (4th and 5th Island) Small Lagoon and Secret Lagoon

5:30 PM - Back to the El Nido shore

6:30 PM - Dinner at Habibi

9:00 PM - Back to Centeno Inn

10:00 PM - Lights off
DAY 3 : DEPARTURE
8:00 AM - Free Breakfast at Centeno Inn

9:00 AM - Free Island Swimming at Marimegmeg Beach

12 Noon - Back to the hotel

1:00 PM - Booked the VAN Service back to El Nido, Palawan

1:30 PM - Rode the VAN Service

5: 30 PM - Arrived at Puerto Princesa

5:30 - 7:30 PM - Shopped for souvenir at Robinson's Palawan

7:45 PM - Departure of plane going back to Manila (We almost got left by it!)

9:05 PM - Back in Manila!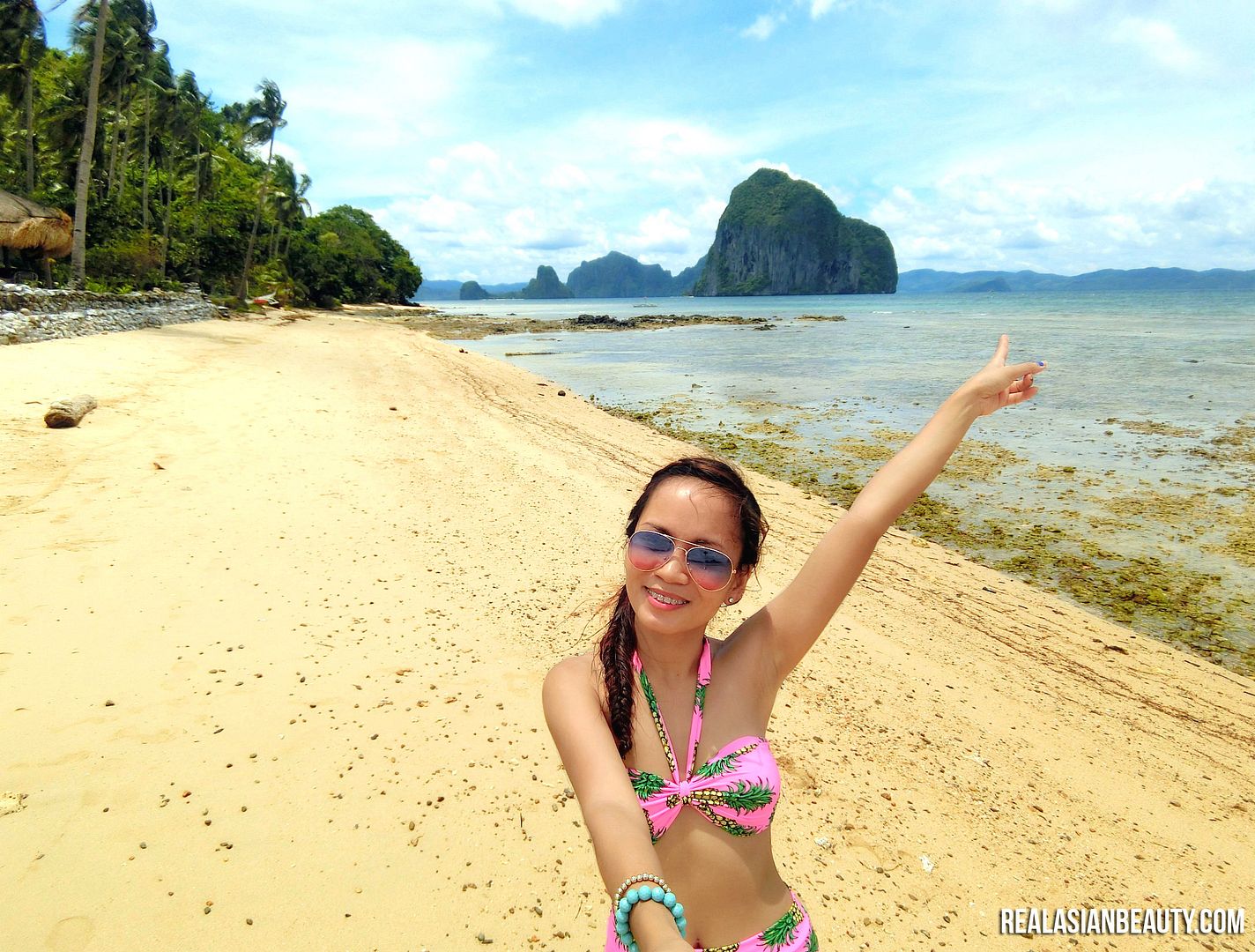 For more travel tips and to see our El Nido, Palawan experience,
go ahead and watch the 2 Vlogs below!
I hope you enjoyed this ultimate El Nido, Palawan Travel Guide.
If you want to see my YouTube El Nido travel vlogs, then please head to YouTube.com/RealAsianBeauty to see my videos.
I am on Instagram!
@RealAsianBeauty

!
Last travel tip is to just ENJOY! Life is like a sunset, so chase it before it's gone!