Spring / Summer 2012
Human, Kashieca, Bench
October 23, 2011 @ SMX Convention Center, MOA
I got invited to the Philippine Fashion Week Spring / Summer 2012 and I thought this would be a great chance to improve my life as a blogger.

My good friend, Meynard Eviza, works as a freelance Production Manager of Saga Events and this show was one of the many successful events they've handled. Mei invited me to the said event and I was more than willing and really grateful to attend.

Starting off the Fashion Week were Philippine local brands Human, Kashieca and Bench.

It was my first time to attend a fashion show and I didn't know what outfit would suit the occasion. I Googled previous PFW blog posts and found out that anything chic and fabulous would be great for the event. I didn't want to spend money just for clothes that I would just be using for one night so I dug my closet and here's what I came up with.

What I wore:
denim dress: Forever 21
lace skirt: unknown brand
nude pumps: Venus
bag: CMG
scarf: SM Ladies
accessories: Forever 21
nails: peacock inspired - painted by me :)



I also invited my friend, Arrienne (who is also a YT make up guru), to enjoy the night with me. We met up at around 2:30 p.m. because we were planning to film a "follow me" video for our YT channels. While we were on our way, it rained and the weather got inappropriate for a shoot, also there were too many people in MOA that day so we got too shy to expose ourselves in the middle of them so we just went straight ahead to SMX.

We were one of the early birds so were first in line and we got too bored so we just decided to take some pictures of us.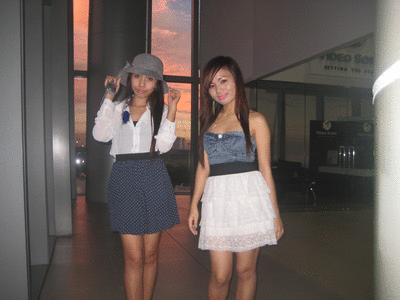 Some final preparations were done by the event coordinators and some people impatiently wait in line. My friend and I got too tired and thirsty so we decided to get something to drink at the cafe in SMX.

We finally entered the hall at 7:00 P.M. and I was really happy and excited because we got one of the best seats in the hall. We sat right beside where the media were so we saw the full view of the show.

Human was the first to showcase their collection. Their theme was Gothic and it reminded me of Lady Gaga's music videos.

Here are some pictures:

Then Kashieca ramped next.

The ledge was awesome because the center stage was rotating which surprises the audience with each appearance of the models.

There were a couple of girls on stage and one girl with an extremely shiny black hair was sitting right in the middle. I didn't notice who she was until she stood up and ramped.

Next up, Bench.

Among the three brands for the nights, I was really excited the most about Bench's runway turn. I know that Bench has a lot of hot and famous super models so I wanted to see how they carry the brand in person.

Though I have to be honest that I wasn't really starstruck when I saw them for I have seen most of them in person before.

Here are some of the beautiful people who hailed the stage that night:


The show lasted for about 2 hours and the long time of waiting was all worth it. It was an amazing experience and I would really like to thank my friend, Meynard Eviza, for inviting me. Kudos to everyone who participated in making the event possible.

But, of course I had to take some final shots before leaving SMX. ^_^

♥
-XOXO
_______________
CREDITS:
*Nelson Villarica from http://philippinefashionweeklive.com
*Nimfa Chua http://www.pep.ph