It's the new year! One thing that we reach out for, aside from a new calendar, is a new

p

lanner.
I was looking for the perfect 2013 calendar at the mall but I didn't find one. I need something that has many pages for a person like me who writes and plans and lot

.
And then, I was sent this pretty 2013 Belle de Jour Power Planner.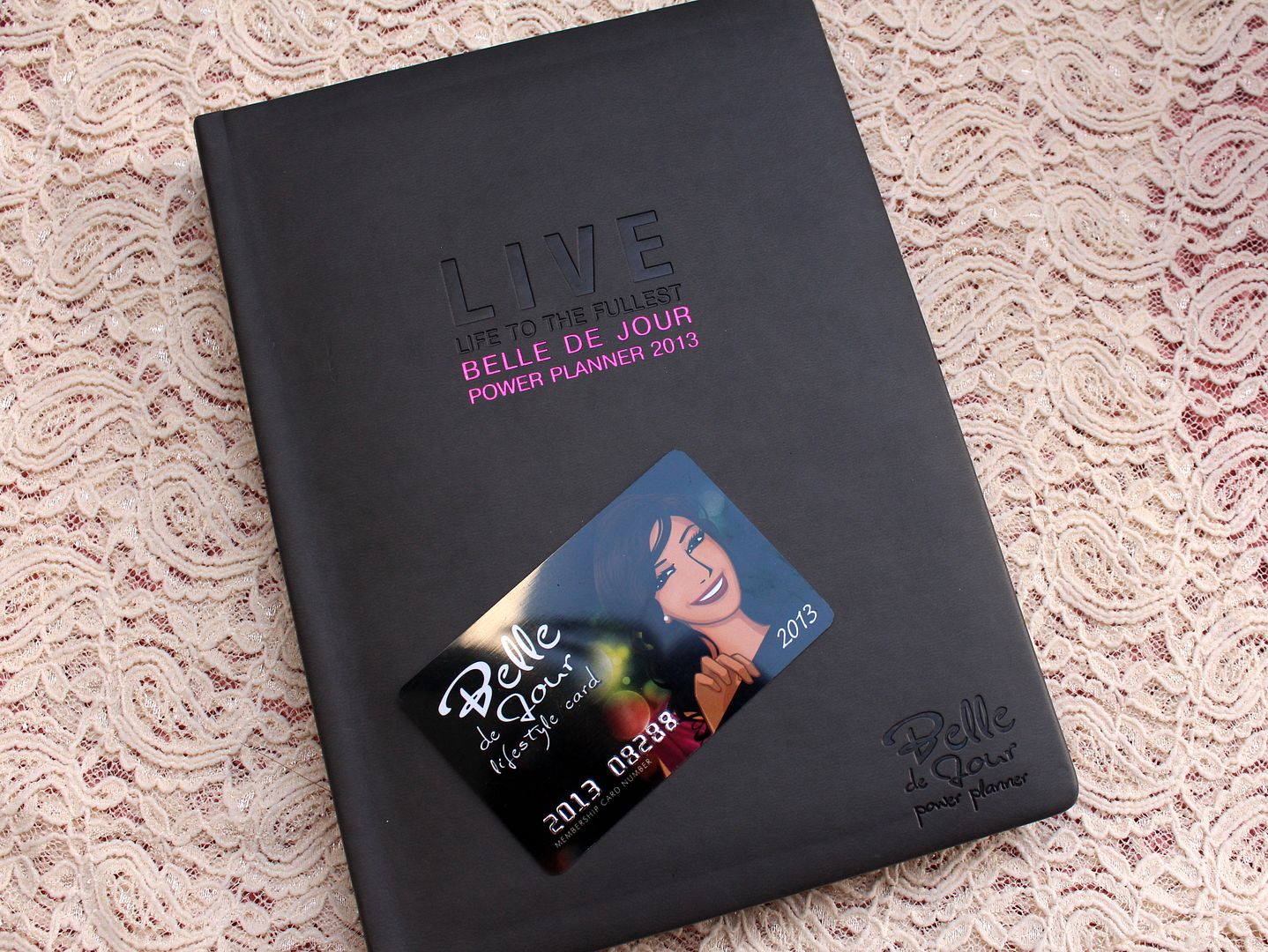 I wasn't at home when the parcel arrived. My mom sometimes gets too excited to see what arrived in the mail. When I got home, she asked me to open it. When she saw that it was a 2013 planner, she told me to just give it to her. (Inside of me I thought: "Okay, we'll see mom..") And then when I opened the planner and saw how good it is, I just had to tell her I can't give it up, I need to use it because it's what I

've been looking for!
Let me show you what's inside the Belle de Jour Power Planner and why I can't give i

t up.
Belle de Jour Power Planner is especially made for the Pinay fashionista achiever. The term Belle de Jour (bel duh zhoor') is French fashion lingo for "It" girl, we have redefined it to mean the modern day renaissance woman who dares to achieve her goals, lives her dream life, makes a difference in her community, while doing everything in great style.

The power planner includes time-management principles to help BDJ Girls manage their life better, articles and affirmations to inspire them to live life to the fullest and of course, coupons to remind them of work-life balance.
Start the year right by setting goals that will keep you motivated

throughout

the ye

ar.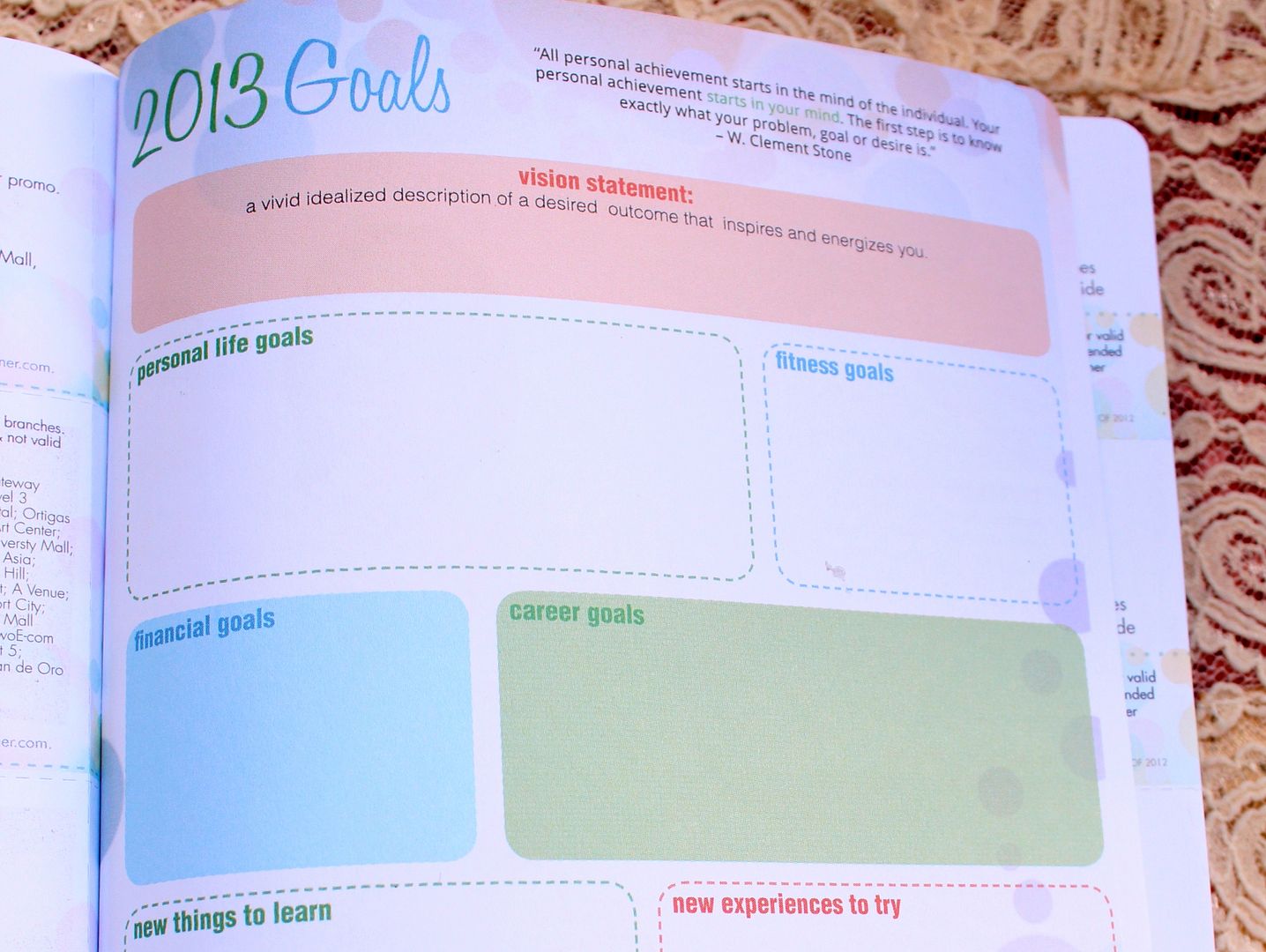 I like that it has enough spac

e to write your plans and activities for the day. And it also gives you a weekly view.
One of my resolutions this year is to really spend LESS! The year 2012 was so overwhelming for me in terms of financial. Not that I am rich or anything, but it's just that I handled my money unwisely. This year, I will definitely value and handle money wisely. So I am so glad that the

Belle de Jour planner has a special section to track your cash flow.
Why do I need to save money? It's because I want to travel more this year! They say traveling is one of the things you spend money on that let's you gain more. You earn experience, learn new things and maybe make friends along the way. The planner has a special colorful section for all your vacation pl

ans for this year.
Do you have your bucket list? If not, then let the planner help you live your life to the fullest by giving you a checklist of some of the

things you should do this year.
Ah! I'm so glad I can already chec

k
( )

3. Attend a concert
( ) 9. Build your own blog/website
( ) 40. L

earn a foreign language and use it
You know Law of Attraction? It's envisioning the things you want and making the universe find a way to make it happen for you. Yes, I truly believe that! My mom always tells me to cut out a picture of something or someone that I really like and paste it somewhere I can alwasy see. Therefore, I can be motivated to work hard for it. Belle de Jour is also giving that to you. A special section for your Dream Board

.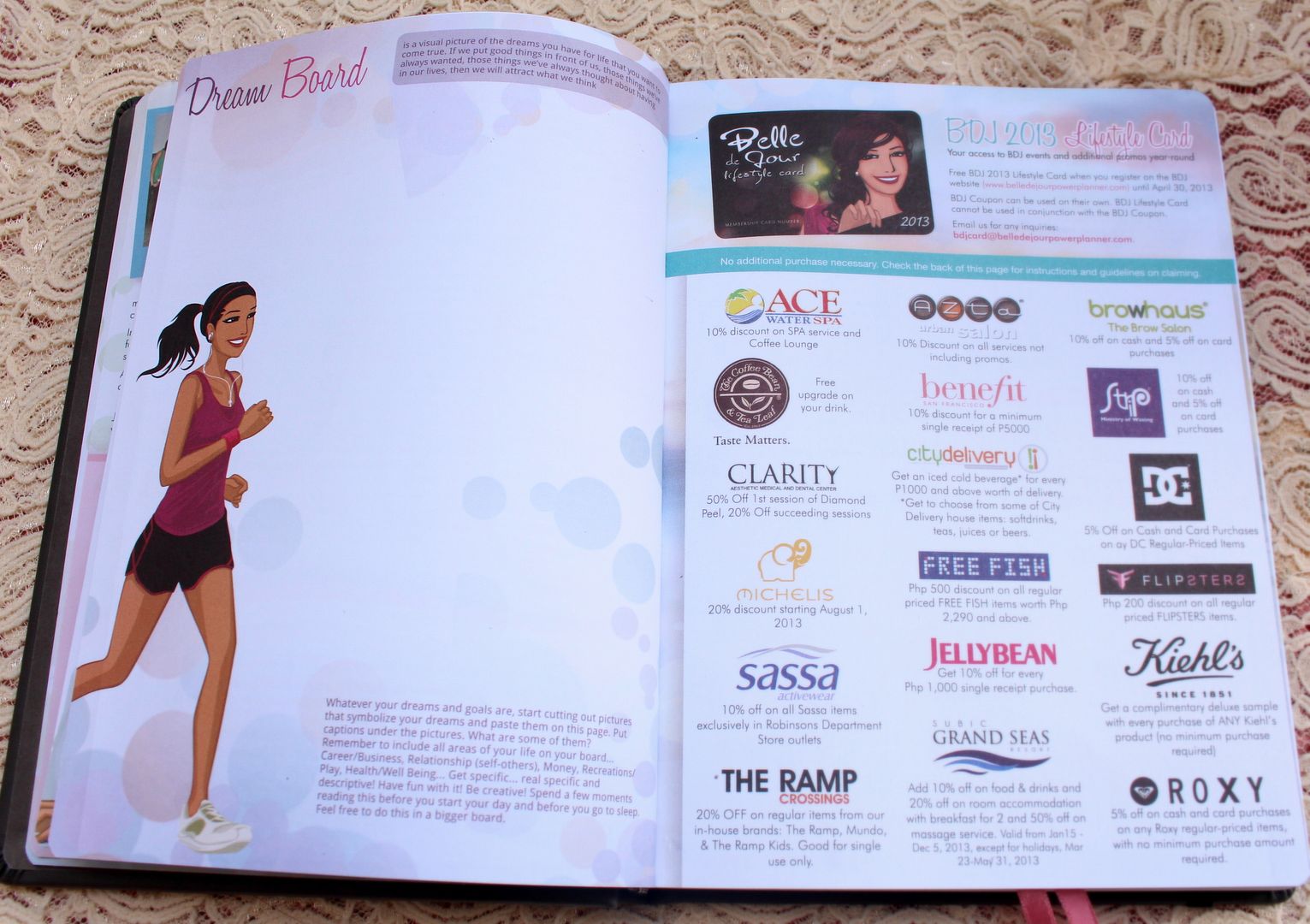 The planner also comes with a BDJ

membership card that gives members so many perks and privileges.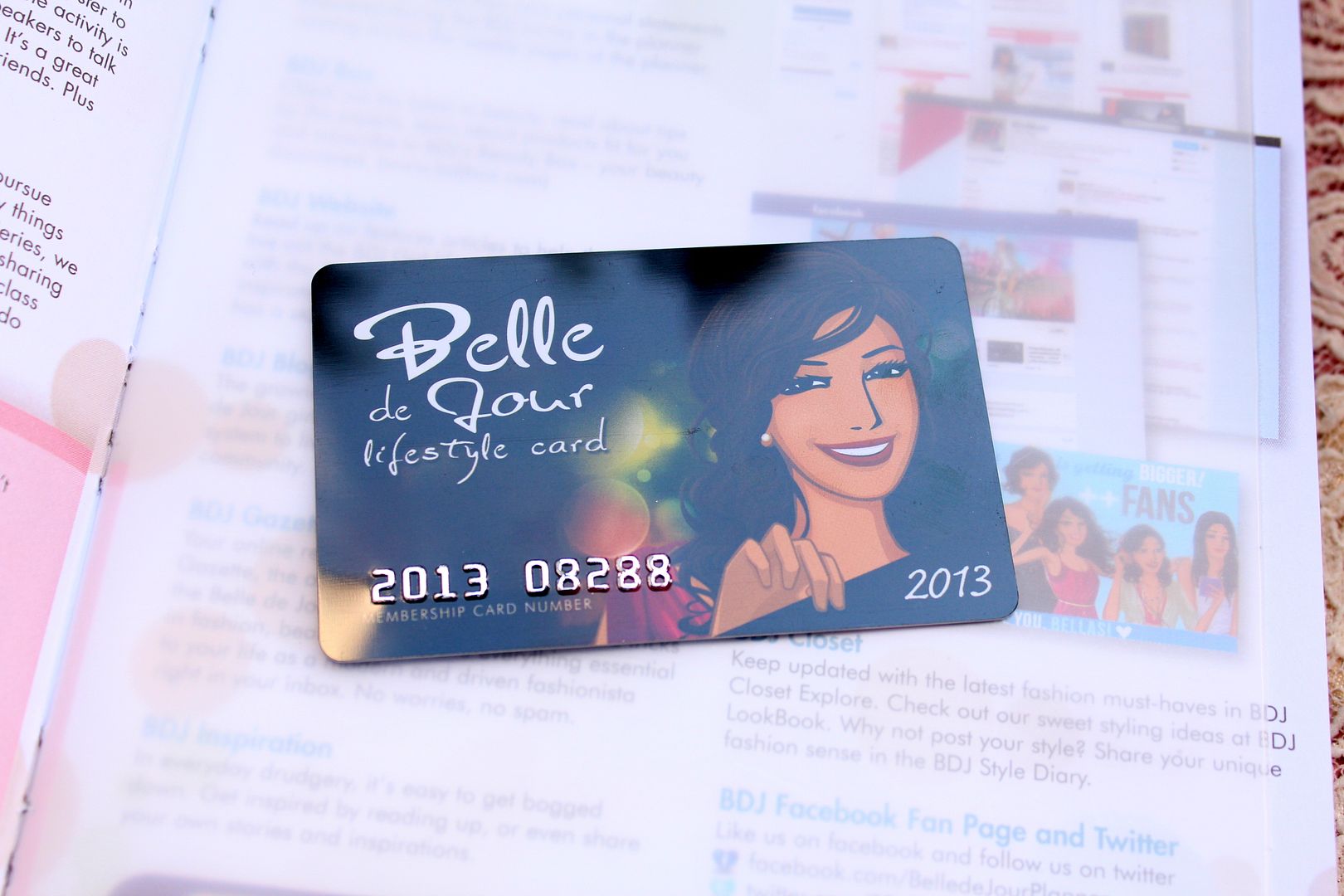 What do we love in a planner? Yes, the GC's and vouchers that come in it. BDJ Planner has so many inside it. From food, shopping, beauty, leisure

, pets and so much more!
It also has some articles and

stories

to help you with your girly life.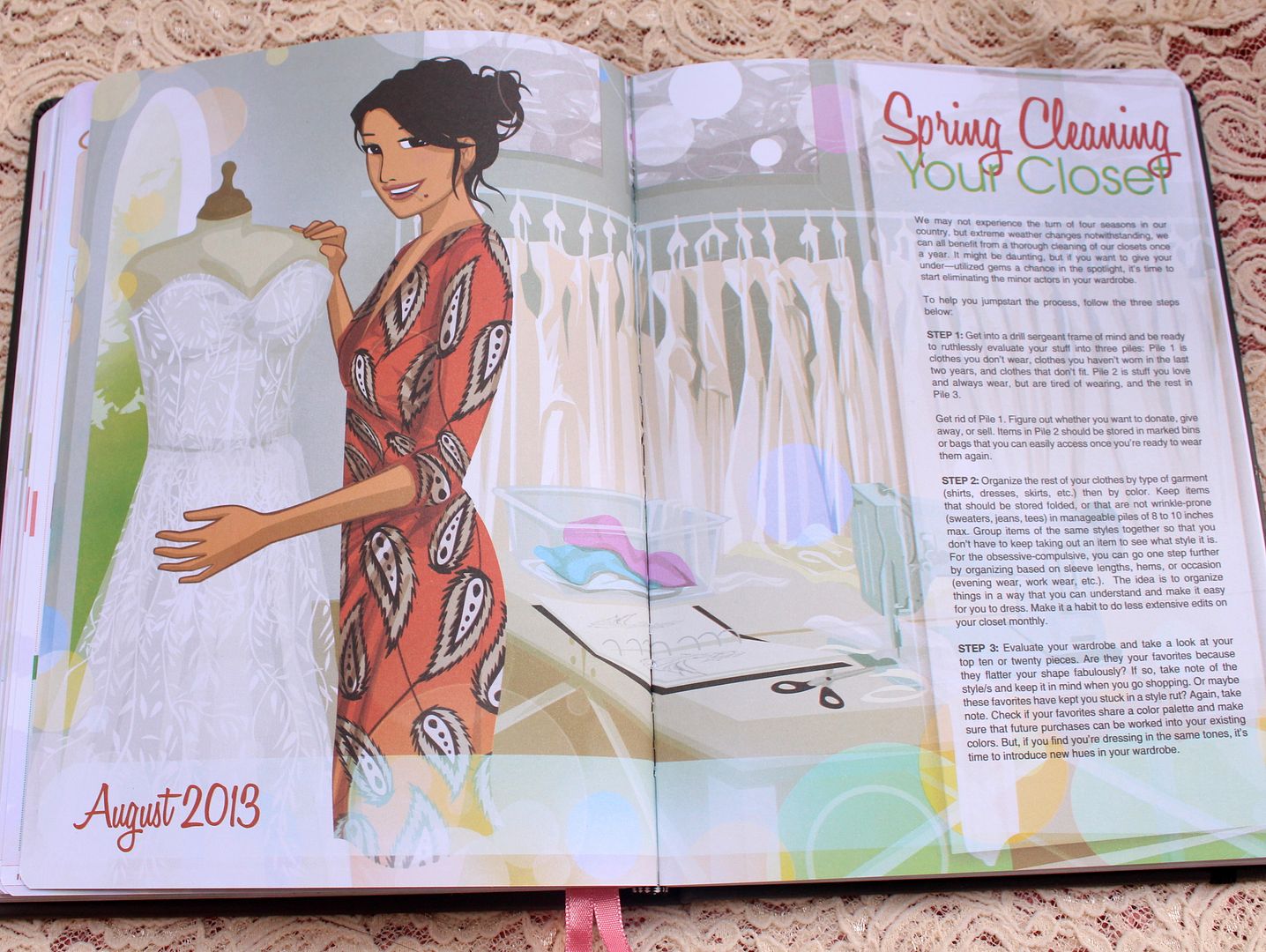 The Belle de Jour Power Planner is really the planner for the modern day achiever.

It has everything you'll need in a planner and so much more!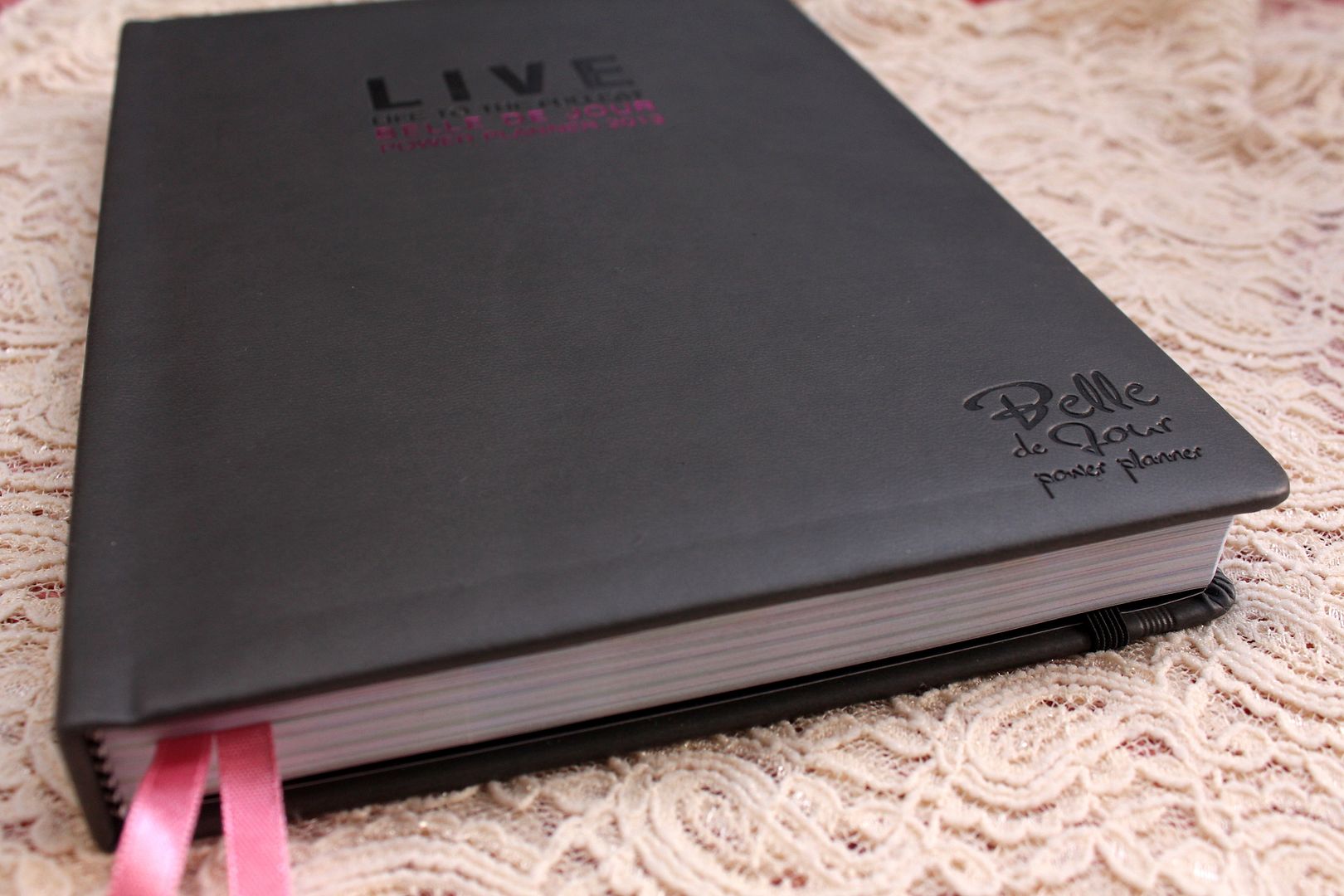 Where to get it

:

be

lledejourpowerplanner.com
Price

: Php 680
Get your own 2013 Belle de Jour Power Planner now

to start your year right! :)
* * *
GIVEAWAY : Now for our giveaway,

this blog together with Belle de Jour are giving away a 20
13 Belle de Jour Power Planner to 1 LU

CKY READER!
(*Philippines only)
How to enter

:
1.) Like BDJ Power Planner on Facebook - link here
2.) Comment below (together with you e-mail address so that

we

can contact you) and tell us what your plan/goal for the year 2013 is. :) It could be an attitude you want to change, a

country you want to visit or something you want to buy, etc.
The winner will be announced on January 31, 2013. Your BDJ Power Planner will be sent to you by BDJ. So comment below to win your

own BDJ Power Planner.
Good l

uck!
Kristine