Hi everyone! Sharing to you my one-great-step as a Blogger and Youtuber... my First TV Appearance! :)
When I was younger, one of the things on my bucket list was to be featured on a newspaper... Because of this blog, I've been featured ,not once but twice, on print media! And never have I imagined a TV show would actually invite me over as a guest on their show.
Last Thursday, Novermber 14, 2013, I went to GMA7 for my first tv appearance. Come to think of it, it was also my first time inside GMA network. I've been inside ABS-CBN, TV5 and Eat Bulaga's studio, but never inside GMA...
So, I was invited to demonstrate a simple yet unique nail art for a Talk show program called "MARS" hosted by Camille Prats and Suzie Andrada.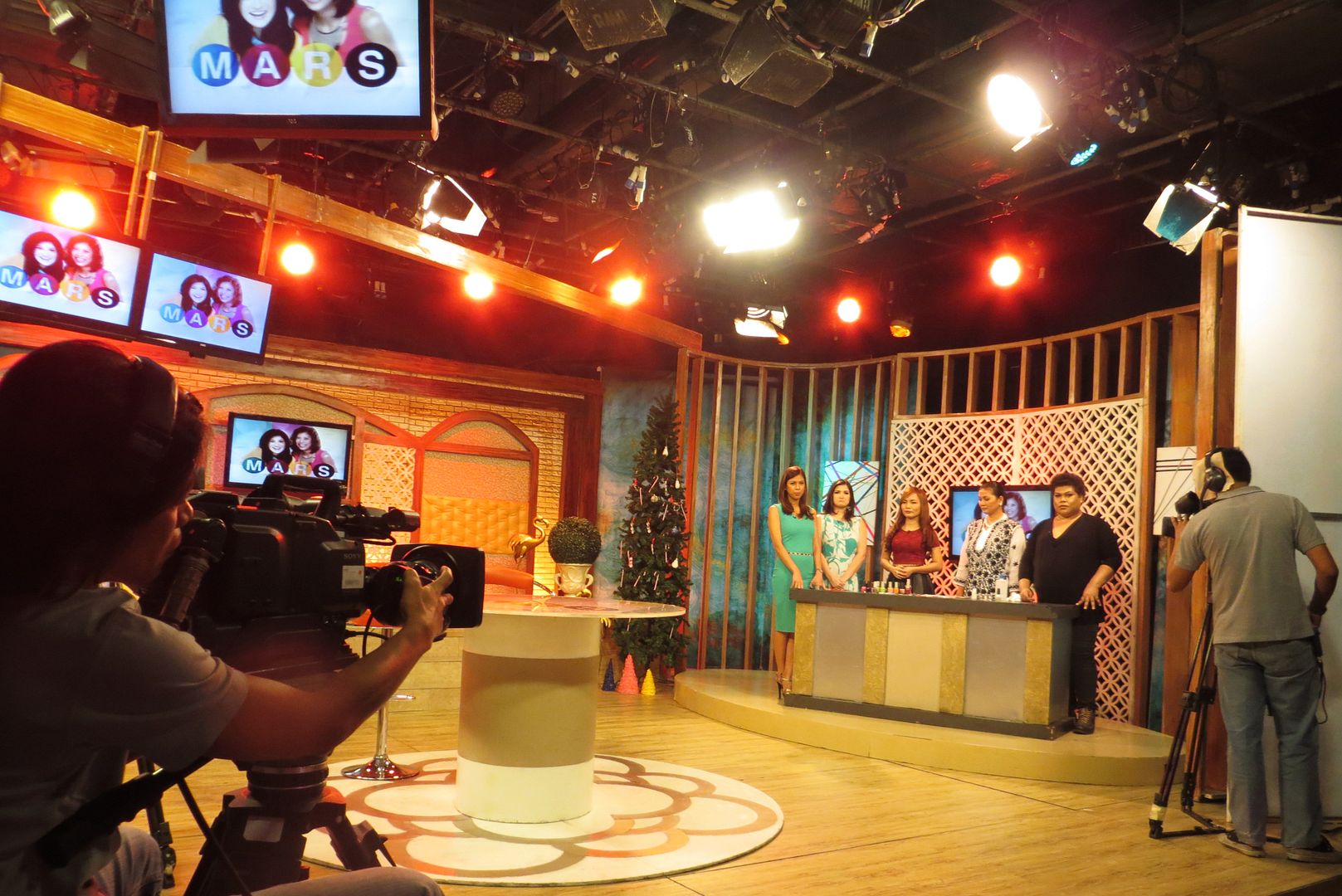 I was going to go alone.. but then I kind of wanted my mom to come with me, but changed my mind. Then, she kind of wanted to come with me, too, but she kept on changing her mind... In the end, she still came with me! :)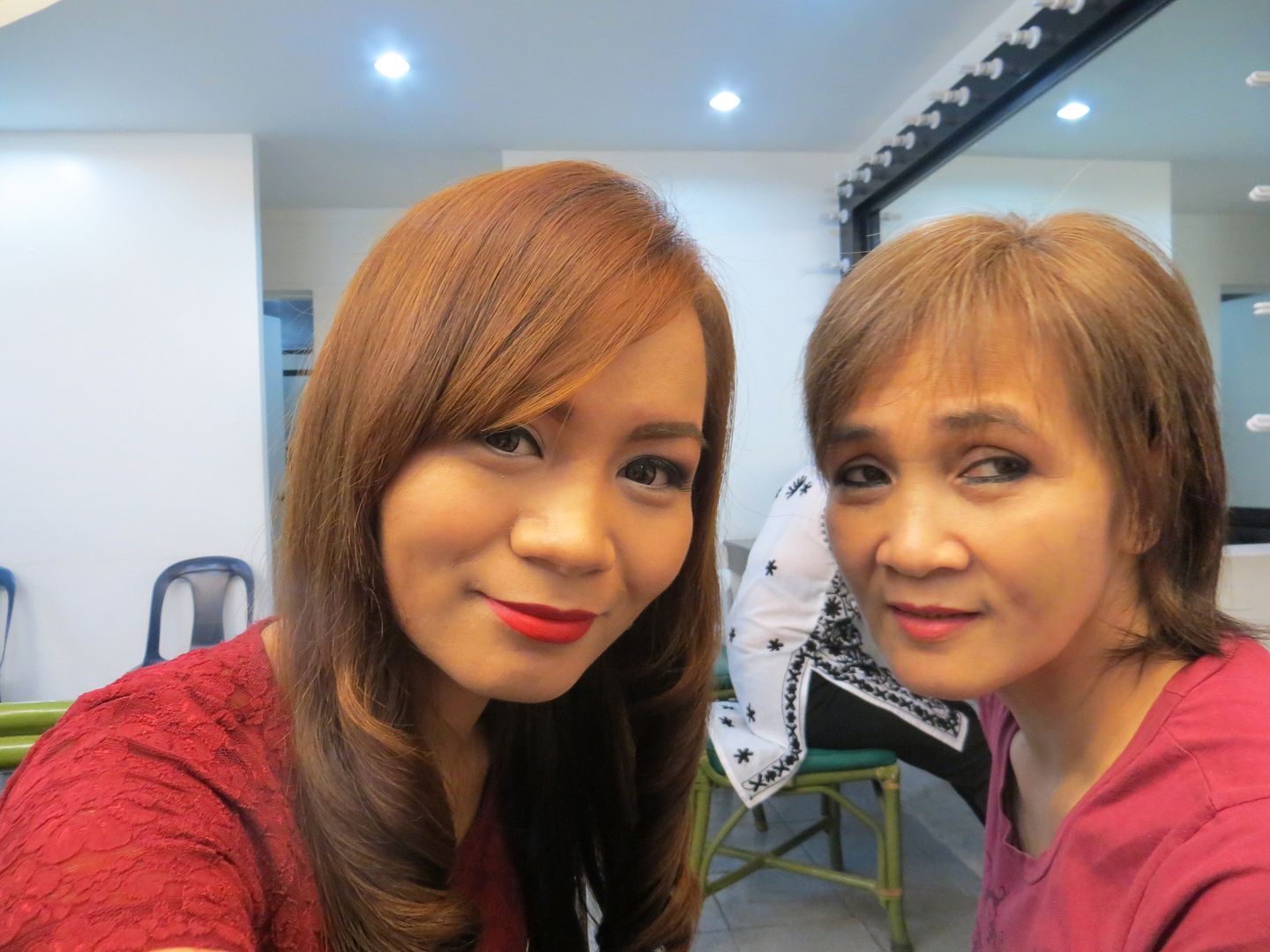 Not our best angle and my nose looks humongous. But this is our only photo that day, so I'm keeping it here. :)
With Ms. Eunice, PR of TeamAsia. They are the PR Agency that handles Google's promotion here in the Philippines. Thank you for this opportuniy, TeamAsia and Google PH!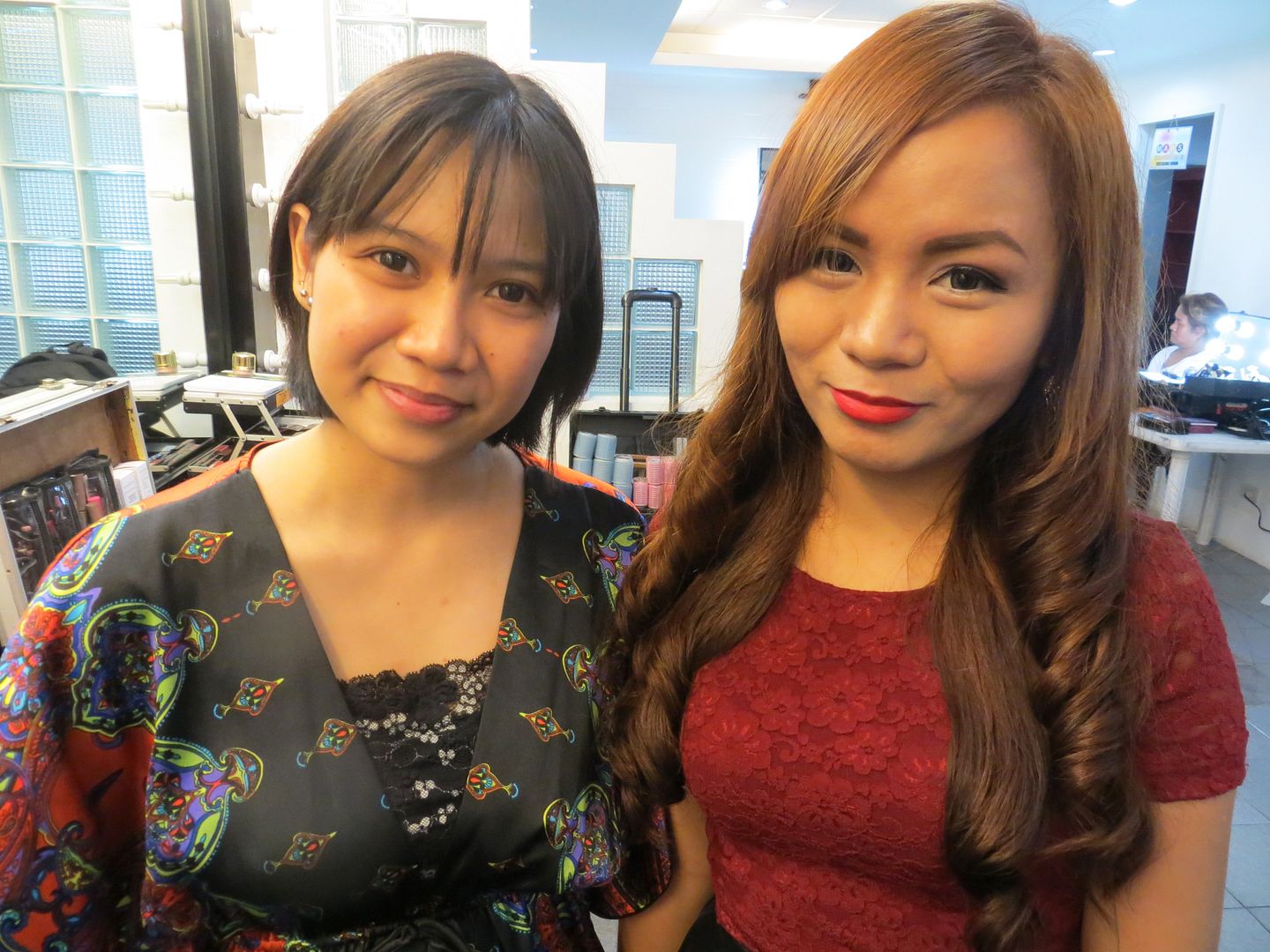 We got there at 11:30 am. What I liked was the friendly atmosphere in GMA 7. As a non-celebrity, I never expect any special treatment. But when my mom and I got there, they immediately let us inside the dressing room, together with the hosts and guests. And the staff were all warm and friendly and didn't make me feel like "Sino ka, bakit ka andito?!" They were all so nice!
More than being excited for the show, I was actually nervous... Nervous because my company didn't spare me from work. I was only given until 2:30 PM to be in our office. The taping starts at 12 noon and I wasn't sure if I could make it to the office on time.
The staff were kind enough to tape our segment 3rd, instead of being the last...
Internalizing before the cameras start rolling... Kunware wala muna pansinan... hehe
3, 2, 1... roll!
"Hi, welcome to the show..." "Hello po, Ms. Camille, Ms. Suzie, Ms. Princess..."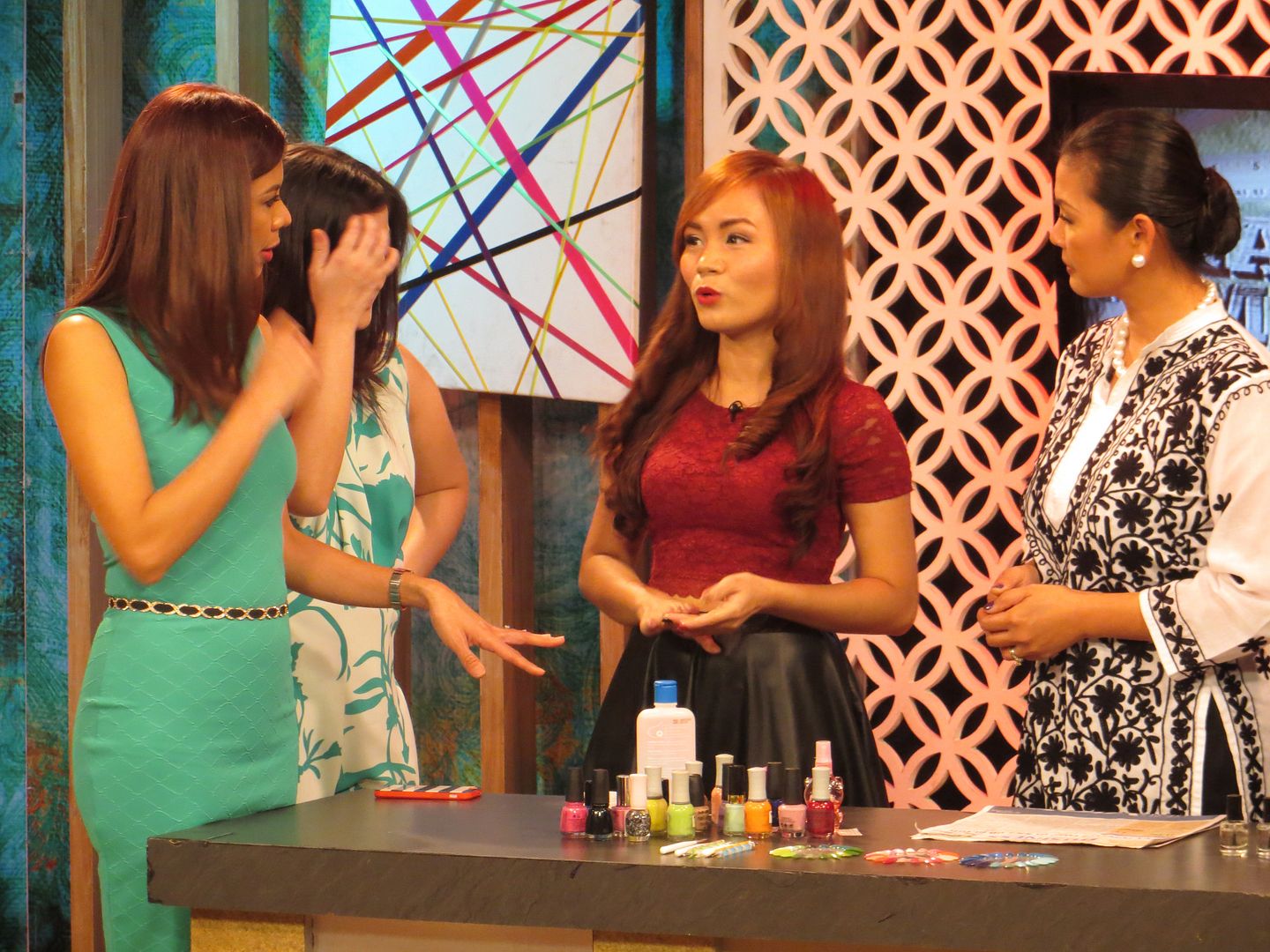 I had no clue what I was going to do! I was told I was going to show Venus Raj a nail art. So I thought of doing a nail art inspired by her Miss Universe 2010 outfits... But it was changed. I found out the last minute that I was going to demonstrate the

Newspaper Nail Art

.
I did it first on Ms. Suzie's nail. No wonder she has a lot of talk shows on GMA. She really knows how to make the conversation go. And she seems interested about everything.
To be honest, I think I was stuttering the whole time and kept talking non-sense. I think I may have even made "sapaw" while the hosts were talking. And if there's one thing I regret, that was talking in English 50% of the time. I'm sorry! I know we are supposed to speak in Filipino on Filipino local channels... But it's just that when I'm given a mic, tripod and camera, I automatically speak in English. I work as an online teacher and I film a lot of YouTube videos. When I am in front of a camera, I speak English. I hope I don't sound maarte!
Anyway, the hosts and guests have never heard of this nail art technique before so they were really amazed. :)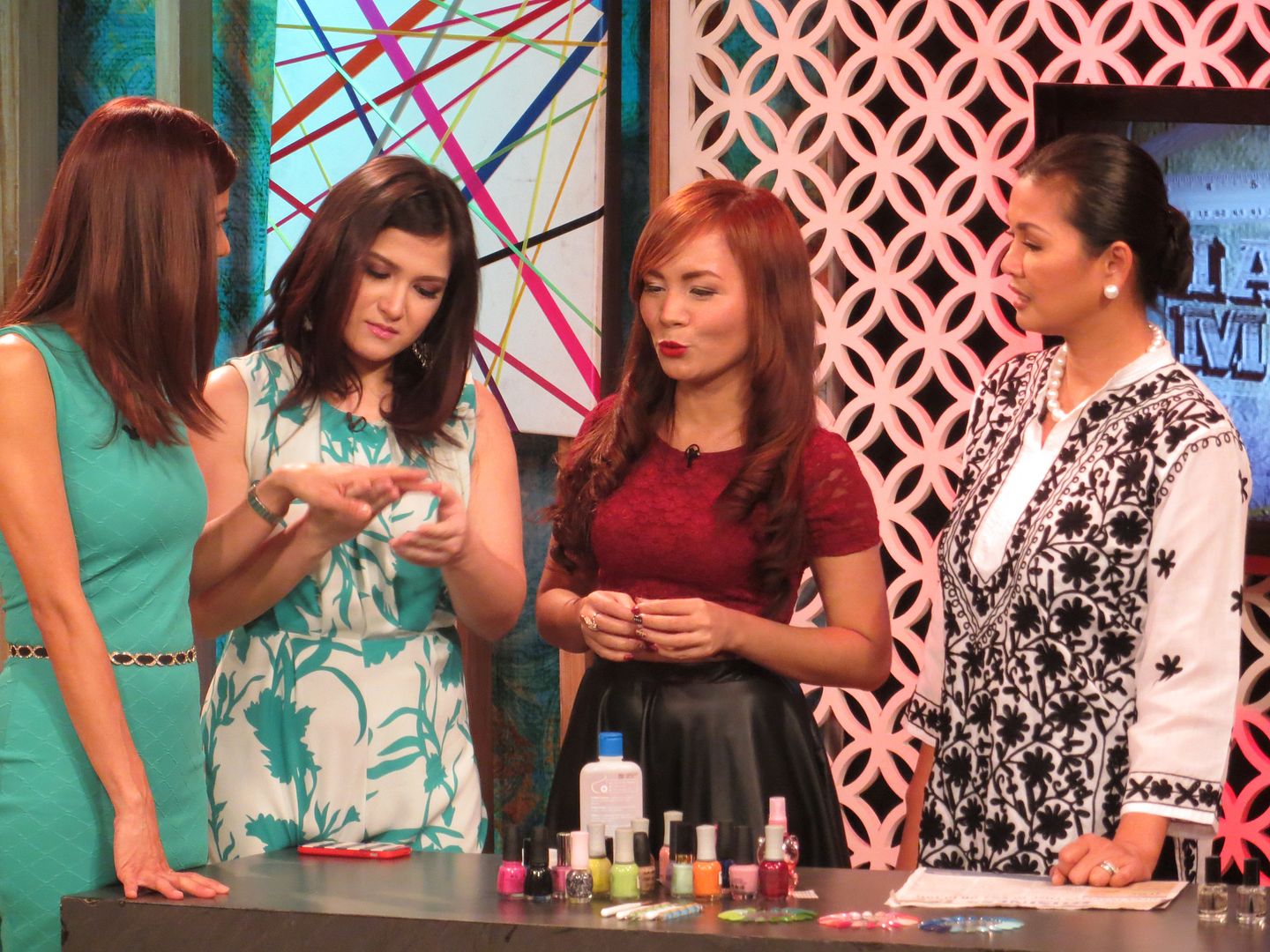 Next, I did it on Camille's nail. I can't believe I just rubbed an elbow with her. Camille was my favorite when I was young. I grew up watching her on Ang TV, Princess Sarah and G-mik!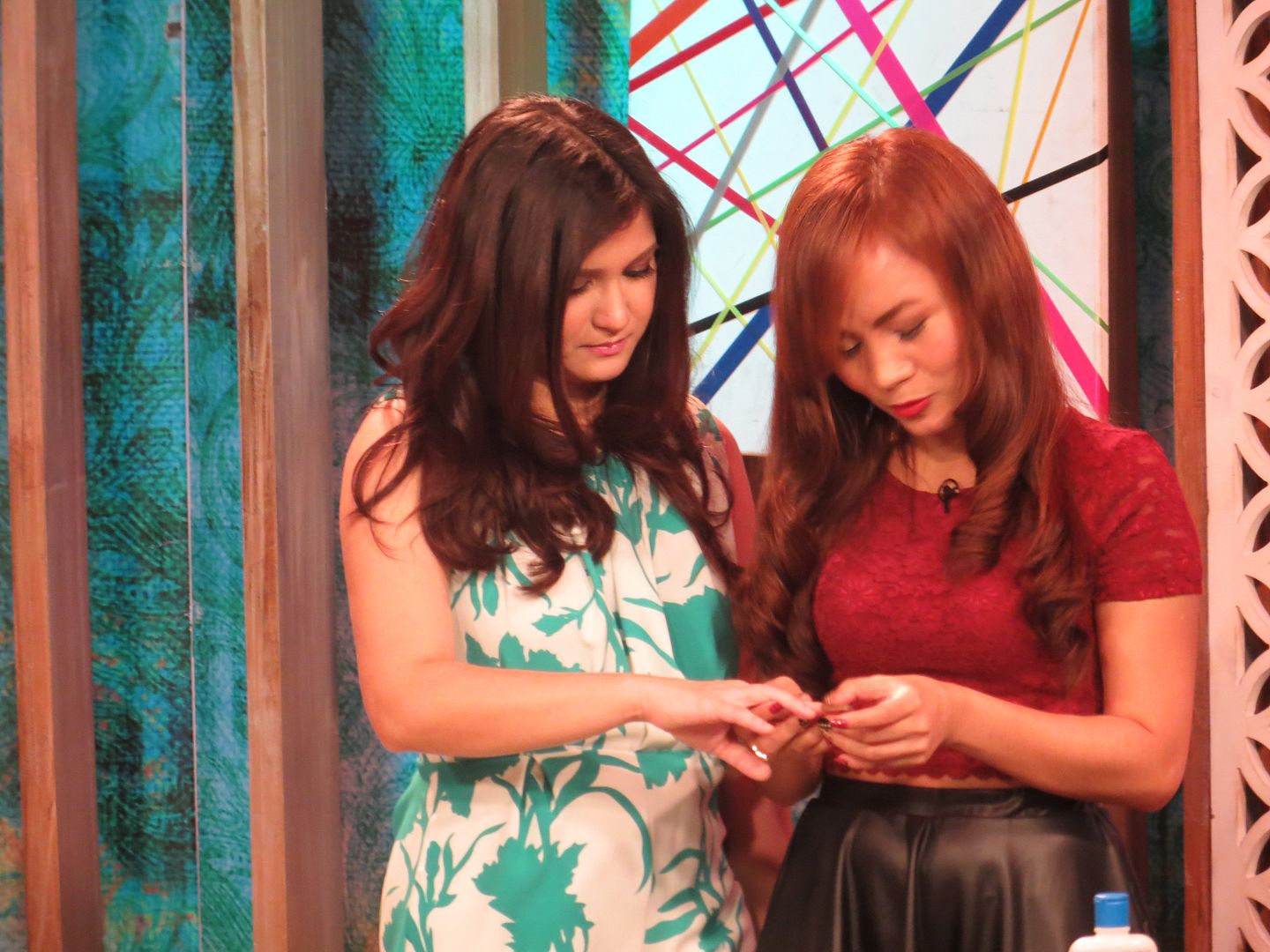 It's funny how it looks like Camille and I were in our own world while the other hosts and guests were busy trying the technique on their nails...
They were amazed and impressed. I was happy!
Too bad the photo is blurred. But they look happy!
It was a great experience to be on TV for the first time. When I was in college, I honestly had no idea why I took up Mass Communication... now, I see the roads have finally met. My job, blogging, being on Youtube and all the blessings I've been receiving, they at least have something to do with what I majored in college. And that is mass communication!
Since, I am no celebrity, I was my own make-up artist, stylist, road manger and PA! haha
MARS' episode with me in it will air on November 18, 2013, Monday, at 6PM on GMA News TV Channel 11. Please tune in and watch me on TV. It's my first time so I'm sure I stuttered a lot. I hope I don't get edited out as much. lol
Don't forget, please! MARS,
November 18, 2013, Monday, at 6PM on GMA News TV Channel 11!
Kristine