Most, if not all, women love clothes! I personally do! I mean, if only I have all the money in the world to buy all the beautiful items I see at the mall everyday, I would buy them all! But there are few fashion trends that make me cringe and swear to never, ever get caught wearing them.
Here are the top 5:
1. The new generation SKORT.
Many fashion bloggers will probably disagree with me...but I find this item really unflattering. When I was young I used to wear skorts, too. But they looked totally different from this. (That's why I said the new generation skort. lol) When I was young, skorts looked like an actual skirt in front and shorts at the back. But one fashion brand apparently thought it was cool to make skorts like this. Hence the abundance of this on lookbook and blogs. I did try to convince myself to actually buy this...but I would always put it back in the shelf. Some girls look good in this item, but I guess it's just not for me.
2. HIGH-WAIST SWIMSUIT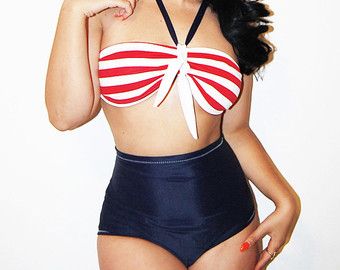 When dressing up, always remember to highlight your strengths and conceal your weaknesses. Since I was not blessed with long, slim legs and big chests, I feel like my hips and waist are the main points of my body. And hiding them in swimsuit is just a no-no for me. Short legs and small breasts are my weaknesses and I only look good when I try to show a little of my waist. Some people look good in swimsuits like this, especially girls with problems around the abdominal area. But I prefer low-rise swimsuits. (Plus I think they kind of remind me of lola panties. lol)
3. CREEPERS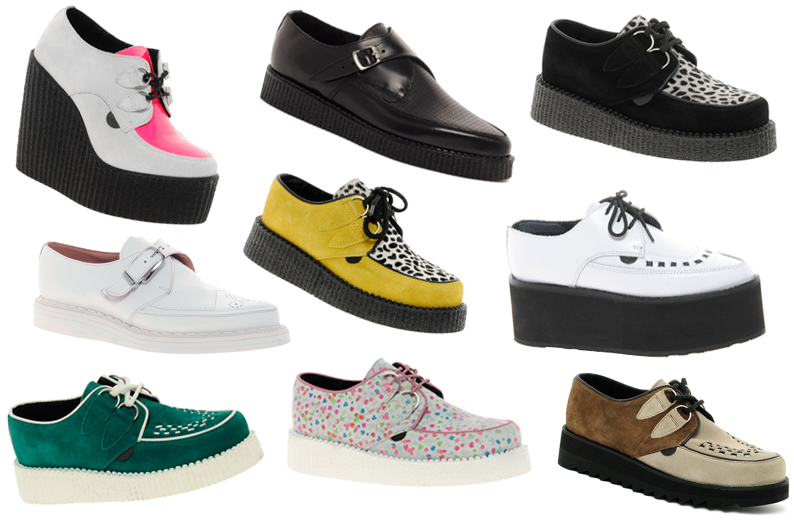 Creepers creep the heck out of me! Every. single. time. If you are a fan of creepers, please don't be offended. But I honestly believe I would look like a creep in them. Though Spice Girls used to wear a lot of shoes like these back in the days. But I'm no Spice Girl and no hipster, either. I'd rather be seen in sky-high heels or extremely flat shoes than to be seen in creepers. But hey, it's just me!
4. Extreme PRINT-ON-PRINT
Print-on-print will make you look edgy, when done the right way. It is very trendy and hot these days. But some just go way beyond what's acceptable. I feel a little blotted when I see extreme print-on-prints.
5. HAREM PANTS
For me, Harem pants are only for dancers as one can move around freely and comfortably in them. But when you wear it outside the practice room, it becomes a totally different story. One of women's assets are their legs. So why should one choose to cover them up, least in saggy pants like these? I just don't understand the concept behind Harem pants. And apparently, men don't, either. Based on surveys, harem pants is one of the fashion trends men hate on women. Good to know!
This is probably how men react to Harem pants :
Bonus :
Sparkly suits / coats / pants
One can always wear a sparkly item. Like earrings, a necklace or shoes. I won't be hypocrite and say I haven't worn any sparkly item. I did in fact wear a sparkly-ish/metallic leggings here. One can always wear a sparkly item but one can never be as as sparkly as Exo-sparkly! haha. I mean, look at those Sparkly pink coats and Glitter pants!
These are just my opinions, though. Of course, you can't always listen to what other people say. If you feel comfortable in a certain item or think that you look good in it, then by all means go out and be in it! :)
* * *
What are your pet peeves and what items do you not see yourself wearing? Let us know! It'll be fun to know your opinion, too.
Kristine