Hello! I realized that I barely update you guys with my life here in the Philippines. I mean, the usual stuff that I do.
So I decided to blog about what I did today.
After I resigned from my job, I feel like I'm on indefinite leave and am on an all-out getaway. hehe. Not that I'm spending on anything luxurious, no. But because I have a lot of time, I get to go out with my mom, with my family, relatives and with friends whenever they want. That for me is the best thing in the world - to be able to spend time with people that matter. Cheesy? hehe
Anyway, I met up with my high-school friends and decided to go to SM Megamall Fashion Hall to try their new stores and restaurants. Because I loved the Tim Ho Wan Pork bun so much, I encouraged them to try it, too.
Some photos may be blurry because I only used my phone camera to take them.
Baked Pork Bun (Php 145/3 pieces)
Tim Ho Wan's best-seller! For me, it's a cheese bread and siopao fusion. The crust is sweet and tad crispy while the inside is soft and tasty. The taste starts off sweet and then ends salty as you bite the delicious pork barbecue stuffing!
Vermicelli Roll with Pig Liver (Php 150)
Fell in love with this food after I tried it for the first time. The pork liver, the soft wrap and the salty sauce just create a delicious taste!
Glutinous
Rice with Lotus Leaf (Php 190)
A rice meal for the heavy eater. The glutinous rice is thick and heavy so you'd surely have a full stomach after this! It is tasty and has that distinct "Chinese" taste to it.
Prawn Dumpling (Php 160)
Yummy but kind of pricey, in my opinion. There was nothing spectacular about it. Other dumplings (that I know of) cost less than this set.
Bean curd
Skin Roll with Pork and Shrimp (Php 120)
This meal was the least tasty out of all the food, if not the most tasteless. It was just so bland, I didn't understand how it was supposed to taste.
Rice with Beef and Fried Egg (Php 180)
We ordered 4 kinds of rice meal but I failed to take a photo of them all. In my opinion, this rice bowl is the best because it doesn't have anything new or weird to it. If you are hungry, the least thing that you'd want to is explore a new food only to end up being disappointed because it wasn't too appetizing. This tastes like a usual (yummy) rice bowl so you won't have any regrets. It was delicious! I just wish they put it in another bowl. This size and shape of the steel bowl makes eating a bit uncomfortable.
Not artistic at all, but here's our table. We were hungry, busy talking and busy playing with the kids so I wasn't able to take a nice photo. hehe
After a sumptuous late lunch, we walked around the fashion hall to explore some new shops.
We saw an interesting cafe earlier so we decided to go back to try it. It was located right in front of Tim Ho Wan - St. Marc Cafe!
The hardest decision you'll ever make, I swear. Everything looks so delicious, you'll have a hard time forcing yourself you could only order 1! hehe
The cafe is best known for the ChocoCro. I failed to ask their staff but I'm guessing that means "Choco Croissant"! hehe
I'm not the type to worry about diets and calories, but for those who do these could be very, very tempting and sinful!
They all look so delish!
We were four but since they have quite big (and pricey) serving, we decided to just buy 2 and share. The nice thing about this cafe is that the display are the same as their actual serving! Hooray!
We were so full but truth be told, we still wanted to eat at Ippudo and Kyochon! hehe We all haven't tried those restaurants yet so we were curious. But it was getting late and the kids were feeling tired so we decided to put the appetite away! hehe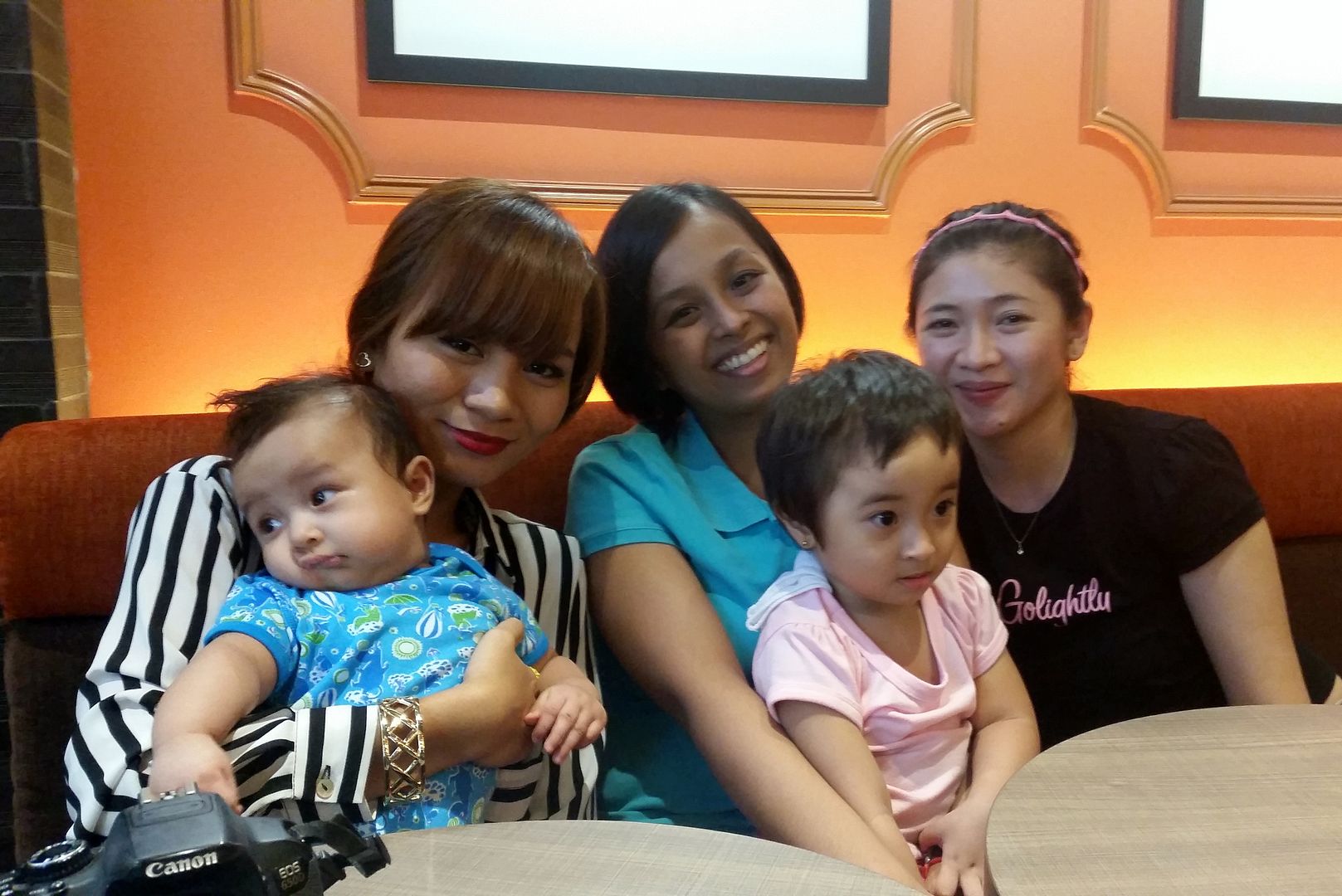 Hehe Taking a photo with kids is difficult, don't you agree? They always end up looking somewhere else.
So, that's what I did today. When I got home, I found my mom in the garden area watching NINE. An old Korean drama we started watching recently. I responded to e-mails, ate dinner (again, my tummy u y always hungry?), fed my dog, watched TV a bit then went up to my room. So now, I am talking to you, hehe
I hope you enjoyed reading this post. Please let me know if you would like to read more casual blog posts like this.
What did yo do today?