I've always wanted to go to Universal Studios so I was really excited for our Singapore trip! We wanted to avoid long lines and horde of people so went on a Monday. Going to Universal Studios from our hotel was rather very quick and easy. The attendants at our hotel said it would be easier to go by taxi rather by bus or by train. The fare came down to just $9, which was very cheap as compared to having to walk a few blocks and take a train and then transfer to another train line.
I made sure I wore comfy clothes to Universal as I was sure the weather was going to be hot and sunny!
Finally, a picture with this iconic globe/logo!
The ticket price was $68 for a One-Day Pass Ticket. We got a few $$ off the price because we got our USS ticket from our hotel, Victoria Hotel. I think it was around $5 discount.
UNIVERSAL!!
To make my story-telling even more realistic, I filmed a vlog for you guys! Click the video to see the fun we had at Universal Studios in Singapore!!
It was close to Easter so the theme of the park was Eggs, Eggs and more Eggs!
Does it not hurt your eyes to look at these golden awards lined up?
I saw this one award that would be a perfect gift for my Mom.
See, I told you! More eggs!
One of the main attractions of the park is the Ancient Egypt area. I have always been amazed by the Egyptian hieroglyphics, the huge statues, the pyramids and more! It was so nice to see replicas of those inside the Universal.
The Revenge of the Mummy ride was also thrilling! I really loved it! You guys should try it if you ever visit Universal Studios, too!
Then there's the Jurassic Park area. I also loved the Canopy Flyer ride. It was just too short for a very fun ride, though.
Then, every kids and kids-at-heart's favorite place- the Far, Far, Away!
I really love going to theme parks with castles and "princess" themes! I just really love fairy tales and I guess I have always wanted to be a princess, too!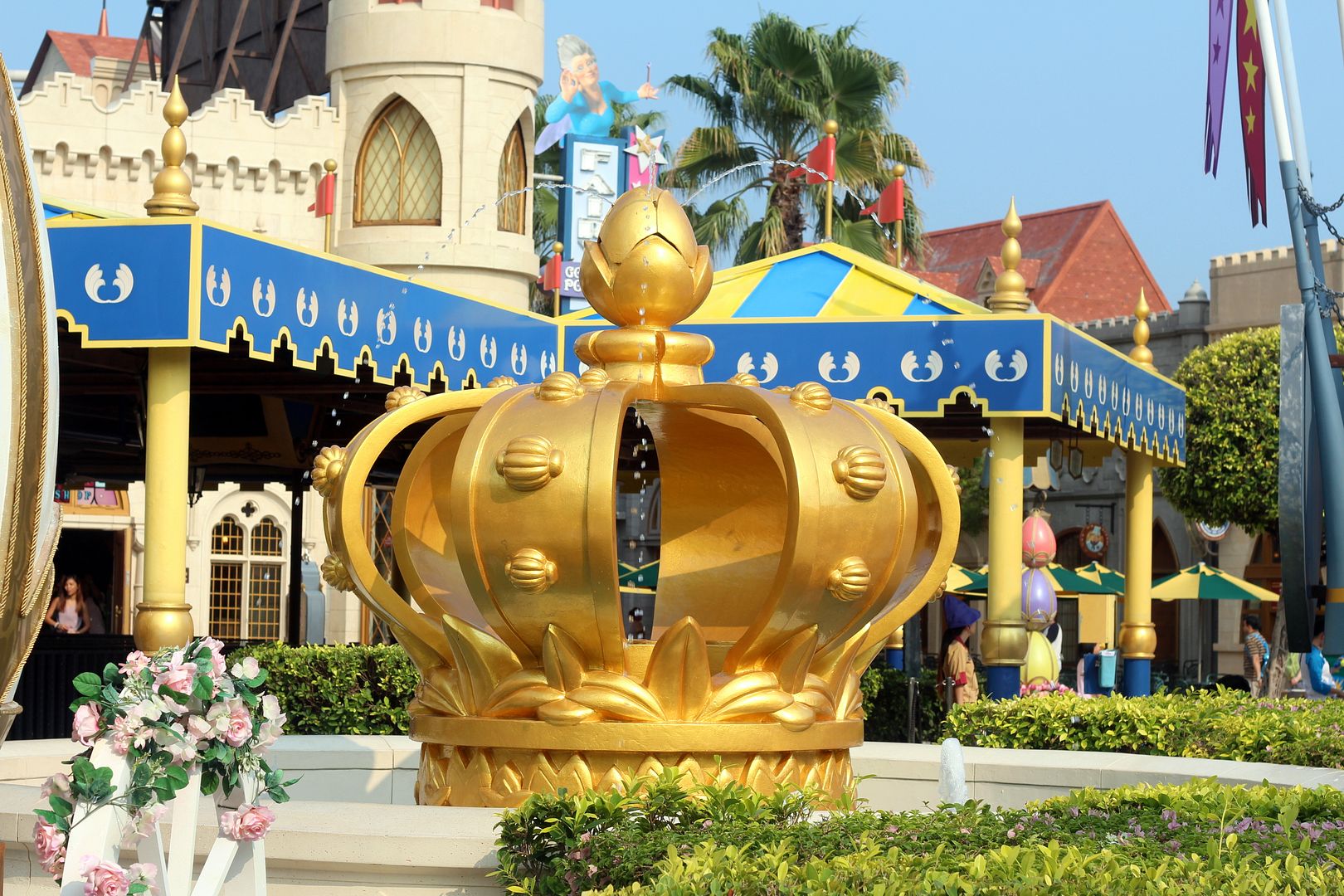 This ride also seems fun but I don't know why we didn't ride it. I guess it because the entrance to it was kind of hidden and my cousin and I got lazy to actually go and look for it.
Candies for the sweet tooth!
The Madagascar area was also nice. We rode the Crate Adventure but I thought it was a little plain. I couldn't really complain, though, because the reason we rode it was because it was so humid and we were so tired. We saw that there was no line so we got inside so we could have a bit of cool air and a nice seat in the boat. hehe
Cute penguins! Have you guys seen a real penguin? I haven't! Are they really that cute in person? Like Panda level cute? Oh, wait. I've never seen a Panda in person, either! hehe
Because I'm happy!
Everyone is free to enjoy the park! See, even this cute little bird is enjoying it's walk along the walk of fame!
My cousin and I didn't stress ourselves too much trying to explore the entire place and trying to ride all the rides. We just wanted to really enjoy the time. So we weren't really tired at the end of the day. By 5 PM, we were almost finished going around the park so we still had time to go back to the souvenir shop.
When we got out of the park, I saw my paradise! OMG!! So much REESE'S in one picture! How could there be so much Reese's?! I want them all and I won't ever get tired of eating them! Reese's is my favorite chocolate, EVER!!
So, after I got crazy inside the Hershey's store, we walked around Sentosa trying to find a place to eat. We were both craving for chicken and rice. No, not the chicken and rice that they have in Singapore but the fast-food fried chicken and plain rice that we are so used to eating here in the Philippines! hehe
We took the train going home because that's what the hotel attendant told us to do. He said the taxis are more expensive at night and that the travel time would be longer then. We passed by Vivo City Mall really quickly. I saw this cute wall art there.
We got home at around 10 PM. We were so tired but it was surely a fun day!
I hope you enjoyed the photos and the vlog!
Two more Singapore posts then we're done with this travel diary episode. Hmm, I wonder where my next destination would be? Somewhere with cherry blossoms or pretty maple trees perhaps?
Thanks for reading!