They say someone else's trash is another man's treasure. I also believe that a little amount of money, when put together, will definitely sum up to something big. I was able to prove these 2 proverbs when I joined the Bloggers United for the second time.
Blogger's United is quite known in the blogging world but if you don't know it yet, it's an annual event where top bloggers and influencers gather to sell their pre-loved, mostly unused, items for much cheaper price. It could also be considered a great gathering and a meet-and-greet where followers and avid fans could meet their favorites all in just one place!
I was first invited to the BU last December 2017

.

I've been blogging for 6 years but only got invited then. I was so happy and excited when I finally got the invitation! 6 months later, I was invited again. The first time, I didn't really know what to expect and I even crammed as I wasn't able to prepare all my items so I just sold everything for Php 150 to Php 20 per item. This time, I was more prepared!
To be honest, I felt skeptical to sell items that came from brand sponsors. I thought they would be disappointed if I sold items that I just got from them for free. But recently, I have been seeing a lot of my items expire. I thought it would be wiser to sell the items for much, much lower price and let other people use them than to just throw them away when they expire.
On my first time to join

, I only brought 2 luggages and 2 huge bags. On my second time, I brought 2 luggages and 7 huge bags, all filled with items to sell.
We got to the venue around 10 AM and did our best to set up in just 1 hour. I wasn't able to prepare a stand-up tarpaulin but I was able to prepare few things so my followers could easily spot me. Hehe Yes, because an 8"x 10" picture frame would stand out in the crowd. *hehe*
The only thing I have to mention is that though the event is fun and exciting, it could get really busy. Did you know that I was only able to eat my first meal of the day and was able to go to the restroom for the first time the whole day when we packed up our stuff at around 8:00 PM?!
I put label to all the stuff I sold. I put the original price and then the price I'm selling it for. Most of my items we sold at 80% OFF!! My ultimate goal was to go home without having to bring the items back. We weren't able to take a photo at the start of the bazaar since things got a little rowdy. This photo was taken when I sold more than half of the items.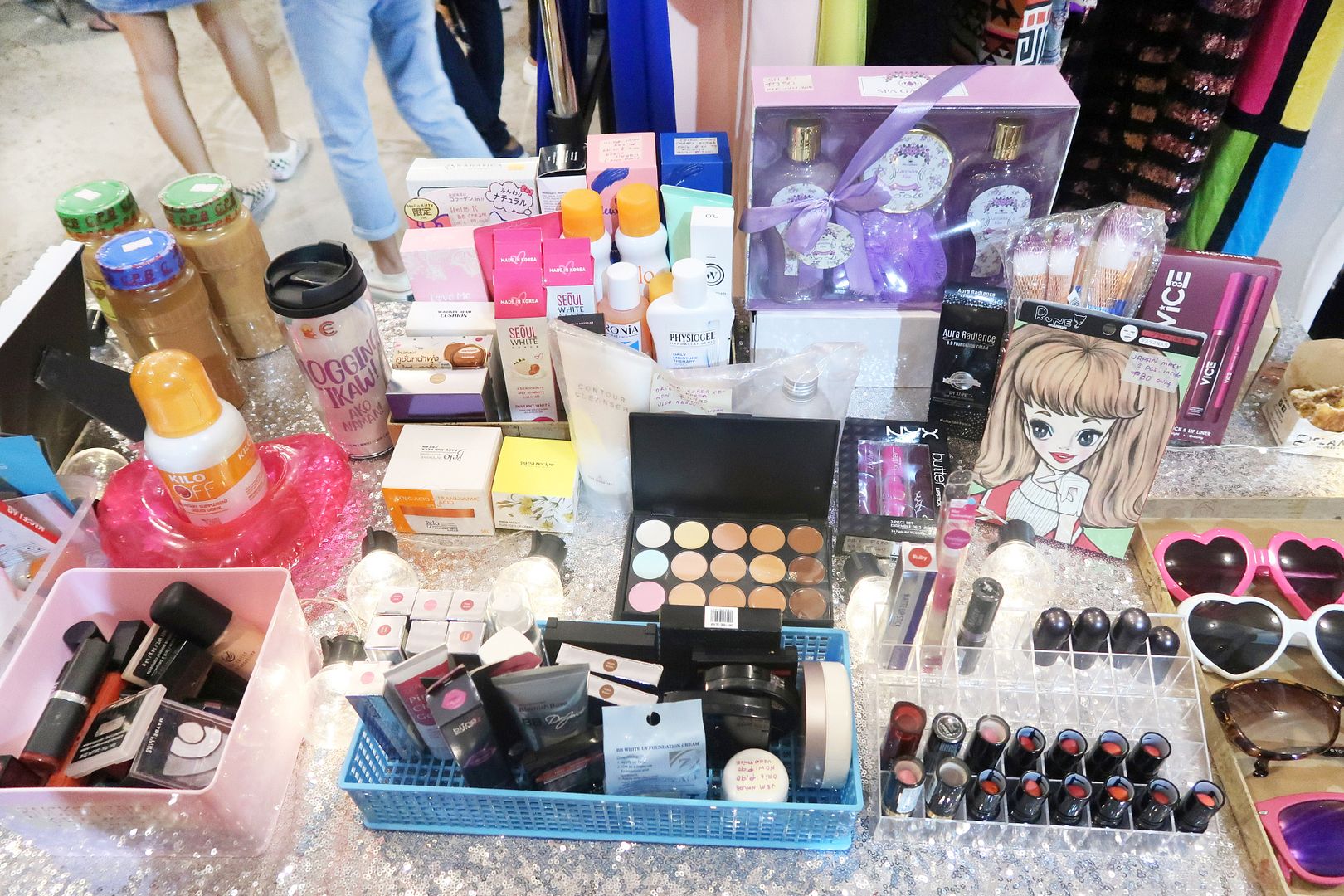 Oh, yes! Dogs and pets were also welcome at the event. I wanted to bring mine but I assumed it would be difficult to attend to the buyers and take care of my dogs at the same time. Speaking of dogs, it was so amazing how much money I made selling stuff that were just laying around at home. But it's even more amazing where I used the money!
My first pet, Fluffy, got sick 4 days after the Bloggers United. We rushed her to the Vet and found out she has gallstone and needs to undergo surgery right away to save her. I will tell you more about this... But to cut the long story, ALL the money I earned selling my stuff at the BU went to Fluffy to pay for her Vet and hospital bills. I am so thankful to each and every person who bought my stuff because I never would have been able to take Fluffy to the Vet and have her surgery right away if I didn't have any money on hand at that very moment!
Anyway, such a cute dog, don't you agree? This is not Fluffy, rather a dog one of the people who went to BU owns. Super adorable!
Shoutout to Ana Gonzales and Aisa Ipac for inviting me to Bloggers United once more! I love these 2. I've been seeing them on the internet since I started blogging in 2010 but I only got to personally meet them when I went to SUN CELLULAR's event in Cebu. They are one of the the sweetest and most-humble people in the blogging industry!
Of course, shoutout and thanks to my friend, Flora, for going to the BU with me. I never would have come if I was alone since I was worried I won't be able to carry all the stuff and attend to the needs of the buyers. Luckily, Flora is always present to save the day! hehe
I was so happy when we packed up the stuff and saw that we only needed to fill 3 bags. Note that they weren't full anymore unlike when we brought them to the venue. I'm pretty sure we were able to sell 85% of the stuff we brought. It felt so satisfying and rewarding. Not because I earned money but because I felt like I was able to give the products to those who really want them. I also felt good that I was able to lessen the stuff I have at home. I'm thinking of trying to live a minimalist lifestyle... Hehehe
My Outfit Of The Day!
Beret Hat - Lazada
Jumper - SM Dept. Store
Stripes Top - Farmer's Tyangge
Socks - Japan Home
White Sneakers - Zalora
Purse - Micahel Kors
We left the World Trade Center around 9 PM feeling tired but fulfilled!
If you liked this post, please don't forget to FOLLOW me on my social media accounts!