So, you're planning to go to Korea but having a hard time choosing the perfect accommodation? Should you pick an airbnb or a hotel? Is it better to stay in Myeongdong, in Gangnam or in Hongdae? It's so hard to decide!! Really, where is the best place to stay in Korea?!
THIS BLOG POST IS THE ULTIMATE GUIDE! I've been to South Korea twice and have stayed at different accommodations so I will be able to give you an overview, the pros and cons and my personal experiences staying at every sort of accommodations there. This blog post may be long but you will surely get a lot of tips for your South Korea trip!
The places that are mentioned on this blog post are AIRBNB, HIGH-END HOTEL, HOSTEL / DORMITORY and AFFORDABLE HOTEL. Let's start!
* * *
AIRBNB near GYEONGBOKGUNG PALACE
Name of Place : COOL CUTE 74 MYEONGDONG AIRBNB
Location : 604 Jongno-gu, Seoul 110-111, South Korea
Price : PHP 2,600 PER NIGHT
MY EXPERIENCE
Period of Stay : 3 NIGHTS
When did I stay : November 2017
Total amount of bill : Php 11,630.55
Booked via : Airbnb app
Places nearby : Cheonggyecheon Stream, Insadong, Gyeongbokgung Palace
Nearest subway station : Jonggak Station
On my first time in Seoul, I wanted to stay somewhere nice, clean, cute and accessible. Since it was my first time, I was oblivious of the places and prices. I didn't know much about Seoul accommodations. All I knew back then was that I was excited to finally go to Korea and I wanted a nice place to complete my first-time-in-Korea experience.
I've been hearing a lot of stories about Airbnb's and how affordable and accessible they are. Hence, I decided to book this place via Airbnb's app. The selling factor for me was the location. On the website, it says it's just a few blocks away from Cheonggyecheon Stream. I thought staying near the stream is good timing since Seoul Lantern Festival is also happening around the same time as my trip.
What I liked about the place upon my arrival was that it was spacious! I was alone when I arrived in Korea so I found the place really big. It has a 5-door cabinet that can be seen upon entering the door. Inside it are some clothes hanger, a clothes iron, ironing board and some used umbrellas that you may use, too. It is located along a small corridor that leads to the bathroom. I find this a nice feature of the place, especially if you will be traveling with your family or friends as you'd have separate place for your luggages, shoes, coats and clothes. This will keep the entire place looking clean and organized.
If you keep waling, you will see the small bathroom next. Though, I was a bit turned-off at how simple-looking and small the bathroom is, compared to the overall design and size of the place.
Towels, toothbrush, toothpaste, tissue, soap, shampoo, conditioner and hair dryer are provided, I find the bathroom oddly small. There is a see-through partition but the water still gets through it when you take a bath, therefore making the whole bathroom wet and slippery.
Keep walking and you will see the kitchen and the bed area. The place has open concept so you see everything the moment you walk in, Do you see the pink wall? You guessed it right! That's 70% the reason why I booked this place. IG worthy!
Kidding aside, this airbnb has everything you will need, especially if you will be staying for days, or even weeks! There's refrigerator, microwave oven and 2-burner stove. Inside the cabinets are pots and pans, knife, places, cups, spoon and fork sets and other stuff. There's not a lot of condiments but I saw a bottle of olive oil and a soy sauce. Kettle is also provided plus a table and 2 chairs.
This is the view from the room. I also appreciate the big mirror they placed that you could use to check out your "#OOTD in Korea" before heading out of the place.
Remember when I said this place is great if you are travelling as a group? Aside from the double-size bed, the couch also transforms into a bed where 2 more people could sleep. I checked inside the cabinets and saw 2 extra comforters.
One of the best parts about actually being in Korea, aside from going around, is going home and turning on the TV and watching LEGIT Korean shows...RAW! No subtitles because we are hardcore Koreaboos like that! (Just kidding) But really, I find it a joy to watch Korean shows in Korea. It's a great feeling that I'm watching the shows the same time as it is being aired right in Korea.
Trivia : I was alone and I AM SCARED to sleep alone at hotels. I stayed in this place for 3 nights. The first night, I had to force myself to sleep but wasn't able to do so until 2 AM. The succeeding nights, I switched the TV to local Korean TV shopping channels and left it on until the morning. It helped ease my worry as it felt like I wasn't alone since people on TV were talking. However, switching the TV to dr
amas don't do the same thing. I really find TV shopping channels in Korea as my best scare-reliever.
Aside from the TV with cable, there's also free Wi-Fi, phone charger for android, and a socket adapter.
Aside from the other kitchen appliances, you will greatly appreciate the washing machine in the place. Inside the cabinet is a big box of washing machine detergent that you could use. My greatest tip for people traveling to Korea, especially in Autumn and in Winter, is to NOT BRING A LOT OF CLOTHES! First, clothes in Korea are extremely trendy and unbelievably affordable. Second, washing machines in airbnbs and hotels are common so you could just wash your already-worn clothes. Third, bring less and shop more! Save that luggage space for Myeongdong, my friend!
Another great thing about this place is the FREE WI-FI EGG!! I kid you not, this thing saved my life in Korea!! As a first-timer, you won't really know much about the place so having a portable internet is really something you need to have. You may bring this router outside the airbnb. Just be sure you don't break it, don't misplace it and leave it there upon your checkout. The internet connection it provides is no joke! It was super fast!!! Hah, you really must experience how fast internet connection in Korea is at least once in your life.
THINGS I LIKED : First of all, I loved the overall design of the place. The moment I booked it, I knew I was going to blog it. The place is so Instagram-able. Next thing I like was that it was really situated close to Cheonggyecheon Stream. My trip was the same time as the Seoul Lantern Festival so I was there almost every night. It's only 2 minute walk from this place. If you are into drinking, karaoke and late-night events, this place is situated along the "drinking" streets of Jongno-gu. You could go out at 12 AM and still have places to go to while seeing oppas and unnies around. You also won't have to worry about getting hungry as there are lots of restaurants and convenience stores around the place. The best part? It's only 1 block away from Jonggak subway station. In my experience, Jonggak subway station is one of the easiest stations to take as stairs are not too steep and the exit from the train to the main road exit will only take about 2 minutes.
THINGS I DID NOT LIKE : The price, OMG!! Since it was my first time, I really had zero information about the acceptable prices of hotels and hostels in Seoul. Aside from the base fee of Php Php 2,600 per night, I had to pay additional Php 2,089 for the "cleaning fee" and Php 1,287 for the "service fee". I almost asked the owner of the place if I could just clean the place on my own so I won't have to pay extra Php 2,089. Kidding aside, I left the place sparkly clean. The photos posted on this blog post are exactly how I left the place as I took the photos an hour before my checkout.
BOOK HERE : If you want to book this place,

click here

.
(This post is not sponsored or affiliated with Airbnb in any way)
* * *
Name of Place : GRAND MERCURE HOTEL (Seoul Dragon City)
Location :
95 Cheongpa-ro 20-gil, Yongsan-gu, Seoul, South Korea
Price : Php 11,000 PER NIGHT
MY EXPERIENCE
Period of stay : 5 NIGHTS
When did I stay : November 2017
Total amount of bill : around Php 50,000
Booked via : *sponsored by

CHARIS

* (

click CHARIS

to find out more)
Places nearby : Itaewon, Han River, Gangnam
Nearest subway station : Yongsan Station
Seoul Dragon City is located in Yongsan-gu and is a hotel complex where different hotels like the Grand Mercure Hotel, Novotel and Ibis Styles are located. Where I stayed at, Grand Mercure Hotel, is best for people who prefer upscale living in Seoul. It is also situated near the business district so it's the perfect place if you are going to Seoul for a business trip or a corporate event.
My stay at the Grand Mercure Hotel was sponsored by

CHARIS

, a Korean-based beauty community for online content creators like me. They are also sort of an online shop where beauty enthusiasts could get their hands on exclusive and hard-to-find Korean beauty, skin care and makeup products.

CLICK HERE

and follow my Charis account for more information.
I didn't know what to expect when I first agreed to come to Korea for this sponsorship. All I knew was that I was finally going to Korea. Hence, I was mind-blown when I got to Seoul Dragon City. Everything seems luxurious, it felt like I was in a Korea drama or something. Oh, matter of fact,
on my second day of stay
at the Seoul Dragon City, I happen to have an encounter with Super Junior's Choi Siwon who was filming a drama at the lobby of Seoul Dragon City!
I was not able to take a lot of photos of inside my room but I stayed at a 1-King Bed Junior Suite. May I say that my room screamed luxury the moment I went in. From personal wine chiller, clothes washer, own kitchen with complete appliances, king-sized bed, huge television, couch, an android phone with data connection that you could use and bring outside, a marble bathroom to a really luxurious heated toilet seat!!
These are all of the luggages that I brought with me to Seoul. Please don't ask me why. *hehe* Those are 2 15-kilo luggages but they seemed so small against the spacious floors of the room.
If you like city view, you get a city view! I was not able to capture it in my photo but on the left side of the photo is Namsan Tower.
Although, I was a bit disappointed that there is no bathtub in the room, I was still happy about the heated toilet seat!!! You know, the one that heats up so you could do your thing even on a cold winter day. You could also choose to wash "it" using different types of bidets and sprinklers. Oh, and a dryer for "it", too.
The mirror in the bathroom looks fancy, thanks to the seamless light.
On the day I was checking out of this hotel, my *ex* boyfriend followed me to Korea all the way from Manila. I was happy he also got to experience the luxurious room even for just a few hours. Anyway, here is the view of the room from other side.
These gifts aren't standard welcome gifts. Rather, they were welcome gifts prepared by the staff of Charis. How thoughtful!
I really wasn't going to blog this hotel so I did not take a lot of photos. This is a screencap from one of the videos I took inside the room. To the far right is the door leading to the hallway, then the wine chiller, the clothes washer and dryer, a personal cabinet with full-size mirror, the door to the bathroom and then right in front of the bed is the giant television. In the photo, the bed seems small but it's actually huge in real life. In front of me is a cleopatra couch and then the window.
THINGS I LIKE : First of all, I liked that I was able to have a brief encounter with a Kpop star during my stay at the Grand Mercure Hotel. While it's difficult to chance upon celebrities here in the Philippines, it's even more difficult to see Korean celebs in Korea. Aside from that, I really liked the size of the bedroom I stayed at. The bed was huge, high and extremely comfortable. The room is luxurious but not overly done. I also like that the hotel is near Itaewon and Gangnam.
THINGS I DON'T LIKE : The price of the hotel, especially if you convert it to Philippine money, may be a turn off. While I believe nothing beats the comfort of staying at a high-end hotel, I also believe that saving a few bucks and staying at a more affordable hotel is the better option since you will be out of the hotel most of the time anyway.
BOOK HERE : If you want to book this place,

click here

.
(This post is not sponsored or affiliated with Grand Mercure Hotel in any way)
* * *
Name of Place : ICON HOTEL
Location : 20 Samil-daero 32ga-gil, Jongno-gu, Seoul 110-340, South Korea
Price
:
PHP 1,570 PER NIGHT
MY EXPERIENCE
Period of Stay : 8 nights
When did I stay : November 2018
Total amount of bill : Php 14,712.87
Booked via : Airbnb app
Places nearby : Artsy cafes and local restaurants in Jongno-gu
Nearest subway station : Anguk Station
UPDATE 2020 :
I went back to this affordable hotel in October 2019 and I found out the owner changed from Korean to now Thailander or Chinese. This place isn't what it used to be when I first came in 2018. The place is now messy, the staff are unfriendly, the bed covers are dirty, the staff aren't Korean anymore and barely speak English, you can't do your laundry, the rooftop has become a smoking area and the bed foam has bed bugs!
I don't want to remove this from this post as this serves as a memory. But I do not recommend staying at this place anymore. I still recommend staying at Ikseon-dong (where this hotel is near), so I suggest finding better places in the same area. :)
On my second time in Korea, I finally knew that the interior and the expensiveness of the accommodation aren't really important. Because the most important factors are really : comfort and cleanliness, value for money, accessibility from and to public transportation and the location.
I was going to stay in Korea for 15 days so I wanted to be able to save as much money as I could. Knowing that accommodation is one of the most-pricey parts of travelling, I decided to stay in a place that's decent but at a very reasonable price.
From Incheon airport, my companion and I decided to take the train going to Icon Hotel. We arrived Incheon International Airport at around 12 noon. But because of our heavy luggages, inability to connect to the internet and lack-luster knowledge about Korean subway system, we got to Icon Hotel at around 4:30 PM!! We also didn't know we were supposed to go to the hotel from Anguk Station. We ended up getting off at Jongno-3 Station. It's quite a challenge to find the hotel from there. Good thing, Icon Hotel noted that one of their landmarks is the Ibis hotel, which could be seen from the subway station.
This is Icon Hotel's lobby. Nothing fancy or luxurious. But if you are travelling to Korea to collect memories and not to splurge on hotels and accommodations, then you may really want to consider staying here.
My companion and I booked a 2-single beds room. Nothing fancy inside the room. But what stood out the most was the cleanliness of the place. You won't feel scared to move around as the whole place looks well-maintained, the floors free from dust and the walls look like they were freshly painted. Another thing that caught my attention was the scent of the entire place. They put perfumes in either lavender or cherry scent which smells very homey and welcoming at the same time. That's one of the things I loved every time I came back from a tiring day.
If you are worrying that the place would be too small, my friend, you don't know what small is until you've stayed at tiny "hotel" rooms in Hong-Kong. I've been to Hong-Kong twice and have stayed twice at midget rooms in Tsim Sha Tsui where staying with another person and then opening your luggage in the room is almost impossible. This room in Icon Hotel actually
exceeded
my expectation. In the photos that they have on their Airbnb account, one would think that their rooms are tight. At least, that's what I prepared my mind for. But when we got in, I was surprised at how spacious it was. There's even a 2-door cabinet with hangers and clothes iron inside. There's also a mini-ref, a full-body mirror, a decent-sized bathroom and a space for me and my companion to lay and open our luggages both at the same time and still have the luxury to walk around and move around!
Inside the bedroom, there's a 19-inch television mounted on the wall, a kettle, 2 sets of cups and saucers, some coffee and tea sachets, a mini refrigerator with 2 bottles of waters inside, hair dryer and local landline phone are all provided. Water heater is available plus 2 sets of towels, a tiny soap and shampoo and body wash. Though, for me, the best part about this place is the built-in ONDOL (
온돌).
Ondol in traditional architecture is underfloor heating that uses direct heat transfer from wood smoke to heat the underside of a think masonry floor. In modern time, it refers to any type of underfloor heating.
Have you ever stayed at a place where the floor IS the heater? I bet it's warm and cozy to sleep on the floor during cold winter nights with the ondol turned on. It was close to winter during my stay so I always had the floor heating to at least 30 degrees. If you like to experience the cold nights in Seoul but get cold easily, you will really appreciate the ondol system as it keeps the entire room warm and cozy.
This is the pantry section of Icon Hotel. Quite small, in my opinion, but guests could use it whatever time of the day, even until midnight. There are kettles, microwave oven, television and kitchen appliances in case you want to have a late night Korean ramyeon + Korean drama moment.
Another thing that's good about this place is the free breakfast. Though, it is incomparable to breakfast at high-end hotels and buffet restaurants, the food they serve is still decent and enough to keep you warm and full until lunch time.
This is the standard breakfast that they serve. I stayed at their place for 8 days and the menu didn't change a bit. It was like that the entire time. But the food was tasty and fresh. They serve hard-boiled eggs which I often put in my pocket and eat later in the day.
If you want a Korean "chicken and beer" or "soju and samgyeop night" ala Korean drama, Icon Hotel also has a roof deck that is open everyday until 11PM. From there, you get a fine skyline view of Seoul. Though it's chilly, especially in winter, it's still fun to have an option aside from your rented bedroom.
This is how the reception looks.
At the reception, guests could sign on their guest board. For me, it's amazing to see people from different parts of the globe stay at the same place. It's like breaking boarders and showing unity, don't you think?
What I like most about this hotel is the quiet environment. If you want serene moments, this place is perfect for that. During my stay, the environment was peaceful and quiet the entire time. I did not hear a single dog bark, car horn, people shouting, motorcycle engine, or any unwanted noise. I found it really relaxing and peaceful. The hotel lucked out with their location as it's really peaceful, something guests would really appreciate if they stay here.
THINGS I LIKE : There are many things I liked about this place. First of all, I am in love with the idea of staying in a quiet neighborhood where it feels like you are a local than a tourist. Some tourists prefer staying at "lively" places like Myeongdong or Hongdae. It's fun at first, but staying at places like this lets you experience the life of being a local in Korea. I also liked that I was able to do the laundry here, though I had to hang the clothes since they don't have a drier. The staff was also nice, warm and friendly. The room where we stayed is pretty spacious for it's price and it's really clean. I also loved the floor heating system which allowed me to sleep comfortably at night.
THINGS I DON'T LIKE : The only thing that turned me off about this place is the distance from the hotel to the subway station. You could either take Anguk Station or Jongno-3ga Station but neither is near nor convenient. Unlike my favorite Jonggak Station that is situated close to hostels and airbnb's and where stairs aren't steep and walk doesn't have to be long, Anguk and Jongno station are both far, the stairs are steep and the walk from the actual train to the exit of the station will take few minutes of walk. From either Anguk or Jongno station exit, it's another long walk to get to the hotel. It's really bothersome to take that route every single day, in my opinion.
BOOK HERE : If you want to book this place,

click here

.
(This post is not sponsored or affiliated with Airbnb in any way)
* * *
Name of Place : HARU HOSTEL
Location : 20 Samil-daero 32ga-gil, Jongno-gu, Seoul 110-340, South Korea
Price : Php 1,700 PER NIGHT and Php 1,500 PER NIGHT
MY EXPERIENCE
Period of Stay : 3 Nights + 3 Nights (Total of 6 nights)
When did I stay : November 2018
Total amount of bill : Php 5.848 and Php 5,608
Booked via : Airbnb app and Agoda app
Places nearby : Cheonggyecheon Stream, Insadong, Bukchon Village, Gyeongbokgung Palace
Nearest subway station : Jonggak Station
Just like the first ever accommodation I have stayed at in Seoul (mentioned on the first part of this blog), this hostel is situated right in front of Cheonggyecheon Stream. It is an 11km long modern stream that runs through downtown Seoul. It is created as part of an urban renewal project and now one of the main tourist attractions in Seoul. It is spectacle all year round but especially beautiful during Seoul Lantern Festival as different lanterns and light displays light up the stream. It can be enjoyed for at least 2 weeks during the festival. I was lucky enough to have experienced the lantern festival on my first and second time in Seoul.
What makes this place really special is that it is RIGHT IN FRONT OF THE STREAM! When you go out of the building, you will be right in front of the stream.
I stayed at this hotel for 6 nights in total but had 2 different bookings as I went to Busan in between. I was able to try 2 different rooms : 1 6-bed sharing room and 1 4-bed sharing room. But before we get to the rooms, these are some of the shared spaces in the hostel.
DINING AREA.
Breakfast is free and I like that the food they serve is sumptuous. They have 2 types of cereals, 3 types of breads, 2 types of juices, 2 types of bread spreads, coffee, fruits, salad, and eggs that you can cook on your own.
Though they don't really change the menu, I was able to enjoy the same food combo every morning . The dining area is located on the 10th floor of the building but if you look out the window while eating, you'll have a nice birds-eye view of the Cheonggyecheon Stream. I usually skip breakfast at hotels since I prefer sleeping in or doing my makeup. But I never skipped breakfast in this hostel because I was always excited to eat while seeing the nice view of the stream.
Another nice thing about this place is the FREE LAUNDRY! Like what I've mentioned earlier, I really encourage tourist to bring less clothes when travelling. You could either go shopping in Myeongdong and Hongdae.. or you could take advantage of the free laundry! You just have to do it on your own but I find it really convenient. I was able to use it for 3 times during my 6 nights stay! They provide detergent and also have a drier so you won't have to worry about hanging your clothes.
Another tip I like to give out is to bring an external hard drive rather than bringing your laptop. On my first time in Seoul, I brought my laptop and I found it really inconvenient having to take my laptop around and worrying I might break it or misplace it. I only brought my laptop so I could transfer all my raw video and photo files... This year, I realized it's best to bring an external hard drive to transfer videos and photos. Hostel Haru has an in house computer that you could use for surfing the internet, making online bookings for tickets and transferring your videos and photos. I only don't like that the computer is in Korean language therefore making it difficult for foreigners to use it.
Now, let's get to the bedrooms! I booked 2 different rooms : 1 6-bed sharing room booked via Airbnb and 1 4-bed sharing room booked via Agoda.
* * *
6 BED DORMITORY
Price per night : Php 1,700
Total bill : Php 5,848
Period of stay : 3 nights
Booked via : Airbnb
It was my first time to stay at a hostel so I didn't know what to expect. I thought it would be as comfortable as staying at a regular hotel. Turned out, it's totally different. Aside from being in the same room as strangers, it's also quite uncomfortable to move around as you have to consider other people who may be sleeping or may be sensitive to noise.
Staying at a hotel doesn't guarantee you get a comfortable bed. In my situation, I got a top-level bed, which in my opinion, is inconvenient especially if you have a lot of stuff or frequent the bathroom.
Speaking of the bathroom, here's how it looks :
During my stay, I did not experience the bathroom become crowded. Maybe because I woke up late and my roommates always left early. Oh, towels, toothbrush and toothpaste are provided but I don't like the size of the towels that they provide. They are super tiny and won't even dry your entire body plus your hair. However, they change it everyday, I guess that's to compensate? I hope they could change it to a bigger size in the future. Or if you would like to stay here, perhaps you could bring your own body towel.
The shower room is also a shared space as it is divided into two so 2 people could shower at the same time. If you think that's awkward, you could close the curtain so you get some privacy.
THINGS I LIKE : Honestly, I really don't have a lot of things I like about this 6 bed dormitory.
THINGS I DON'T LIKE : A LOT. I got a top-level bed which was close to the heater. I come from the Philippines where it's always warm and sunny. One of the reasons I went to Korea in Winter was so I could enjoy some chilly nights. My bed was extremely hot and I am not even exaggerating. Maybe my roommates at that time are used to chilly nights so they prefer blasting heater. But the heat was uncomfortably hot! Another thing I don't like about this 6-bed room is the absence of natural light. It has a tiny window that is almost the size of a shoe box that's why sunlight can't come in. Oh, I also don't like that they don't have bidet or faucet in the toilet! How do other people even wash after pooping? I have no answer.
BOOK HERE : If you want to book this place,

click here

.
(This post is not sponsored or affiliated with Airbnb in any way)
* * *
4 BED DORMITORY
Price per night : Php 1,500
Total bill : Php 5,608
Period of stay : 3 nights
Booked via : Agoda
I was relieved when I came back to Seoul from Busan and was shown this room. Aside from the spacious room and the fact that I will only share this room with 3 people, I LOVED the huge window that lets the sunlight inside. I love sunlight because it provides a happier vibe to a place. It also gets me excited to leave the hotel/hostel every morning as I get to peep outside upon waking up.
This is how the room looks upon entering the door. The bed that I got is finally on the bottom-level. It is the bed on the lower left of the photo.
From my bed, this is what I see. I really love the placement of the beds as it gives each of the guests space to move around and a little bit of privacy. There's also a table and some chairs in the middle, though I'm wondering why there are only 3 chairs...
From the window, this is what you'll see. The bed with the open curtain is the bed that I got! At first, I was worried that it's right next to the bathroom door. But during my stay, luckily, I only had 1 roommate that always goes to bed early and leaves the dorm early as well. During my 3 nights of stay, it felt like I was alone in the bedroom.
Another great thing about this 4-bed room is the spacious bathroom! If 4 people were to get ready in the morning all at the same time, they won't have a problem as the space is enough and the mirror is huge! It also has a window that lets natural light come in. Perfect for doing your makeup! The refrigerator, however, is inside this bathroom but I did not see any problem with that.
The toilet and the shower are separated and unlike the 6-bed sharing, this 4-bed sharing only has 1 shower room. Body wash, shampoo and conditioner are provided. However, the toilet still does not have bidet nor a faucet... Do people really not wash when they poop? Is it only Filipinos that do that? I sincerely want to know...
THINGS I LIKE : A LOT! If I had not stayed in this 6-bed room, I will never go back to this hotel on my next trips to Korea. But since I got to experience a more comfortable room, I think I will be coming back here. Though, it is still a bit uncomfortable to share a room with others, it's a little better with less people. I loved the window that provides sunlight in the morning. I also loved the spacious bathroom, where I always open plastics and pack my bags and luggage so I don't disturb my roommate. Oh, did you know that though this room is more comfortable and more spacious, it is cheaper than the 6-bed room? Maybe Airbnb rates are higher because I booked this via Agoda.
THINGS I DON'T LIKE : There's not a lot of things I don't like about this room. Maybe if I was given another top-level bed, I would say I don't like that it's uncomfortable. But since I got a bed on the lower-level, there's really nothing much that I did not like.
BOOK HERE : If you want to book this place,

click here

.
(This post is not sponsored or affiliated with Agoda in any way)
* * *
To see more of this hostel experience in Seoul, be sure to watch my VLOG below :
Here is another shared space in the hostel. The dining and the reception of this hotel are on the 10th floor while the rooms and this lounge are on the 11th floor. It's very chill and relaxing to stay here. During my 6 nights of stay, I was the only one who used this lounge. I used it while I are snacks, wrote on my diary, updated my Instagram, or just enjoyed the skyline view.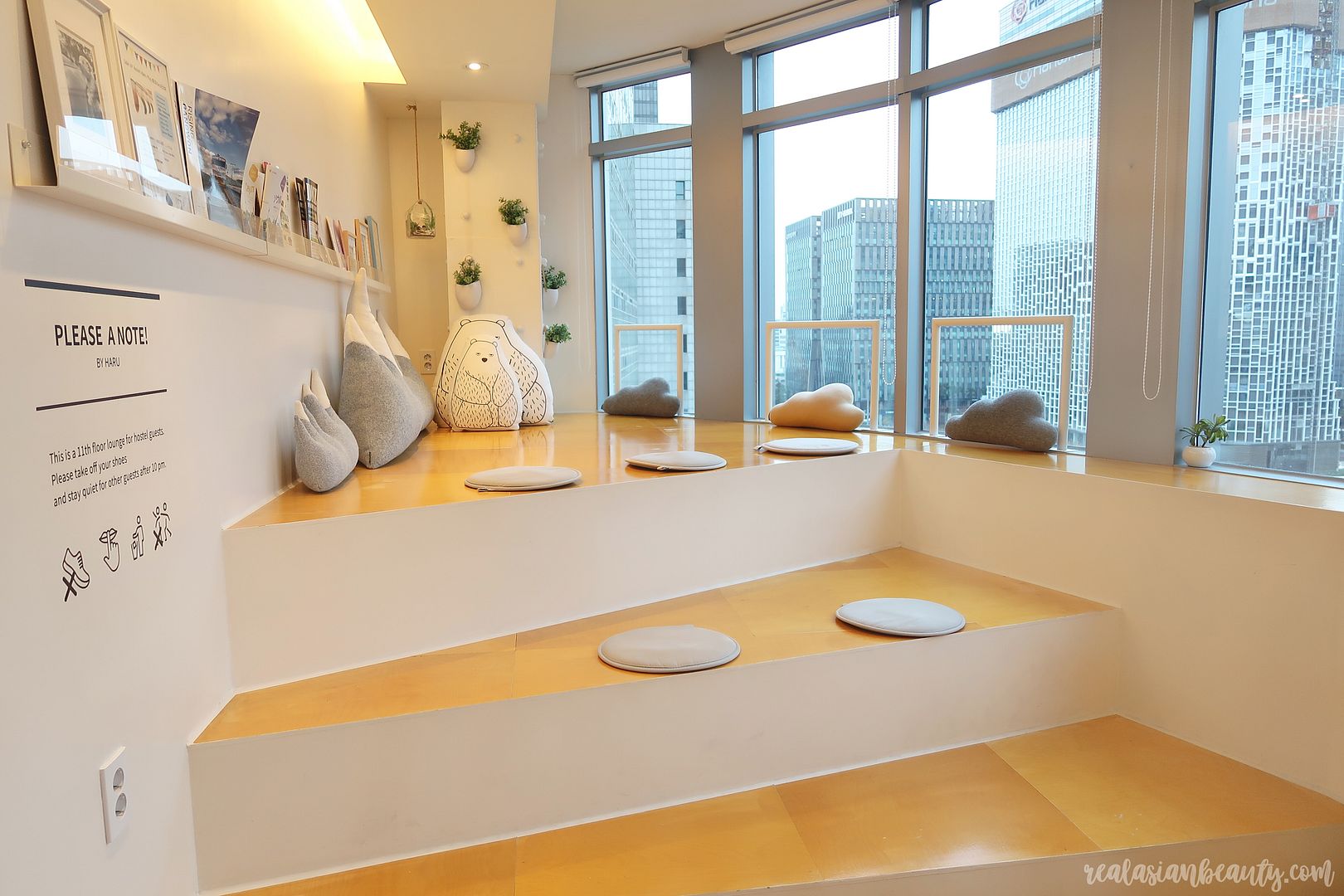 I also stayed in this lounge while watching the first snow fall of 2018 in Seoul. The huge windows made it easier for me to see the snow fall in different angles and locations.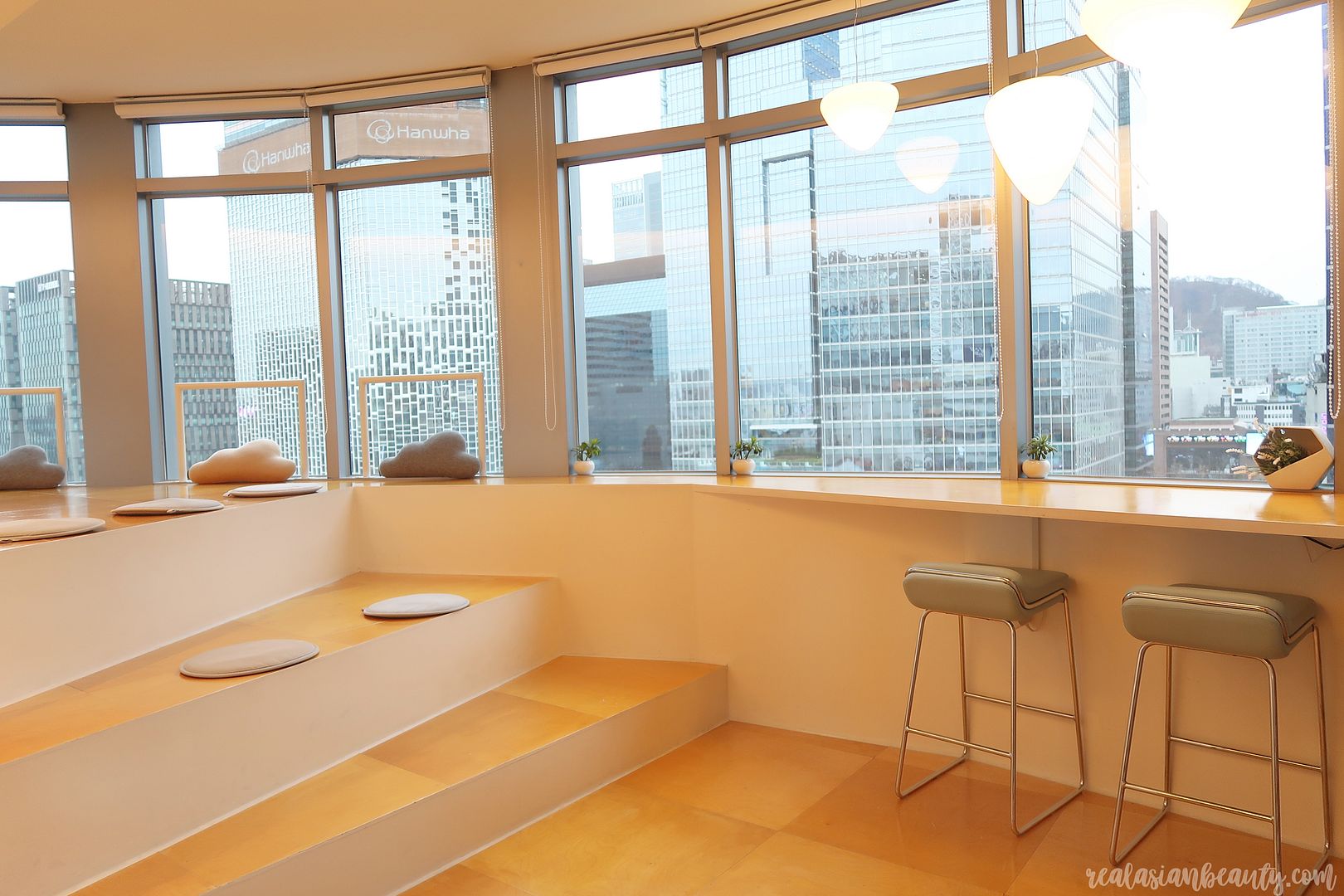 Another thing to note about this hostel is that the staff are strict. At first, it was a bit off. But as I stayed, I saw that being strict actually helps them control and safety and serenity of the place. The rooms are clean and the shared places and hallways are quiet.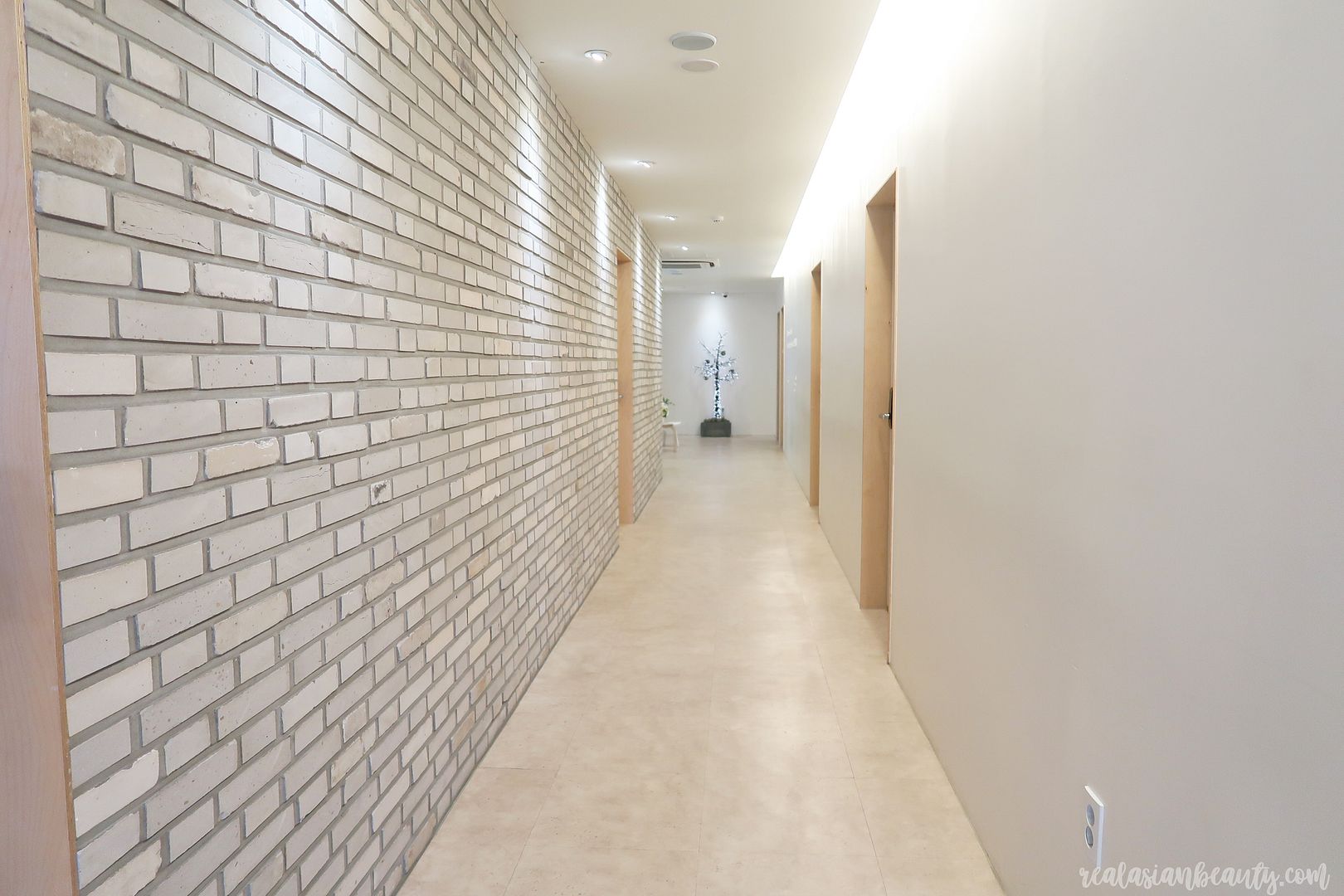 Overall, this is a nice place to stay if you are looking for an affordable place that is near the subway station, clean and safe and if like me, you are also afraid to sleep alone at hotels and airbnbs. The location is also a plus point since it's just 2 minutes away from Jonggak Subway station, which for me is one of the most convenient subway stations in Seoul.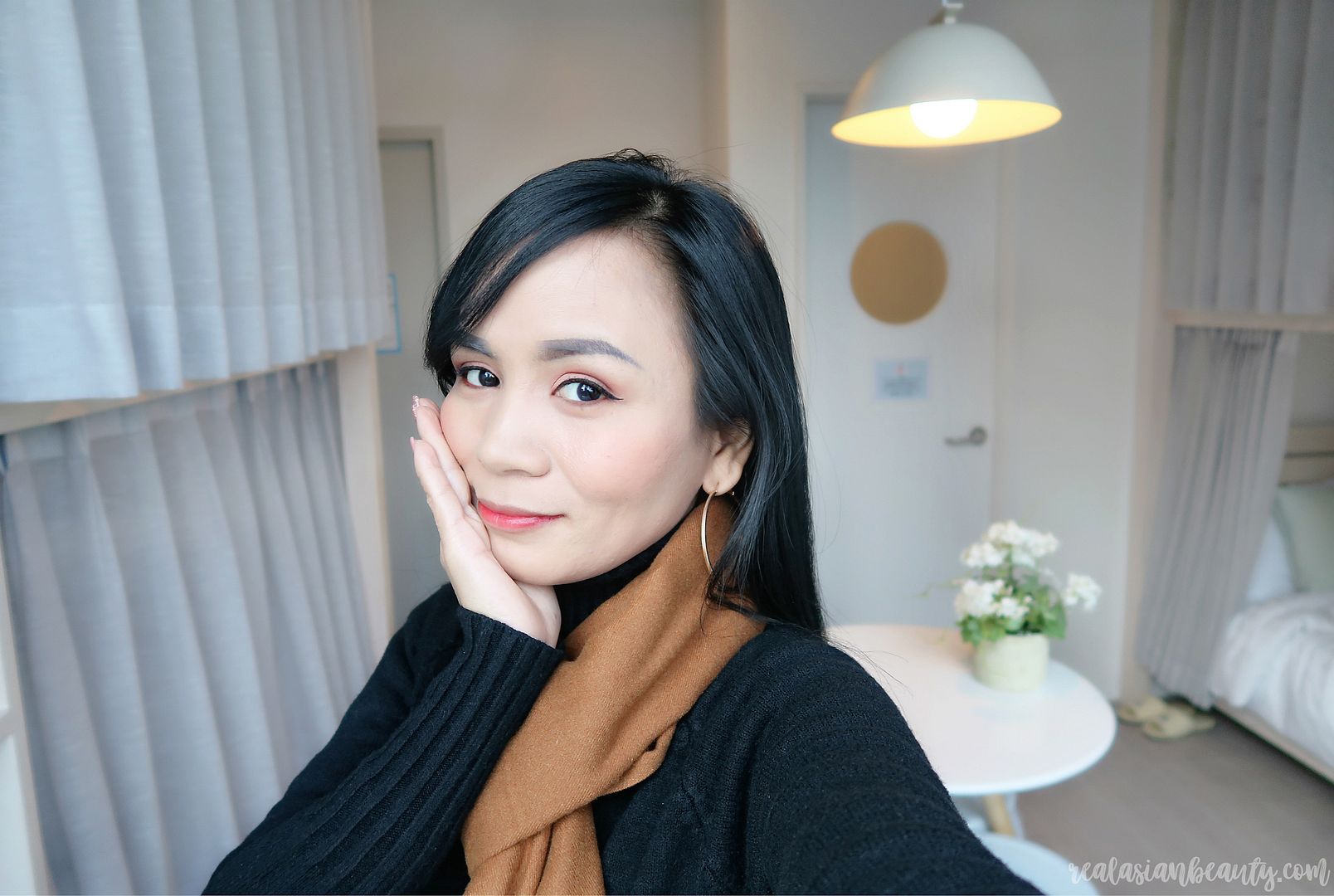 I hope you were able to decide where to stay on your next trip to Seoul. If you want to see more of my Korea trips and watch my other Korea-related videos, be sure to visit and subscribe to

MY YOUTUBE CHANNEL

!
If you liked this post, please don't forget to FOLLOW me on my social media accounts!