Taking care of the skin is important but using good and effective products should be a top priority. Aside from whitening and rejuvenating, we are almost always looking for product that will give us our dream glory skin!
Another dilemma that you may have experienced when using skincare products is that most of them recommend you to use various products that means you'd have to do multiple steps daily.
If you are looking for a good skincare product that only requires minimal step to complete the regimen, then you have found what you're looking for!
DEWHA (pronounced as Du-Ha) has a 2-Step skincare regimen called the "Baby Glow Bundle". This will help you achieve baby-like skin that is smooth, firm and glowing, all in just 15 days!
Don't believe me? Look at the photo below!
Dewha Baby Glow Bundle consists of Dewha 24K Anti Aging Serum and Dewha Intense Hydrating Essence Mask
My Skin Concerns :
Because I have sensitive, oily and acne-prone skin, I get frequent acne spots that cause my skin to be imperfect. I have dark spots on my face from the pimples and then I notice that I have fine lines around my eyes and wrinkles on the forehead and cheeks. Also because of stress, I notice that my skin looks dull and unhealthy.
DEWHA Baby Glow Bundle Skincare Routine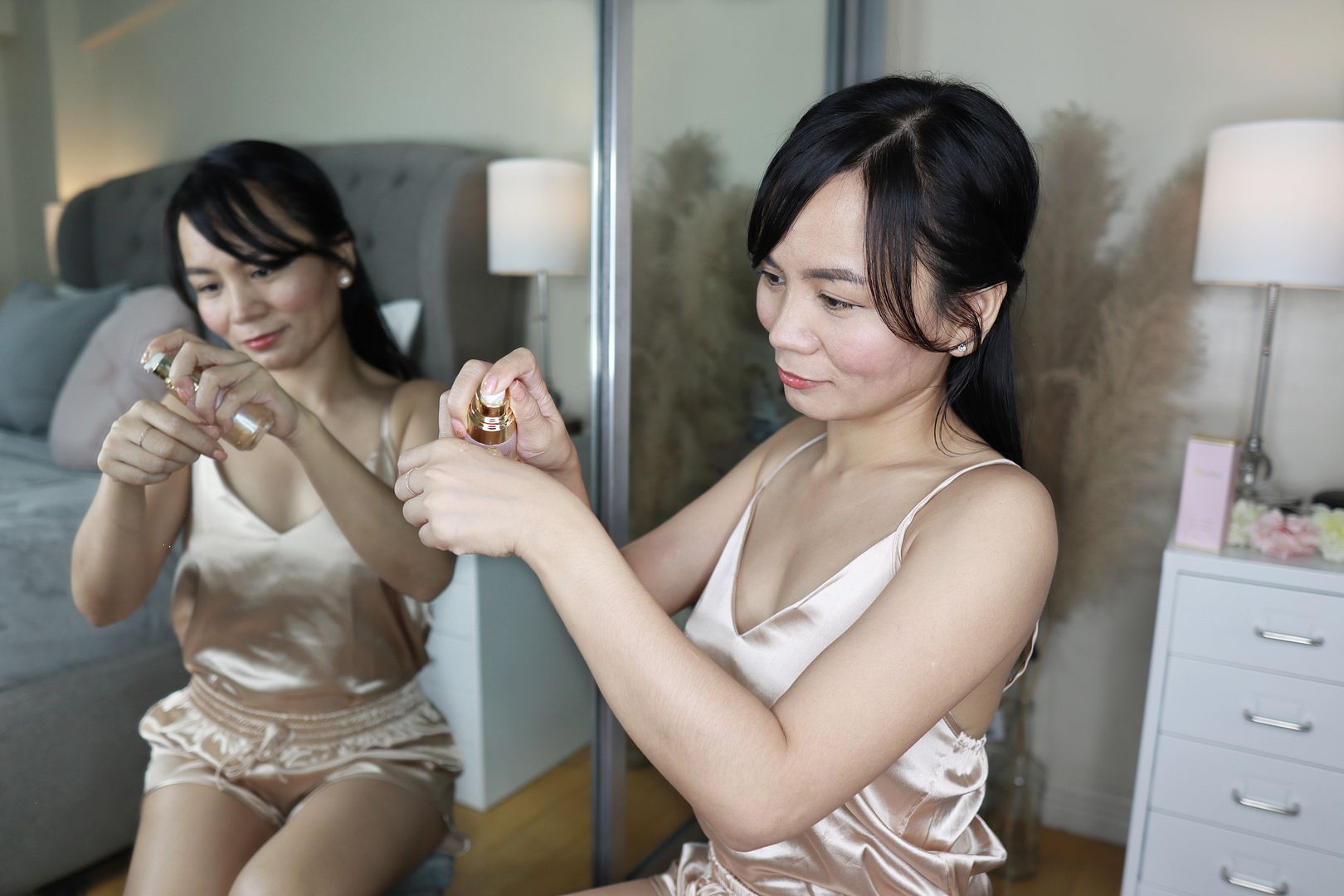 STEP 1 : Dewha 24K Anti Aging Serum
Unlike other skin products, serum is quickly absorbed by the skin therefore giving a more noticeable effect. Aside from that, it feels light on the skin so it's the perfect product, especially if you want to do your skincare and then have to wear your mask after.
What are some of the benefits of 24K Anti-Aging Serum?
- It gives immediate effects on the skin such as soothing, nourishing and brightening.
- Firms the skin and helps it to become healthier
- Reduces the appearance of fine lines and wrinkles
- It is packed with anti-oxidants and has ingredients that help reduce visible signs of irritation
- Continued use of anti-aging serums result in healthier and firmer skin, even skin tone and skin repair.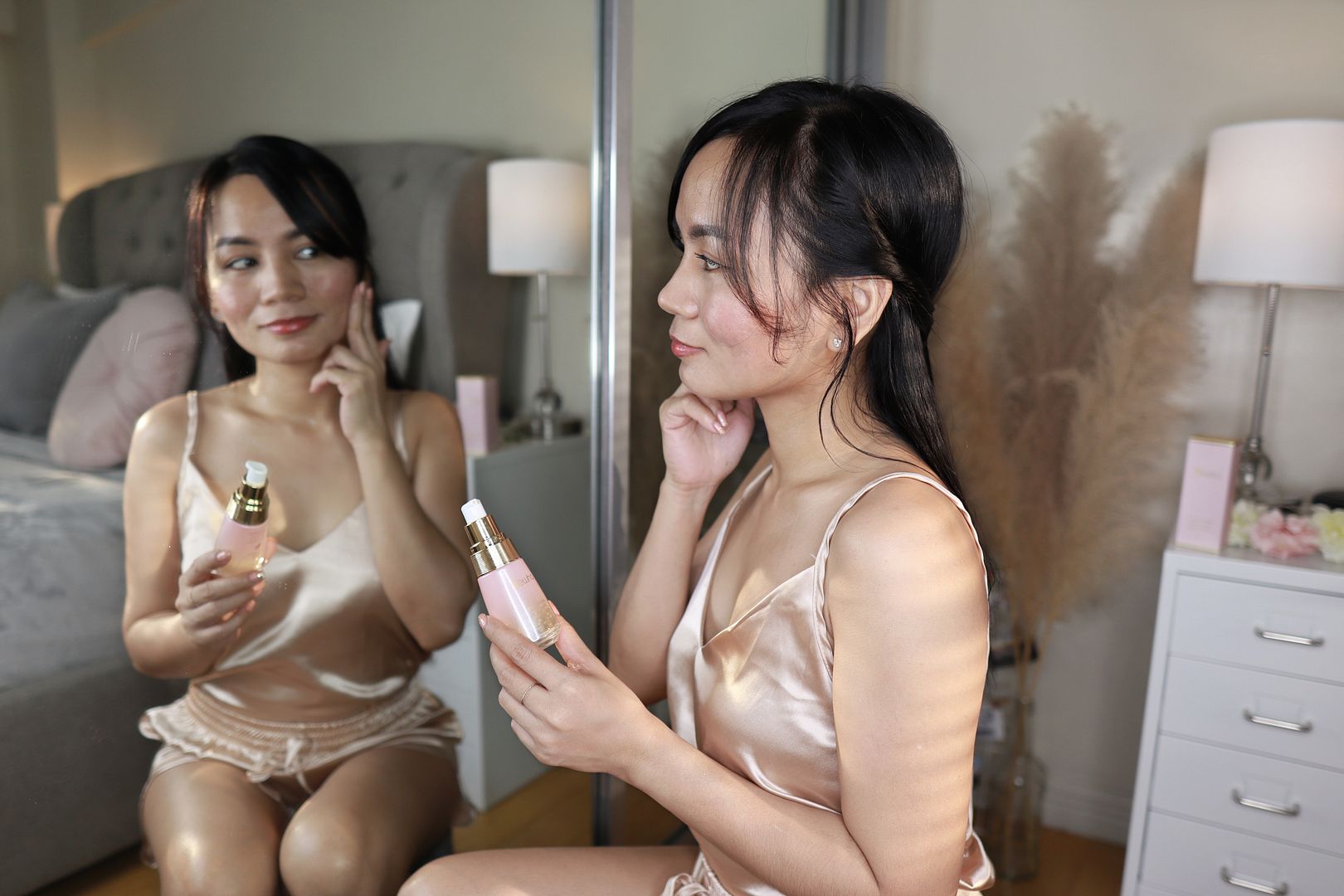 STEP 2 : Dewha
Intense Hydrating Essence Mask
Here are the most common skin problems that we have :
- Appearance of Big pores
To help deal with these skin problems, we usually use many products like essence, cream, toner, etc. But the good thing about using a mask is that you target your skin concerns while applying only 1 product.
What are some of the benefits of

Intense Hydrating Essence Mask

?
- Gives instant hydration and whitening effect on the skin
- Helps lighten acne marks and dark spots plus the under-eye circle
- Uncomplicated to use (for only 15 minutes)
- Contains all-natural ingredients
- Especially formulated for Filipina skin
- Value for money since each pack contains ample amount of liquid
I really think face masks is an essential step in a skincare regimen. With just one Dewha sheet mask, you get the same results as your serum and essences.
And best of all, the Dewha Mask has 2 of the most powerful ingredients:
1. Japan Imported Hyaluronic Acid - helps reduce fine lines/wrinkles and deeply hydrates the skin, allowing for it to retain it's youthfulness.
2. Bifida Ferment Lysate - promotes DNA repair and protects skin from UV-induced damage.
Dewha Face Mask is so good that it even got featured on Vogue! You may check the article HERE.
I hope you found this article useful in deciding the BEST skincare routine for you.
Dewha Baby Glow Bundle is available on Shopee. You may also shop conveniently on their

website HERE

where you could also see other amazing products of Dewha!
Thanks for reading this blog post! Follow this blog for more helpful tips and more of my skin journey! Don't forget to FOLLOW me on my social media accounts to stay updated!