While most of the colder countries are in the Fall Season now, we here in the Philippines are surprisingly in rainy days. Rainy days are supposed to be in June, July and August! I guess that's fine because it's a tad better than our summer days here. Sigh, people really do complain and ask for what they don't have, right?

Anyway, what do you girls wear on a gloomy and rainy day?

Here's my simple outfit for today.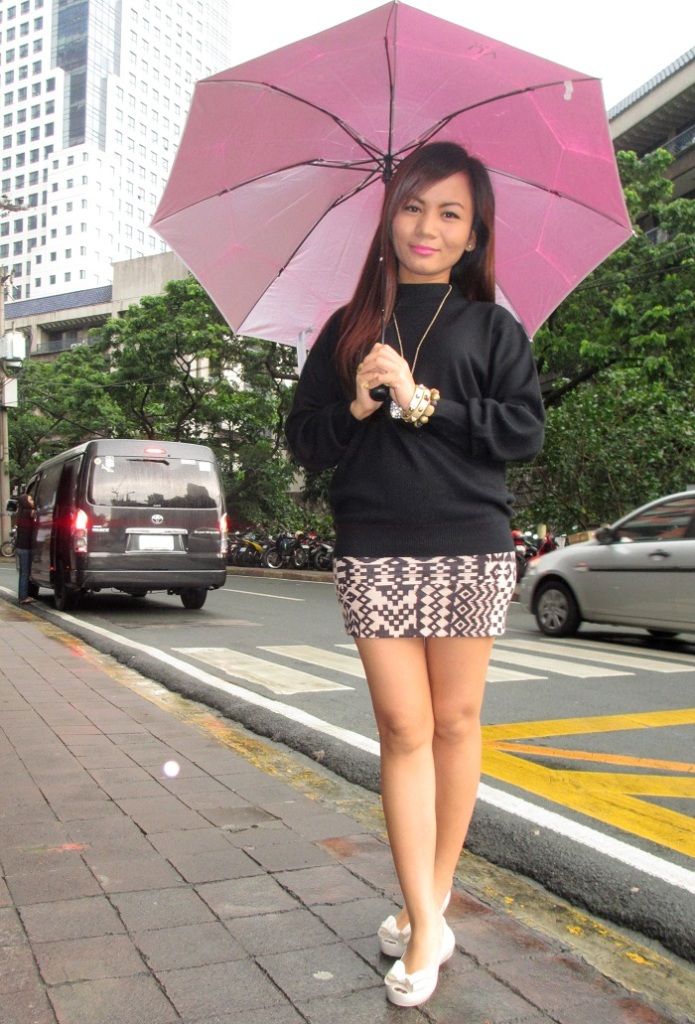 Some photos are blurred and sorry, no background blur and we had to use flash this time. Since it's raining, it would be so much hassle to bring a bulky DSLR. So, I opted to use the ever-reliable point and shoot. I'm using a Canon Ixus 230 hs.

I chose to wear a very lazy yet comfortable outfit. Nothing beats an over-sized sweater when it comes to comfort. Also, remember the rule-only choose one: tight top&loose bottom OR loose top&tight bottom. I paired the sweater with a hip-hugging body con skirt.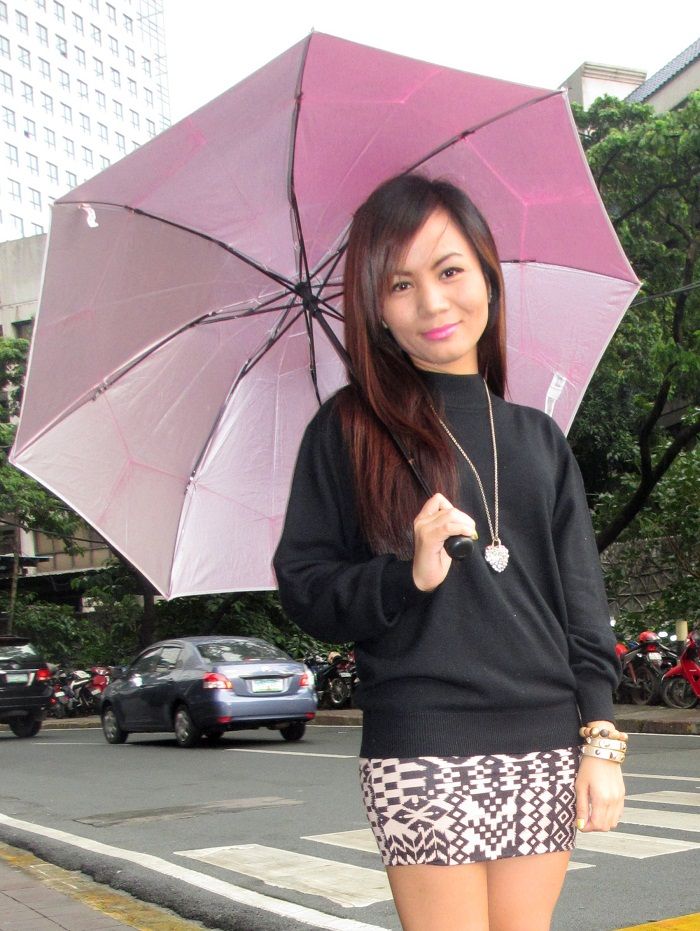 DO:

On a rainy day, NEVER forget your umbrella! It keeps you dry and saves you from looking like a soaking puppy. lol. You also don't want to get sick, do you?
DON'T:

When choosing an umbrella, always opt for a sturdy one without compromising the style. Choose one that is in solid color; printed umbrellas usually look childish and won't match all of your outfits.




DO:

Choose something that will keep your warm. Knitted tops or sweaters are perfect because they keep you dry. When matched with a good bottom, the effect is just so chic!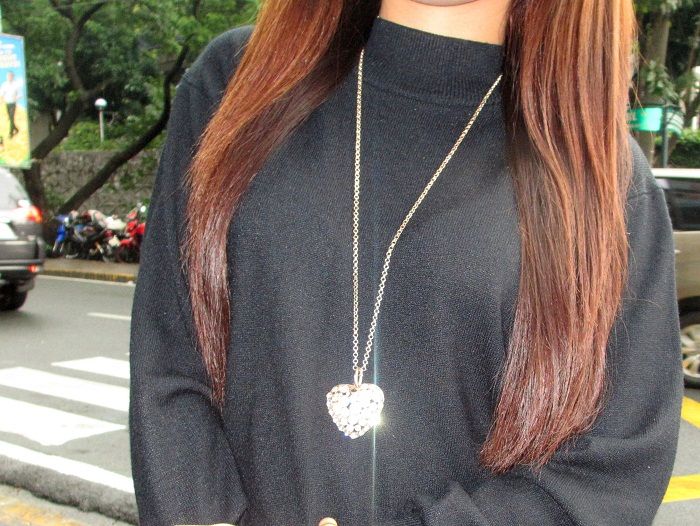 DON'T:

Rainy days are usually gloomy. Some fashion bloggers prefer to wear colorful items on a gloomy day, that's their style. But, on a regular lifestyle basis, you would want to wear a tame colored top. Bright colors in cute print and flowy fabric look too summer-ish. Plus, you don't want to be freezing because of choosing the wrong top, do you?



DO:

Remember that I went for a loose top, so I wore a tight bottom. When wearing a printed item, always try to look for colors that you can you use as the main color or the accent. I used the black tribal print to match my black sweater. The light brown fabric to match my bracelets.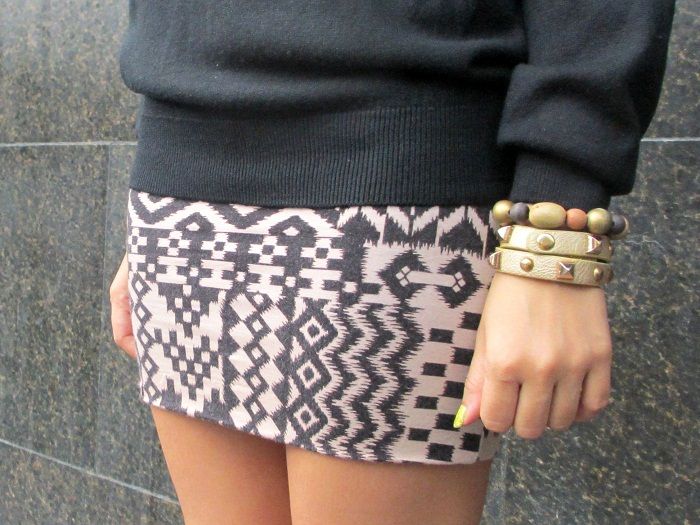 DON'T:

You would want to avoid wearing heavy denim pants on a rainy day. Yes, they keep you warm but based on my experience, they also keep you totally soaking wet. Rainy days usually cause traffic jams and nothing else is more annoying and uncomfortable than to have wet pants while stuck in traffic for 2 hours! If you have to travel when raining, wear shorts or comfortable skirt.



DO:

It's been a long time battle between my friends as to which one is better. Having your feet dry while your shoes get soaked or wearing just slippers but have your feet get mud all over? I say, wear these comfortable rubber/plastic shoes. You still look casual and decent and your feet dry. When it gets wet, you can just shake the water off, wipe it with tissue paper and you're good to go!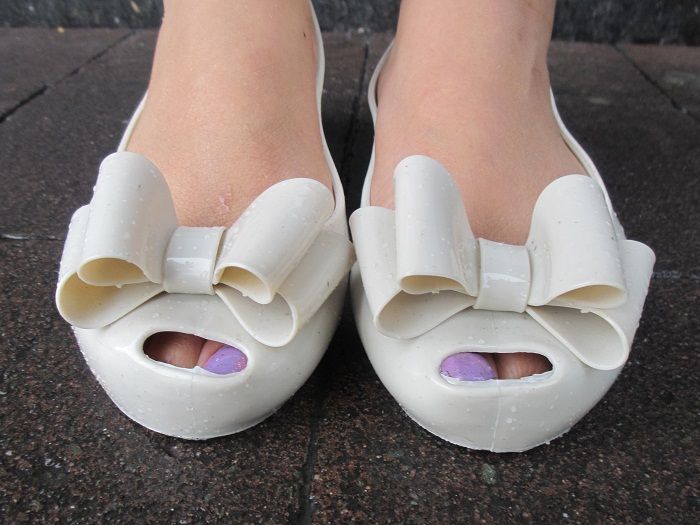 DON'T:

Never wear suede, fabric or any sensitive material for your footwear on rainy days. I myself am a shoe lover and I get sad when my shoes get dirty or broken and I'm sure you too feel likewise. :)

So, that's my outfit for today. It's drizzling outside while I'm blogging this and it looks like it's gonna rain heavy later at night.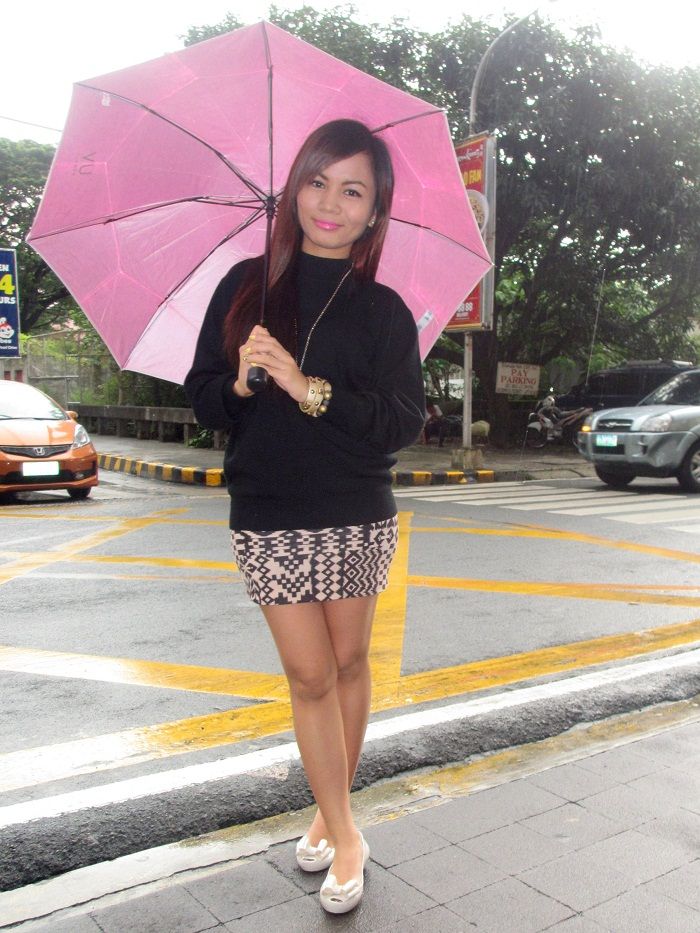 Take care, everyone! Keep yourselves safe and dry!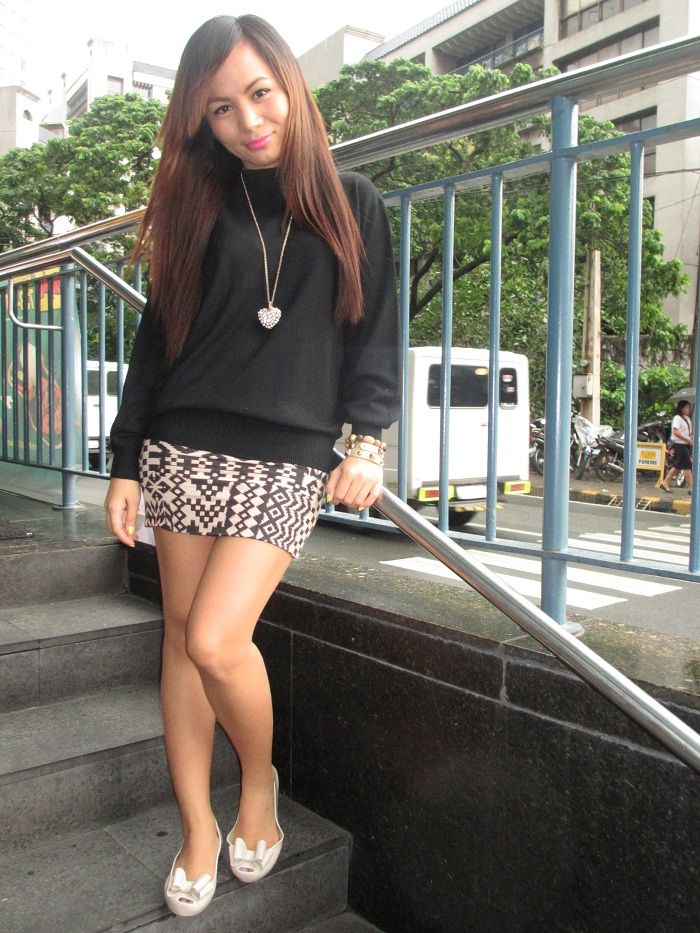 And remember, the rain should never compromise fashion. Everyone should feel comfortable while still looking fab!

Thanks for reading!
Kristine