You who came from the stars is the drama that not only shook South Korea but many parts of Asia as well. It is so well-loved that it was franchised even when it hasn't even finished showing in Korea yet. The story is fresh and the concept is very unique that's why it was loved by many in an instant. It is also star-studded so it's only understandable why it became a major hit.
I don't always watch a drama/show while it's still being shown in Korea. I hate waiting for next episodes so I'd rather wait for the entire drama to finish before I start watching it. This drama was an exemption. I watched every episode 2 days after it was shown!
With all those being said (and a totally long intro for a nail art post) it's only expected of me to create a nail art design inspired by this TV show!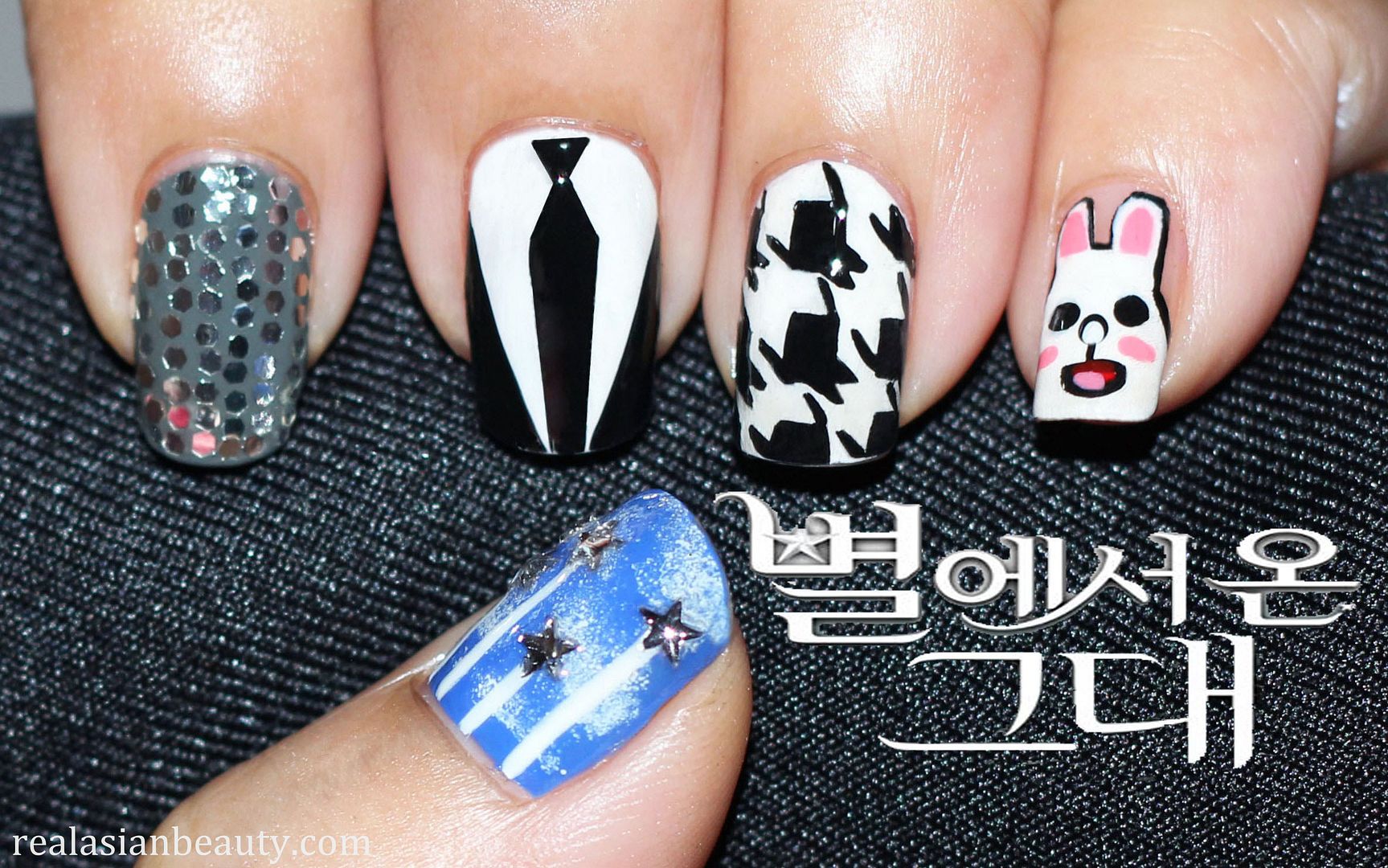 Here's where I got the design for each nail :
THUMB : The stars and the clouds
INDEX : The Jimmy Choo Agnes Heels that Chun Song Yi's loves
MIDDLE : Do Min Joon's Coat and Tie
RING : Chun Song Yi's Houndstooth Coat
PINKY : Cony, Line's Mascot
Those scenes are some of my favorite scenes from the drama. Oh, actually, I love all the scenes! Haha! The drama is so 대박 that every scene is catchy and worth remembering.
Here is the nail art tutorial :
This drama is so popular that even non-Kpop fan and famous blogger, Xiaxue, watched it! I am also excited because it will be shown here in the Philippines very, very soon! I can't wait for my fellow Filipinos to enjoy it, too! Just please make the dubbing and their voices similar to how they actually talk! ( I hated how they dubbed Secret Garden!)
If you haven't seen this drama then I really recommend watching it. It has 21 episodes but for a drama that's really good, 21 1-hour-long episodes are still not enough!
If you've seen that drama, let me know if you liked it or not. Also, don't forget to let me know what you think of this nail art.
Kristine